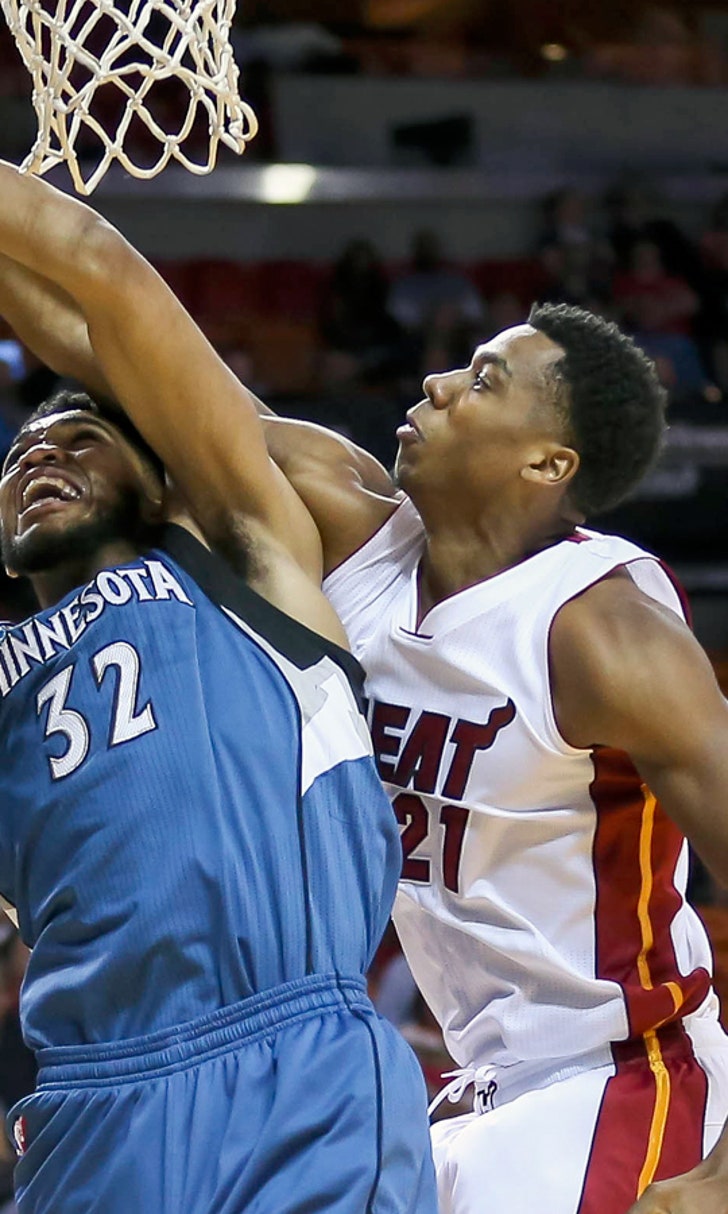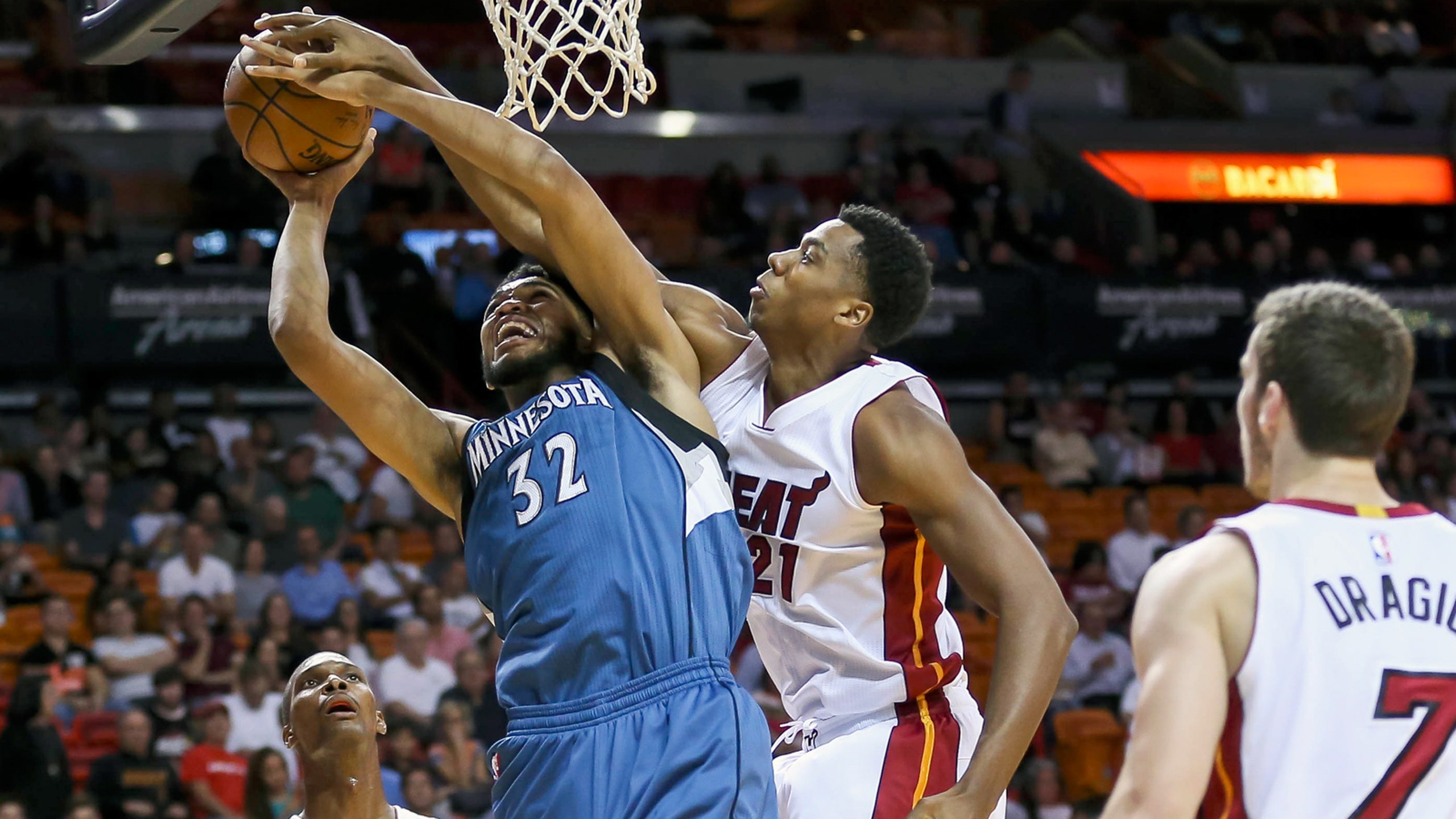 Fantasy Basketball Injury Analysis: Whiteside, Eric Gordon, Dwight Howard
BY foxsports • January 28, 2016
Charlotte Hornets
The city of Charlotte is celebrating a Panthers Super Bowl bid while its basketball team is busy being ravaged by injuries. Big man Al Jefferson remains out while recovering from meniscus surgery and swingman Michael Kidd-Gilchrist continues to work his way back from a shoulder labrum repair. Jefferson's replacement, Cody Zeller, is now expected to miss at least a week after spraining his right shoulder. Given that this is the same shoulder that was surgically addressed in the offseason, a week of recovery seems like a best-case scenario. Spencer Hawes has joined the starting lineup and is averaging 9.0 points and 10.0 rebounds per game in his first two starts.
In the backcourt, reoccurring toe injuries have left both Nicolas Batum and Jeremy Lamb limping. Batum missed four games in early January with a sprain to the second toe on his right foot. He returned and played six largely unimpressive games before aggravating the injury and sitting out Charlotte's previous two outings. It seems likely the Hornets will hold him out at least two more games to match his previous time off, and an extended absence should be anticipated.
Lamb also sat four consecutive games with an injury, though his sprain occurred to his big toe. His return was even more of a cameo, lasting just four minutes of Friday's win in Orlando. He did not play Saturday against the Knicks and remains a question mark. With both Batum and Lamb limited, P.J. Hairston should see an increase in usage. Hairston played well over the weekend, scoring 20 points and collecting 10 rebounds in extended minutes.
Dallas Mavericks Frontcourt
The veteran duo of Dirk Nowitzki and Zaza Pachulia have been the perfect pairing, leading the Mavericks to a solid first half of the season. However, injury concerns have surfaced for both of the veteran players that will be worth keeping an eye on.
It starts with Nowitzki who is battling what is being described as right knee effusion. Effusion is simply fluid or swelling surrounding the knee joint capsule. While effusion can be the result of something minor like overuse or be associated with less threatening ailments like osteoarthritis or bursitis, there's still some cause for concern. During the preseason of the 2012-13 season, Nowitzki missed time for what was called, you guessed it, right knee effusion just days before undergoing arthroscopic surgery that would cost him the first 27 games of the regular season. The Mavs medical team is fully aware of Nowitzki's injury history and the fact that he isn't in any reported pain is an encouraging sign.
Nowitzki did not play Wednesday against the Timberwolves but did play Friday and Sunday, another reassuring sign. He averaged 28 minutes per game in both of those losses but it wouldn't be surprising if he sits for one of the games in Dallas' upcoming back-to-back against the Lakers and Warriors. The situation is one worth monitoring and fantasy owners should cross their fingers that this is simply a case of a 17-year veteran feeling the effects of his age and mileage.
Pachulia has shown up multiple times on the team injury report over the last few weeks with right Achilles and lower leg soreness. He has missed two games over the past two weeks, including Sunday in the team's loss to the Rockets.
Achilles soreness is common in NBA players, especially among veterans with extended career workloads, but previous injuries in Pachulia's history suggest this particular incident deserves extra attention. During the 2012-13 Pachulia battled reoccurring Achilles tendinitis in his right foot before opting to address the situation surgically. He had partial tear in the area repaired and went on to miss the final 24 games of the regular season and all six of Atlanta's playoff games. The following season Pachulia missed 28 more games with a fractured calcaneus, the bone that serves as the anchor for the Achilles. Just last year he missed six games with a strained calf, the muscle anchored by the Achilles. Given this lengthy history, it's not surprising to see the veteran exhibiting some signs of soreness and potentially tendinitis. The team is optimistic they can manage the situation and have Pachulia back this week. In the meantime, rookie center Salah Mejri joined the starting unit and collected a double-double in 29 minutes. Mejri will have to prove he can produce at a consistent level but he may warrant consideration in deeper leagues.
Hassan Whiteside
Like the Hornets, the Heat has been beset by injury with multiple players spending time in street clothes. Dwyane Wade has battled soreness in both his shoulders and Goran Dragic remains sidelined by a calf strain. However, an injury for Whiteside may make a bigger impact on the fantasy landscape.
Whiteside, a top 25-fantasy option this season, is nursing an oblique strain suffered in a loss to the Wizards. The oblique muscle groups are abdominal muscles located on either side of the rib cage. They attach to the crest of the pelvis, which is why some media outlets have reported the injury as a hip ailment. Each set is divided into two groups, the external obliques and the internal obliques. Each group works synergistically with the opposite set situated on the opposite side to complete trunk rotation. The injury is more common in baseball pitchers but several NBA big men have suffered the injury in recent seasons, including Dwight Howard and Andrew Bogut. The recovery time for these limited cases is highly variable and provides little insight as to how long Whiteside will be sidelined. He's listed as questionable for Monday's game and seems poised to miss a game or two.
Fast Breaks
Eric Gordon
The Pelicans guard will miss four-to-six weeks after sustaining a broken ring finger on his right hand. Gordon underwent surgery on the broken digit, most likely to insure the fractured pieces of bone were aligned correctly to allow for a proper union to form. Norris Cole has joined the starting unit and averaged 11.5 points, 5.5 rebounds, and 5.0 assists per game in two New Orleans wins.
Dwight Howard
The Rockets center has missed the majority of the last two games with a sprained left ankle. He suffered the injury early in the team's game against the Pistons and reported continued pain while running over the weekend. The injury is seemingly minor but it is worth noting Howard has previously had a cyst in the area, a condition that can resurface following trauma. Clint Capela will continue to start in Howard's place, with Terrence Jones and recently re-acquired Josh Smith seeing extra minutes off the bench. Smith is an interesting waiver wire target, as his ability to stuff a stat sheet remains particularly valuable.
Brandon Knight
The Phoenix point guard is set to receive a second opinion on his strained adductor. The term adductor is another way to describe the groin, as the muscles in the area perform the motion of adduction. Adduction occurs when the leg is pulled inward toward the midline of the body and is a primary mover in lateral motion. The Suns medical staff is considered one of the best in the league and has built their approach on a systematic method of evaluating the body and biomechanics. Look for them to thoroughly analyze Knight's ailment and have him back on the court in the appropriate amount of time. Fantasy owners simply have to trust the process and hope the strain is mild and the time missed is minimal. Archie Goodwin becomes a sneaky streaming option as he averaged 22.0 points, 2.0 made three pointers, 3.0 assists and 1.5 steals per game in the last two.
Stotts works as a Certified Athletic Trainer (MAT, ATC, PES, CES) and is a former winner of the Best Fantasy Football Article from the Fantasy Sports Trade Association.
Follow @RotowireATC on Twitter.
Get a FREE RotoWire 10-day trial (no credit card required) at RotoWire.com
---
---