Week 7 picks: Spartans' perfect season ends at the Big House
BY foxsports • October 15, 2015
Michigan State, Alabama, and Florida all head out on the road in Week 7, and our panel agrees that two of those teams are bound for disappointment.
Each Thursday, Stewart Mandel, Bruce Feldman, Joel Klatt and Jim Ross will make the calls on who'll win the weekend's most intriguing matchups.
This week's slate includes the Spartans' visit to the Big House to take on the Wolverines, Texas A&M hosting the Crimson Tide in College Station, and Florida making a trip to Baton Rouge to battle LSU. Plus much more.
In addition to our straight-up picks, Mandel and Feldman will dive a little deeper into the games with their picks against the spread.
Looking for more games? You can find predictions for every Division I FBS game for the coming week here, courtesy of WhatIfSports.
Without further ado, here are this week's picks: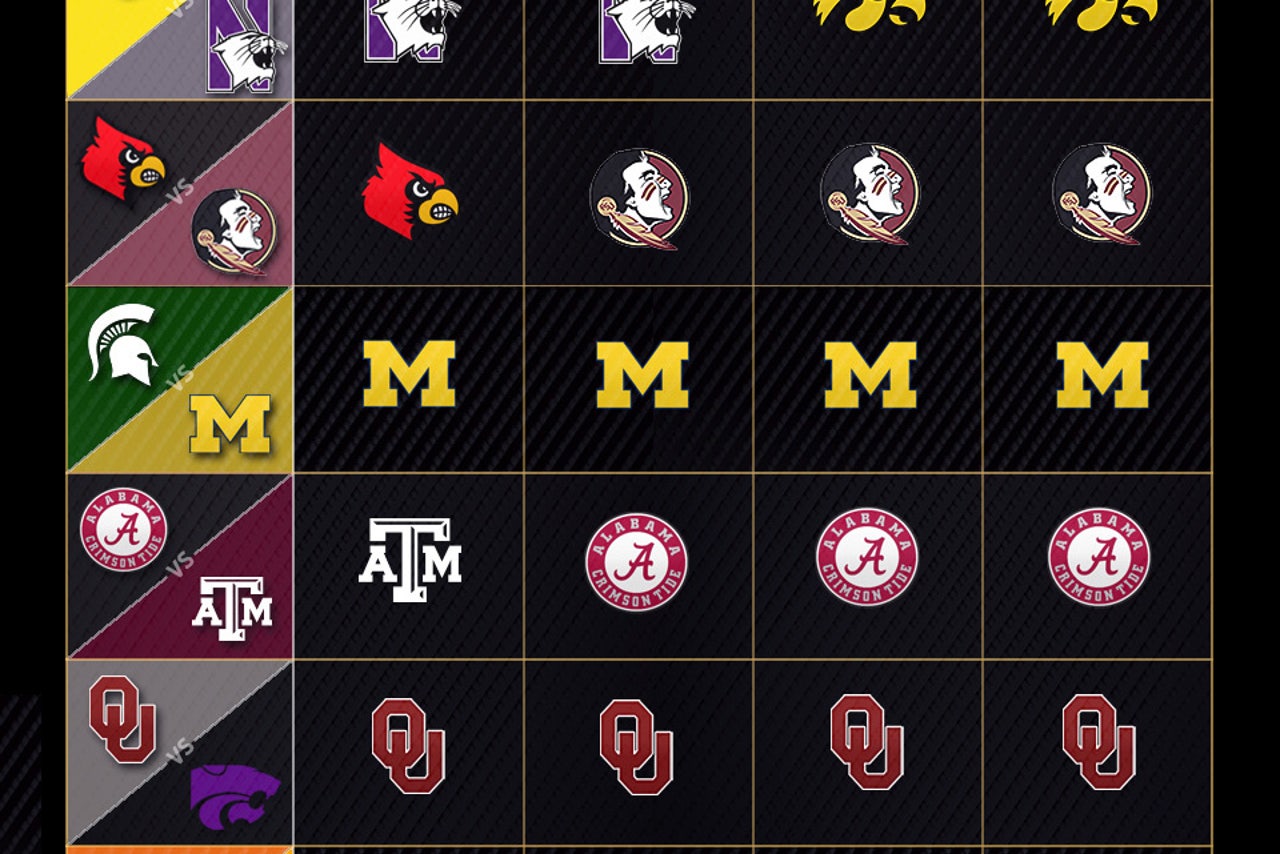 PICKS AGAINST THE SPREAD
UCLA (+6.5) at STANFORD
Mandel: Stanford's defense is not as dominant as recent seasons, but QB Kevin Hogan is playing at a high level. He improves his career record against UCLA to 5-0. Stanford 34, UCLA 28
Feldman: The road teams have had a ridiculous amount of success and I like the Bruins' O to bounce back after last season's dismal showing against the Cardinal. UCLA 23, Stanford 20
The result: Stanford 56, UCLA 35
IOWA (-2.5) at NORTHWESTERN
Mandel: Iowa will be without All-Big Ten DE Drew Ott (ACL) and both starting tackles on offense. Northwestern, strong up front on both sides of the ball, takes advantage. Northwestern 17, Iowa 16
Feldman: I know the Cats fell apart a couple of seasons ago after rising up in the polls. I don't think this group will go into a free fall. Northwestern 14, Iowa 12
LOUISVILLE (+7) at FLORIDA STATE
Mandel: FSU played its rival last Saturday night and must turn around for an early kickoff against a 2-3 team that's better than its record and coming off a bye. Upset! Louisville 23, Florida State 20
Feldman: I was tempted to go with Bobby Petrino pulling the upset but I still think Dalvin Cook is too good to let the 'Noles slip here. Florida State 24, Louisville 20
MICHIGAN STATE (+7) at MICHIGAN
Mandel: Michigan's shutout streak comes to an end, but the Spartans' banged-up offensive line struggles and its usually strong running game never gets going. Michigan 20, Michigan State 14
Feldman: As dominant as the Wolverines D has been, I think Connor Cook will be able to cope with the pressure. But I think the Spartans will wear down against the UM run game in the second half. Michigan 21, Michigan State 17
ALABAMA (-4) at TEXAS A&M
Mandel: Texas A&M QB Kyle Allen will have some success against 'Bama's secondary, while DEs Myles Garrett and Daeshon Hall fluster Jake Coker into a couple of turnovers. Texas A&M 27, Alabama 24
Feldman: As great as the Aggies DEs are, I think Derrick Henry and the 'Bama ground game will be the difference here in the second half. Alabama 23, Texas A&M 21
OKLAHOMA (-4.5) at KANSAS STATE
Mandel: Bob Stoops lost to Texas six times before last weekend. His teams are 6-0 in games the following week. The Sooners continue that even against a tough foe. Oklahoma 31, Kansas State 20
Feldman: Bob Stoops has won 34 in a row in the regular season coming off a loss so I see his team responding on the road. Oklahoma 28, Kansas State 17
FLORIDA (+9.5) at LSU
Mandel: Florida stood a decent chance with Will Grier, but Treon Harris is not enough of a passing threat to rack up points, and Leonard Fournette is going to find the end zone. LSU 24, Florida 16
Feldman: Rough week for the Gators, losing Will Grier for the year due to a positive test for a banned substance and now they go on the road into a very hostile place. UF's D is very good but I still see Leonard Fournette going for 150 on them. LSU 20, Florida 10
USC (+6.5) at NOTRE DAME
Mandel: USC may right itself soon enough under interim coach Clay Helton, but it's asking a lot of the Trojans on the road against a rival filled with playmakers. Notre Dame 31, USC 24
Feldman: The Irish were really banged up when they got blasted in LA last year. I think they get some revenge at home this week. Notre Dame 30, USC 20
PENN STATE (+17) at OHIO STATE
Mandel: Penn State's strategy of passing the ball as little as possible to avoid exposing its offensive line is not going to work against an elite defense like Ohio State's. Ohio State 31, Penn State 10
Feldman: Bob Shoop's D gave the Buckeyes problems last year and I think the Nittany Lions will hang around for four quarters. Ohio State 30, Penn State 17
ARIZONA STATE (+6.5) at UTAH
Mandel: Arizona State QB Mike Bercovici has played better of late but may run into trouble against a Utes defense that notched five interceptions last week. Utah 26, Arizona State 20
Feldman: Don't be surprised if Mike Bercovici and the Sun Devils have a little more success against the Utes than Jared Goff did. Also the unconventional and ultra-aggressive ASU defense could cause some trouble for Travis Wilson this week. Utah 27, Arizona State 24
OREGON (+2.5) at WASHINGTON
Mandel: Washington's defense is legit. It's going to cause problems for whomever Oregon puts in at quarterback. But the Huskies' limited offense can't exploit the Ducks. Oregon 35, Washington 27
Feldman: The Ducks have QB issues, especially with ailing Vernon Adams, but they have a potent running game led by Royce Freeman. UDub was getting gashed by the USC RBs last week and the Trojans helped the Huskies out by abandoning it. Doubt the Ducks will. Oregon 31, Washington 24
UPSET SPECIALS:
NEBRASKA (+2) at MINNESOTA
Mandel: The Huskers have found every manner possible to lose four games, but they're still a better team than the largely disappointing and offensively woeful Gophers. Nebraska 22, Minnesota 20
CINCINNATI (+6.5) at BYU
Feldman: The Bearcats have a very good offense and can pull the upset on the road. Cincinnati 31, BYU 27
SEASON RESULTS:
Mandel: 43-24 (including upset picks)
Feldman: 42-25 (including upset picks)
Klatt: 38-18 (minus games he called on FOX or FS1)
Ross: 36-25
PREVIOUS PICKS
Week 6 / Week 5 / Week 4 / Week 3 / Week 2 / Week 1
---
---