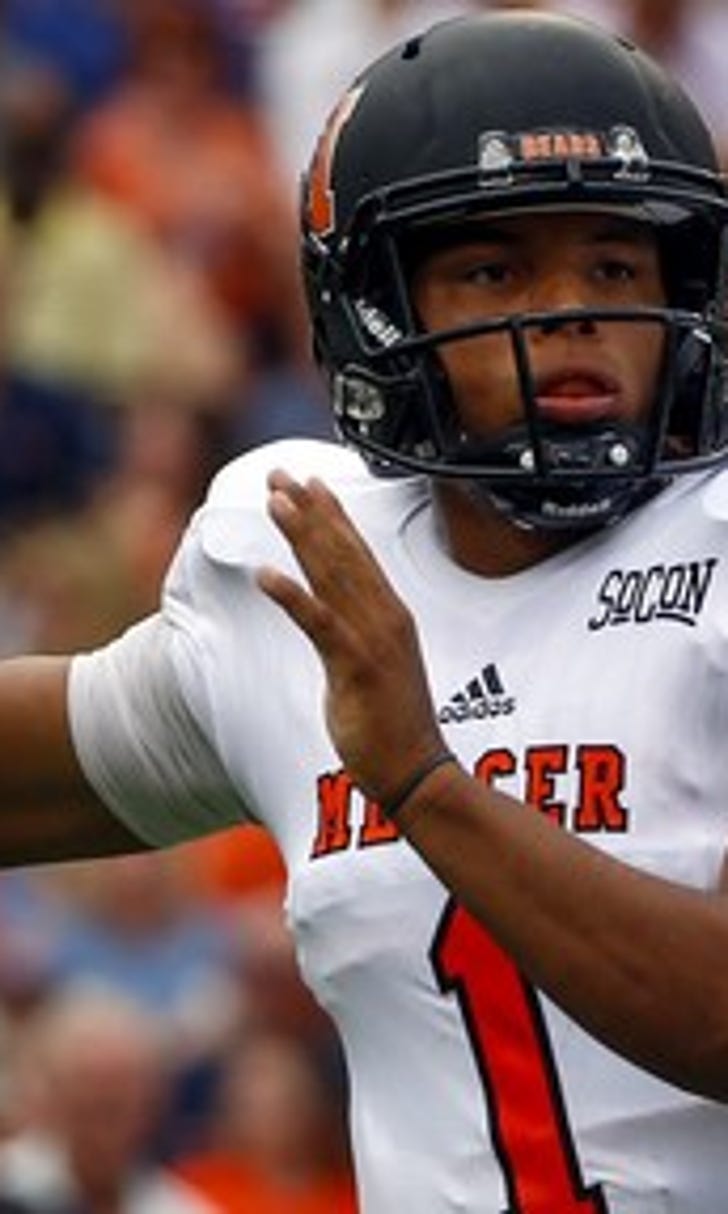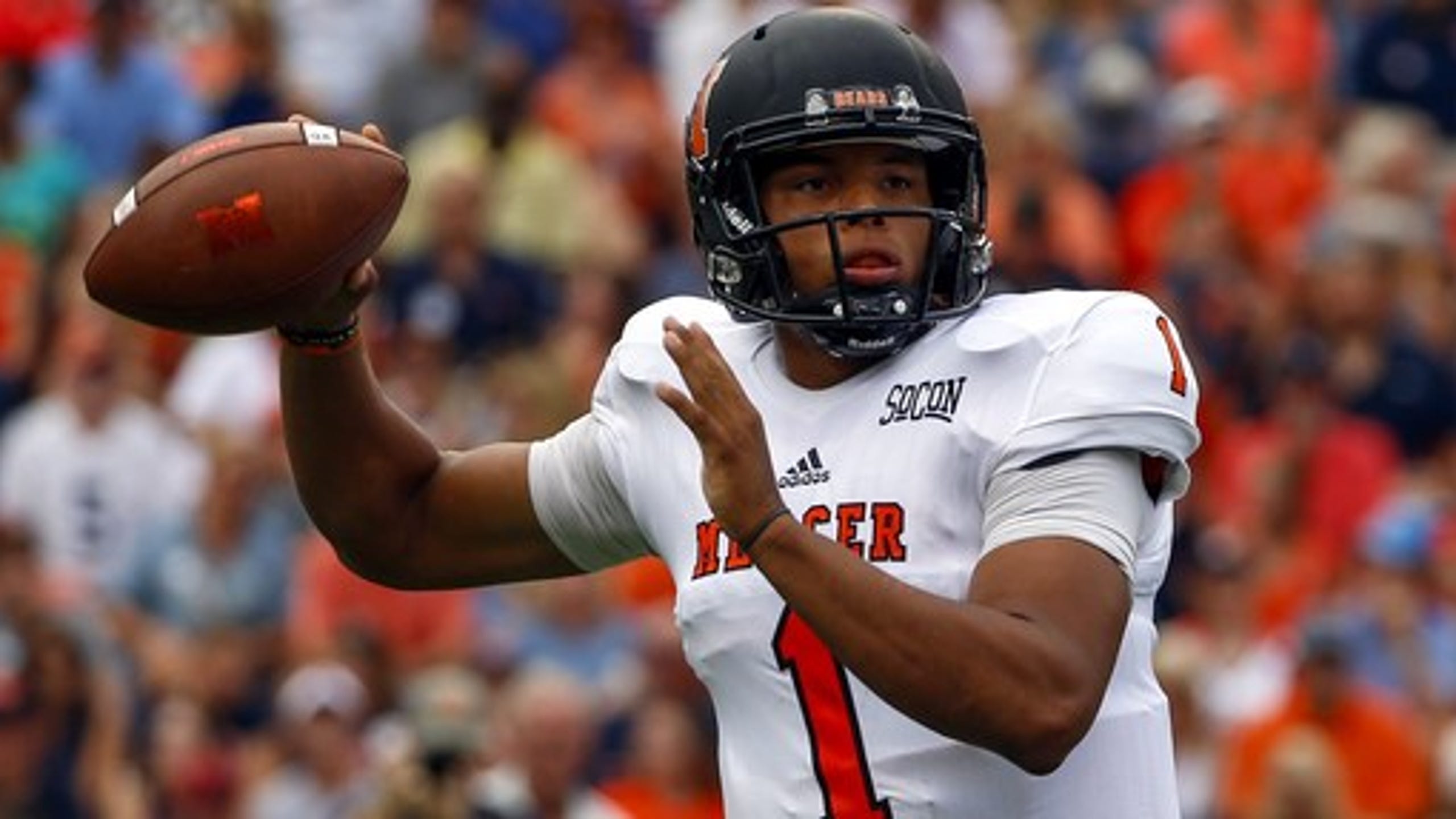 Southern Conference spring outlook
March 2, 2018
(STATS) - It might have seemed like Wofford's Mike Ayers was going to outlast all the coaches in the Southern Conference, but his retirement has added to the relatively new look across the conference.
Josh Conklin has succeeded Ayers, who went out on top with a SoCon title in his 30th season. East Tennessee State has a new coach as well in Randy Sanders, just one year after two other coaches made their debuts.
The longest-tenured coach is now Western Carolina's Mark Speir, who enters his seventh season. The dean of SoCon coaches, though, is Mercer's Bobby Lamb, who previously coached at Furman.
All nine coaches are getting their teams ready for a potentially deep title race this year.
Following is a look across the SoCon with spring practices underway in college football:
---=
CHATTANOOGA
HEAD COACH: Tom Arth (3-8, one season; 43-16 overall)
2017 RECORDS: 3-8, 3-5 SoCon (Tie/6th)
SPRING PRACTICES: Feb. 24-March 27 (spring game is March 24)
WHAT TO KNOW: Arth needs to get the Mocs back on track after his surprisingly poor debut. He returns a veteran lineup, including eight starters on offense, seven on defense and three on special teams. Last year's first two quarterbacks were injured, leading to Cole Copeland taking over, but he must fend off Nick Tiano in his return. They'll need quick improvement from a retooling offensive line and new running backs. The defensive line, led by Derek Mahaffey and Isaiah Mack, is one of the team's strengths.
---=
EAST TENNESSEE STATE
HEAD COACH: Randy Sanders (first season)
2017 RECORDS: 4-7, 2-6 SoCon (8th)
SPRING PRACTICES: March 13-April 5
WHAT TO KNOW: Sanders, the offensive coordinator at Florida State last year, steps into a good situation after the ETSU program was revived under Carl Torbush the last three seasons. This year's veteran team returns seven starters on offense, eight on defense and five specialists. Senior quarterback Austin Herink will become a four-year starter, but running back Jajuan Stinson won't return for his fourth season. Speaking of four-year players, linebacker Dylan Weigel has led the Buccaneers in tackles in each of his first three season. In the front seven, he's part of the core of the defense.
---=
FURMAN
HEAD COACH: Clay Hendrix (8-5, one season)
2017 RECORDS: 8-5, 6-2 SoCon (Tie/2nd)
SPRING PRACTICES: Completed
WHAT TO KNOW: The Paladins had an early jump on spring practices, no doubt anxious to build on last year's turnaround in which they won a playoff game over Elon. Optimism is high for Hendrix's second season with the Paladins returning all but one defensive starter - linebacker and leading tackler Reynard Ellis, whose early departure was a mutual decision with the coaches. One priority on that side of the ball is to get better at cornerback. The offense returns only five starters, with Harris Roberts and Jamar Lincoln the top candidates to replace quarterback P.J. Blazejowski. The Paladins also have to replace standout center Matthew Schmidt, but Hendrix is excellent with developing offensive linemen, so the run game will remain strong.
---=
MERCER
HEAD COACH: Bobby Lamb (32-25, five seasons; 99-65 overall)
2017 RECORDS: 5-6, 4-4 SoCon (5th)
SPRING PRACTICES: March 12-April 9
WHAT TO KNOW: The Bears are competitive in the SoCon, but have stalled in the middle of the pack. This year, they hope to give Lamb his 100th career win early and go from there. A big freshman campaign from quarterback Kaelan Riley bodes well for moving up the pecking order. The Bears are always deep at the skill positions, and running back Rashad Haynes and wide receiver Edmond Graham hope to add production to their units. The defense is ready for another level with the return of eight starters, including defensive end Isaiah Buehler, linebacker LeMarkus Bailey and cornerback Eric Jackson.
---=
SAMFORD
HEAD COACH: Chris Hatcher (21-14, three seasons; 142-71 overall)
2017 RECORDS: 8-4, 6-2 SoCon (Tie/2nd)
SPRING PRACTICES: March 26-April 20
WHAT TO KNOW: Perhaps the SoCon favorite this season, Samford is still trying to improve the running game, but its passing is among the nation's best with quarterback Devlin Hodges and wide receivers Kelvin McKnight and Chris Shelling. While all 11 starters return on offense, the defense gets back only five, but they include the conference defensive player of the year in end Ahmad Gooden. Most of the defensive needs are at linebacker and in the secondary.
---=
THE CITADEL
HEAD COACH: Brent Thompson (15-8, two seasons)
2017 RECORDS: 5-6, 3-5 SoCon (Tie/6th)
SPRING PRACTICES: Feb. 8-March 8 (spring game is March 3)
WHAT TO KNOW: Too many offseason losses led to a subpar 2017 campaign after the Bulldogs had won back-to-back conference titles. Their triple option offense won't slow down because the offensive line returns intact. Quarterback Jordan Black should be at the controls and A-back Grant Drakeford is back as a senior after leading the team in rushing. While linebacker is a strength, the defense returns only five starters, and just safety Aron Spann III on the back end.
---=
VMI
HEAD COACH: Scott Wachenheim (5-28, three seasons)
2017 RECORDS: 0-11, 0-8 SoCon (9th)
SPRING PRACTICES: April 4-TBA
WHAT TO KNOW: It's been hard for Wachenheim to win at the military school, and he seeks change with five new assistant coaches on his staff. Off a disappointing season, the Keydets have lost leading rusher Daz Palmer and aggressive outside linebacker Brian Lipscomb to transfers. They averaged only 8.0 points and 218.5 yards of total offense - both FCS lows - so that's a big part of the spring focus. Sophomore Reece Udinski is the leading candidate to run the offense, and there are some promising receivers in sophomores Kris Thornton and Rohan Martin. Like Thornton, defensive back A.J. Smith is coming off SoCon all-freshman honors.
---=
WESTERN CAROLINA
HEAD COACH: Mark Speir (26-43, six seasons)
2017 RECORDS: 7-5, 5-3 SoCon (4th)
SPRING PRACTICES: March 12-April 13 (spring game is April 7)
WHAT TO KNOW: Speir has led the once-moribund Catamounts to three seven-win seasons, but they desperately want the next level by making the FCS playoffs. Junior Tyrie Adams enters his third season as the starting quarterback, although this year all-around threat Detrez Newsome is not by his side in the offensive backfield. There's plenty of protection up front with four returning starters. Eight starters are gone from the defense, so Speir addressed some needs by signing junior-college transfers. Punter Ian Berryman is one of the nation's best.
---=
WOFFORD
HEAD COACH: Josh Conklin (first season)
2017 RECORDS: 10-3, 7-1 SoCon (1st)
SPRING PRACTICES: Feb. 14-March 10
WHAT TO KNOW: With Mike Ayers retired following 30 seasons, the defending SoCon champ is adjusting to its new coach. The Terriers are keeping the triple option offense, now led by junior quarterback Joe Newman and featuring back Andre Stoddard, Lennox McAfee and Blake Morgan. With the loss of four starters on the offense line, there's talk of the Terriers passing more, which isn't Newman's strength. The defensive line, featuring Miles Brown, is excellent. Improvement is needed in the secondary.
---
---