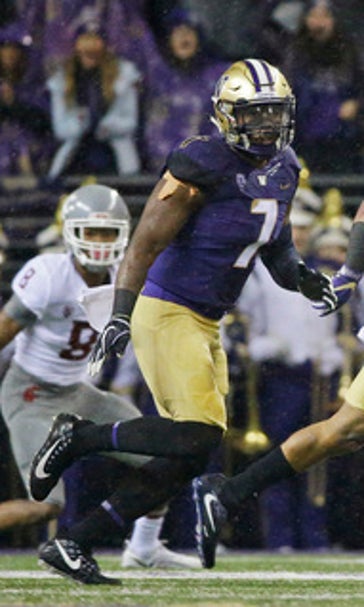 Purple Haze: Washington routs Washington State 41-14 (Nov 25, 2017)
November 26, 2017

SEATTLE (AP) Given the chance to ruin their rivals hopes at a conference championship, Washington did more than simply cost Washington State a chance at the Pac-12 North.
The Huskies reasserted that for the fifth straight season the Apple Cup would remain decorated in purple with yet another rout of the Cougars.
''We wanted to put our foot on their neck from when the game started and keep it rolling through the game,'' Washington safety Ezekiel Turner said.
Myles Gaskin ran for 192 yards and four touchdowns, Washington forced four turnovers, and the No. 15 Huskies ended No. 14 Washington State's hopes for a division title with a 41-14 thumping Saturday night.
Washington (10-2, 8-2 Pac-12, No. 17 CFP) suffocating defense made life miserable for Luke Falk in the final regular season game of his career and the performance by Washington's defense was punctuated by Gaskin running wild through the Cougars.
Gaskin had 25 carries and averaged nearly 8 yards per touch. He had 114 yards rushing in the first half. The Huskies pummeled Washington State on the line of scrimmage, finishing with 328 yards rushing, the second-highest total this season. Gaskin had three short TD runs and a memorable 26-yard scoring run in the third quarter that will rank among the best of his career. Gaskin shook Sean Harper at the line of scrimmage, sprinted to the sideline and kept his balance enough while being pushed by Hunter Dale to leap for the pylon and finish off the TD.
''That one was cool,'' Gaskin said. ''I didn't know if I was going to get in there. They missed a tackle so I was like `I got to make it happen.'''
While Washington celebrated in the cold Seattle rain, the Cougars (9-3, 6-3, No. 13 CFP) were left to accept their flop. Washington State needed only a victory to win its first Pac-12 North title and earn a spot in the conference title game Friday against Southern California. Washington State had memorable Apple Cup wins over the Huskies in 1997 and 2007 in Seattle.
This is one the Cougars would like to immediately forget.
''I didn't feel like we collectively, the whole game, played well at any position,'' Washington State coach Mike Leach said.
Falk, the Pac-12 record-holder in a number of passing categories, threw three interceptions and had a costly fumble. He was under pressure all night as Vita Vea and the rest of defensive front was able to get pressure while rushing just three defenders and closed off gaps in the secondary. Falk was 37-of-55 passing for 369 yards and a late TD to Tay Martin, helping continue Leach's streak of never being shut out.
But it was a hollow accomplishment in the scope of being overmatched by their rivals.
''It sucks because we all know what was at stake for this game and for the senior class and this team,'' Falk said. ''I'm really proud of the guys and where we come from, but definitely disappointed.''
What was a matchup of the top two defenses in the Pac-12 was completely one-sided. Washington dominated. Washington State was bullied.
The Cougars were allowing just 130 yards per game rushing and led the Pac-12 in sacks. The Huskies averaged 7.3 yards per carry and quarterback Jake Browning never was sacked until the first play of the fourth quarter.
''Once something starts clicking we kind of stick to it,'' Gaskin said. ''If it doesn't we'll go back to something else. That's just kind of the way it worked out today.''
Meanwhile, Falk was constantly under duress. Falk was sacked five times and his mistakes came at critical points when Washington State had opportunities to remain in touch with the Huskies. His fumble may have been the most critical as he was hit by Keishawn Bierria and fumbled at the Cougars 28. Two plays later, Browning plowed in from the 1 to give Washington a 14-0 lead.
''This is the right feeling for me to feel right now,'' Bierria said after finishing his career undefeated against the Cougars. ''Anything else, it would have felt totally awkward.''
FIRST-HALF FINISH
For the fourth straight season, Washington put the Apple Cup away in the first half. Washington led 24-0 at halftime and has outscored the Cougars 90-13 in the first half of the past four meetings since coach Chris Petersen arrived.
INJURIES
Washington dominated despite playing most of the night without leading receiver Dante Pettis and running back Lavon Coleman. Pettis suffered a left leg injury on a punt return in the first quarter and Coleman appeared to hurt his lower left leg later in the quarter. Both players were on the sideline but did not return. Petersen said the medical staff does not believe either has any broken bones.
THE TAKEAWAY
Washington State: The undersized defensive line for the Cougars was overmatched, constantly getting pushed off the ball. It was only the second time this season the Cougars allowed an opponent to rush for more than 165 yards. Arizona had 310 yards rushing. It didn't help that defensive standout Hercules Mata'afa was flagged for targeting on the first drive of the second half and was ejected
Washington: Vea, a junior, wasn't announced with Washington's seniors but likely played his last home game for the Huskies. The junior showed why the NFL can't wait to get their hands on his combination of athleticism and power as he overmatched the Cougars offensive line.
UP NEXT
Washington State: Regular season over. The Cougars will wait a week to find out bowl assignment.
Washington: Regular season over. The Huskies wait a week to find out bowl assignment.
---
For more AP college football coverage: http://www.collegefootball.ap.org and http://www.twitter.com/AP-Top25
---
---