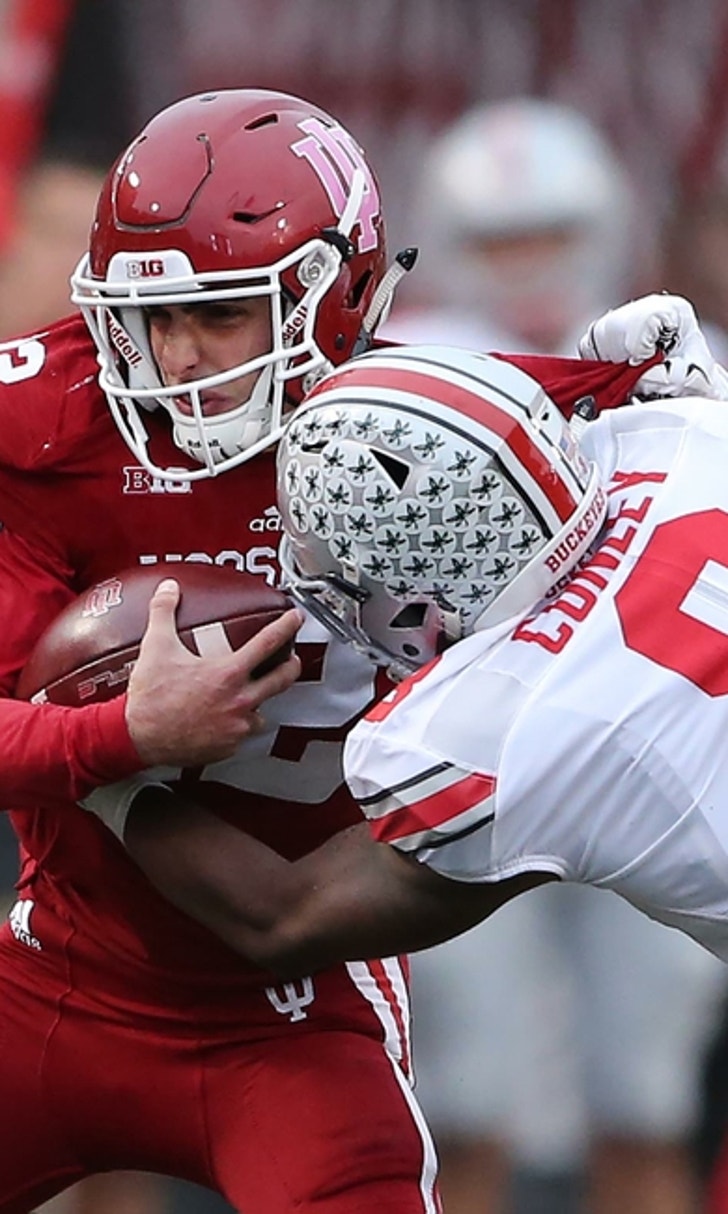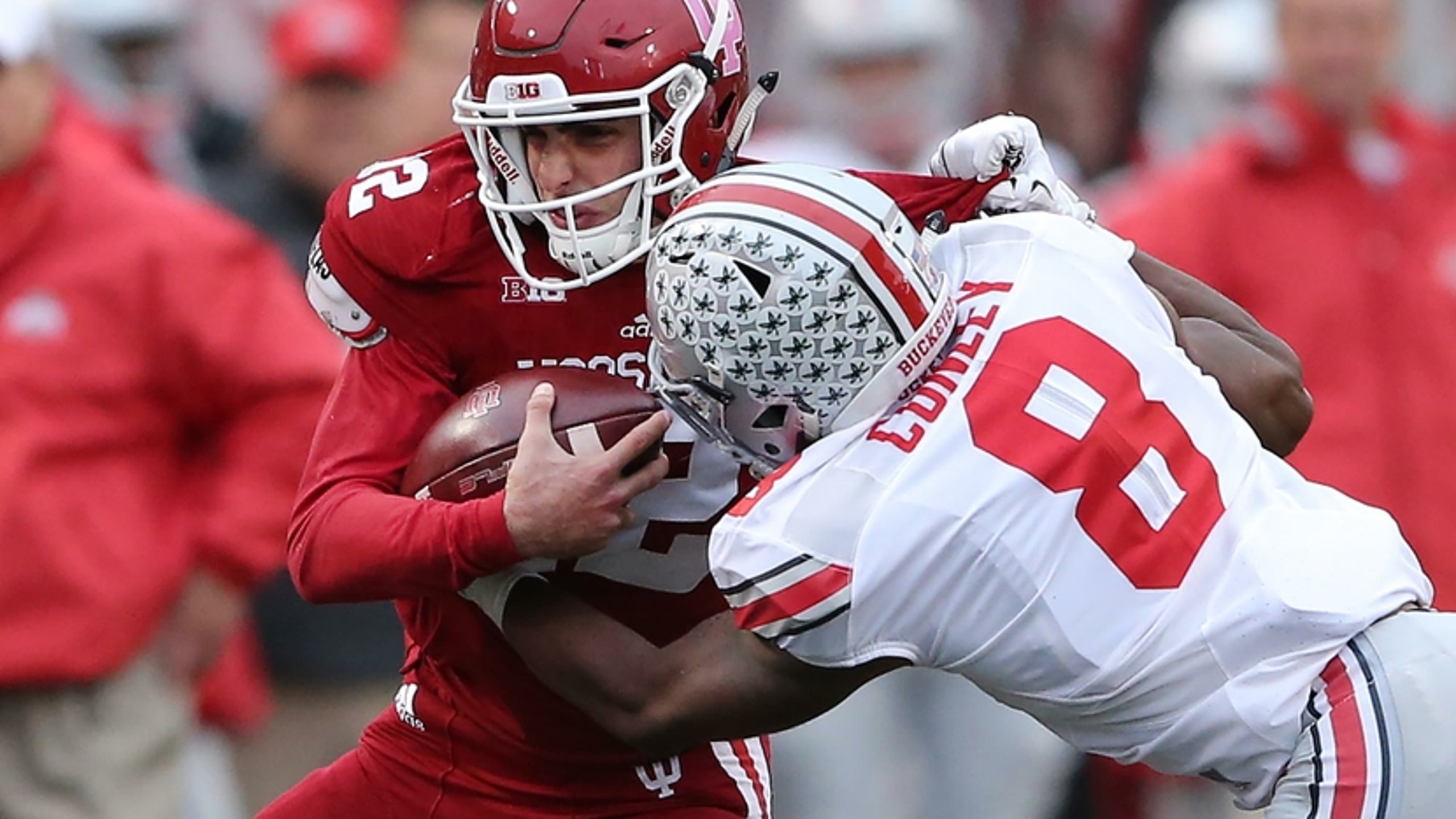 Ohio State's 3-Star Players Driving the 2016 Championship Run
BY Fansided and Thomas Scurlock/FanSided via Scarlet and Game • December 26, 2016
Nov 8, 2014; East Lansing, MI, USA; Ohio State Buckeyes offensive lineman Pat Elflein (65) celebrates with Shelly Meyer and Urban Meyer after defeating the Michigan State Spartans 49-37 at Spartan Stadium. Mandatory Credit: Andrew Weber-USA TODAY Sports
College football recruiting is a big business and the rankings' services are even a bigger business. Since Urban Meyer arrived in Columbus, his Ohio State classes have been ranked in the Top 5 every year except 2015 when they finished No. 9.
The 2017 class is projected to finish No. 1 or No. 2 as long as the commitments hold.
There's no denying that stockpiling highly-ranked athletes typically equals success on the field, but in an era where the 5-Star recruits get all of the attention, sometimes it is the lesser known athletes that pay the most dividends.
Of course, circumstances sometimes impact a player's ranking such as an injury.  J.T Barrett and A.J. Hawk did not fly under the radar, but injuries played a part in cooling their recruiting.
Ohio State has five 3-Star players that are not only driving this year's team, they might be the reasons why the program wins its second championship in three years.  I am using Rivals as the recruiting source.  Here they are:
Pat Elflein
The lone guy remaining from the phenomenal 2012 class that Meyer solidified in less than two months.  Hailing from Pickerington, Elflein did not travel far to get to Ohio State, but like his peers Jacoby Boren and Taylor Decker, Elflein blossomed into an elite offensive lineman.
Elflein has been one of the most versatile SLOBS playing both right and left guard before switching to center this year, a move that has paid off.
He won the Rimington-Pace Big Ten Offensive Lineman of the Year award, won the 2016 Rimington Award as the nation's best center and was named First-Team All-American by the AFCA, Associated Press, FWAA, Walter Camp, USA Today, The Sporting News, ESPN, Sports Illustrated, Fox Sports and CBS Sports.  He's also a three-time, First Team All-Big Ten player.
Barrett may be the heart of the offense, but Elflein is its soul.  His leadership will be needed in the Fiesta Bowl as Clemson's front four will be the best Ohio State has faced all season.
Nov 17, 2012; Madison, WI, USA; A Ohio State Buckeyes helmet sits on the sidelines during the game against the Wisconsin Badgers at Camp Randall Stadium. Ohio State defeated Wisconsin 21-14 in overtime. Mandatory Credit: Jeff Hanisch-USA TODAY Sports
Malik Hooker
Overshadowed in a strong defensive class for Ohio State in 2014 that included Raekwon McMillan, Hooker had to wait his turn to show Buckeye Nation and the rest of college football that he's a baller.  He's the best safety in the country.
Amazingly, Hooker only played two years of high school football which is why he was probably ranked a little lower than he should have been.
Even though he saw considerable time last season, we were introduced to his athleticism in the spring game when he intercepted one of Barrett's passes and returned it for a touchdown.
Hooker had an incredible season finishing with six interceptions, three returned for touchdowns.   He earned First Team All-American by the AFCS, Associated Press, FWAA, Walter Camp, USA Today, The Sporting News, Sports Illustrated, Fox Sports and CBS Sports and was a First Team All-Big Ten by both the coaches and media.
Clemson quarterback Deshaun Watson has been charitable this year throwing 15 interceptions. I expect Hooker to get at least one on Saturday.
Jan 12, 2015; Arlington, TX, USA; Ohio State Buckeyes cornerback Gareon Conley (19) holds up his helmet to catch confetti after their win over the Oregon Ducks in the 2015 CFP National Championship Game at AT&T Stadium. Ohio State won 42-20. Mandatory Credit: Kirby Lee-USA TODAY Sports
Gareon Conley
When I interviewed Braxton Miller in Chicago before the 2016 NFL Draft, I asked him who he thought would be the defensive MVP this year.  He paused and said without a doubt Gareon Conley.
Like Hooker, Conley came in with a class loaded with defensive talent so he was not on the radar.  Joey Bosa, Eli Apple and Vonn Bell are thriving as rookies in the NFL and Conley is sure to join them next year.
Conley's best attribute is you rarely see him in the stat line.  He finished the regular season with just 20 tackles.  The Silver Bullet's top cornerback averaged 1.67 tackles per game.  No quarterback dared to challenge him.
The sad part is he was not named First-Team All-Big Ten despite shutting down every opponent's best receiver.
Perhaps the best one-on-one matchup in the semifinal will be Conley versus Mike Williams who is Watson's favorite target.  The 6-foot-3, 225-pound junior finished the year with 1171 yards and 10 touchdowns earning First-Team All-ACC honors
Stopping Williams is a top three must do for Ohio State to win the game.  Conley's the right man to get the job done.
Jan 12, 2015; Arlington, TX, USA; Ohio State Buckeyes defensive lineman Chris Carter (72) holds up his helmet prior to the game against the Oregon Ducks in the 2015 CFP National Championship at AT&T Stadium. Mandatory Credit: Jerome Miron-USA TODAY Sports
Chris Worley
Locked in a battle in the 2014 camp with fellow 3-Star Darron Lee, Worley showed enough to get the start against Navy.  Lee took over from there, but Worley is proving that the difference between both of these guys was minimal.
Like Conley, Worley was part of the 2013 class that looking back, might go down as the best ever.
He finished the regular season with 59 tackles and one interception.  He had 28 tackles in the games against Oklahoma, Wisconsin and Michigan so it is safe to say he performs his best when the pressure is highest.
If Conley is doing his job well, expect Worley to be a busy man against Clemson.  Watson's second-favorite target is tight end Jordan Leggett.  He caught 38 passes for 637 yards and seven touchdowns.
Worley needs to make sure Watson's outlet is locked down and not wide open coming across the middle 15-yards down the field for large gain and extending drives.
Jan 1, 2016; Glendale, AZ, USA; Ohio State Buckeyes defensive end Sam Hubbard (6) celebrates with teammates after a tackle in the second half against the Notre Dame Fighting Irish during the 2016 Fiesta Bowl at University of Phoenix Stadium. The Buckeyes defeated the Fighting Irish 44-28. Mandatory Credit: Mark J. Rebilas-USA TODAY Sports
Sam Hubbard
Hubbard is a perfect example of recruiting gone right.  It takes a special vision to imagine a 3-Star, 6-foot-6, 223-pound safety becoming an elite defensive end, but that's exactly the path Meyer and the defensive staff had in mind.
It also helps to have Mickey Mariotti overseeing the strength and conditioning program.
More from Scarlet and Game
The good news is there was plenty of time to build up Hubbard while serving as Bosa's backup, but he quickly showed that he was going to shine earning freshman All-American by USA Today for his 28 tackles and six-and-a-half sacks last year.
With Bosa's early departure, Hubbard took over the reins and did not disappoint racking up 41 tackles and three sacks.  He was also instrumental in setting the edge for a defense that ranked No. 14 in the FBS allowing just 117.8 yards-per-game.
Just as stopping Williams is a top 3 must do for the defense, getting pressure on Watson and containing Wayne Gallman are the other two.
Hubbard will be responsible for keeping both in the middle and not letting them bounce to the outside to make big plays.
If he sets the edge and keeps the most of the plays in the middle, the Silver Bullets will smother the Tigers' high-scoring offense and in route to a decisive win.
---
---