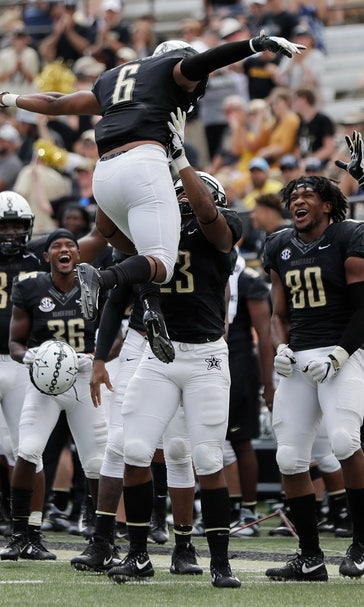 No. 8 Notre Dame wants to avoid doldrums against Vandy
September 14, 2018
SOUTH BEND, Ind. (AP) — The ho-hum victory over Ball State a week ago was a wakeup call for No. 8 Notre Dame, which doesn't plan to hit the snooze button again for Saturday's visit from Vanderbilt and talented quarterback Kyle Shurmur.
"I just think it starts with respecting your opponent and it carries itself into the way you practice," Fighting Irish coach Brian Kelly said. "This is a good opponent coming into Notre Dame Stadium. We'll have to play well."
Especially on the offensive line, which struggled against the Ball State — a 34½-point underdog that wound up losing only 24-16. Notre Dame (2-0) averaged 2.9 yards on 41 carries and surrendered four sacks. Now comes an SEC opponent in Vandy (2-0).
"Our execution was off," said captain Alex Bars, the 6-foot-6¼, 315-pound left guard who grew up not far from the Vanderbilt campus in Nashville, Tennessee. "We were making mistakes we shouldn't have made. We're working very hard to make sure it doesn't happen this week."
Notre Dame's line had to replace first-round NFL draft choices Quenton Nelson (Colts) and Mike McGlinchey (49ers) and has a new coach in long-time Kelly associate Jeff Quinn. Last year, the unit finished seventh nationally in rushing offense (269.3 yards a game) but is just 104th (124.5 yards) through two games, including the opener against Michigan.
"I've been in it long enough to know where the red panic button is and it's not even near my desk," Kelly said. "But there's work to be done. You can't be standing around on game day waiting for things to happen. If you prepare the right way, then you shouldn't be thinking on Saturdays, you should be reacting."
Vanderbilt coach Derek Mason, whose 14½-point underdogs have surrendered an average of just 75 rushing and 272 total yards in two victories, is blunt in his expectations.
"Notre Dame is going to try to run the ball right down our throats," Mason said. "This is going to be a physical ballgame. That's who they are. They beat teams up. They wear teams down."
RUNNING BY COMMITTEE
After losing all-time Vandy rushing leader Ralph Webb (4,178 yards, 32 TDs), the Commodores replaced him with four players: Khari Blasingame, Ke'Shawn Vaughn, Josh Crawford and Jamauri Wakefield. All have reached the end zone. Vaughn (130 yards), who had 93 yards on 11 carries in last week's 41-10 victory over Nevada, may have the edge on Wakefield (99 yards), Blasingame (80) and Crawford (38).
Notre Dame's Tony Jones Jr. (106 yards) and Jafar Armstrong (101) share the Irish running duties and have totaled five touchdowns. Jones, who had TD runs of 31 and 1 yards against Ball State, averages 4.8 per carry. Armstrong, a converted receiver who is averaging 3.6 yards per carry, totaled 127 yards (66 rushing, 61 receiving) last Saturday.
TALE OF THREE QBs
Kelly is wary of Shurmur, a four-year starter and son of New York Giants head coach Pat Shurmur. The 6-4, 225-pound senior has completed 67.3 percent of his passes this season for 428 yards, four TDs and no interceptions.
"He (has) play(ed) a lot of snaps in the SEC," Kelly said of Shurmur, who figures to surpass the school records of Jay Cutler if he stays healthy. "He's a guy that's going to come in here with a lot of confidence."
Last week in the win over Nevada, Shurmur hit 23 of 32 passes for 258 yards. Kalija Lipscomb caught a career-high 10 passes for 85 yards and two TDs, while 6-4, 255-pound tight end Jared Pinkney had four receptions for 98 yards.
Notre Dame cornerback Julian Love thinks Shurmur has similar abilities as Ball State's Riley Neal, who threw for 180 yards on 50 attempts as the Cardinals ran 97 plays to Notre Dame's 72.
"They're very similar — big frames, big arms and smart," Love said, "and the guy from Vanderbilt, he's a competitor."
Mason sees an improving QB in Notre Dame senior Brandon Wimbush despite his three interceptions in a career-best passing effort of 297 yards against Ball State.
"If he looks up and there's an alley, he's going to take it (and run) as any good quarterback should," Mason said. "The place where he's probably improved the most to me is his ability to be accurate down the field."
POOCH PUNTS
Vanderbilt safety Zaire Jones, a 6-foot, 190-pound redshirt sophomore, returns after a two-game suspension following his arrest for bumping an off-duty police officer with his vehicle Aug. 23 prior to a Beyoncé and Jay-Z concert in Vanderbilt Stadium. ... Notre Dame is ninth nationally in penalty yards assessed with just 60 in two games. . Notre Dame's Justin Yoon was the nation's No. 1 placekicking prospect in 2015 coming out of Milton (Mass.) Academy, but he played hockey and soccer before trying football at Harding Academy in Nashville.
---
---