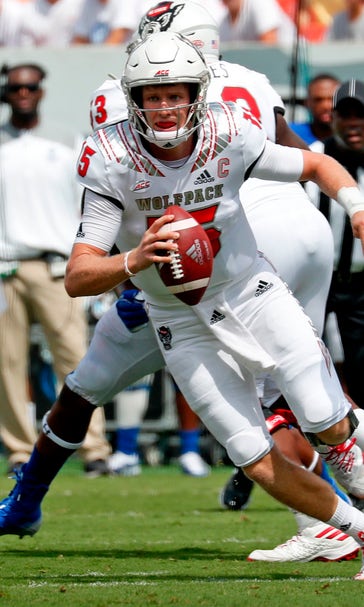 No. 23 NC State ranks among nation's best on 3rd down
October 4, 2018
RALEIGH, N.C. (AP) — A month into the season, No. 23 North Carolina State is moving the chains on third down and extending drives better than almost any team in the country.
The Wolfpack's third-down conversion rate ranks third in the Bowl Subdivision ranks entering Saturday's visit from Boston College in a pivotal Atlantic Coast Conference division matchup. Yet, listening to offensive coordinator Eli Drinkwitz, there's nothing special about what the offense is doing to earn the third-down success that has helped the Wolfpack get off to a 4-0 start.
"They're not magic plays," Drinkwitz said. "It's just our guys are executing better than we have in the past. I mean, that's really it.
"Everybody's got good football plays. Coaches all over the country are good football coaches and know how to get it on a whiteboard. But on a whiteboard doesn't matter. It's what players can execute on the football field, and our coaches have done a really good job of making sure their guys execute. And that's the secret."
Drinkwitz makes it sound ordinary, but the Wolfpack's production hasn't been.
N.C. State (4-0, 1-0 ACC) is converting 59.3 percent of its third downs this season (32 of 54), which trails only No. 12 UCF (62 percent) and top-ranked Alabama (59.7 percent) nationally. It's easily the best mark of sixth-year coach Dave Doeren's tenure.
Consider it the next sign of growth for an offense that entered the season facing high expectations with the return of quarterback Ryan Finley — who flirted with entering the NFL draft in the offseason — and a trio of big-bodied receivers led by another pro prospect in Kelvin Harmon.
There were some hiccups expected as the Wolfpack adjusted to life with big-play running back Nyheim Hines and do-everything threat Jaylen Samuels now in the NFL. But N.C. State's third-down conversion rate is a big leap from last year's 45-percent mark.
Doeren points to several reasons. It starts with the position coaches in their weekly preparation that goes into the game plan, which is then implemented in practice to an offense armed with experience through much of the unit.
The work has shown with an offensive line that has surrendered two sacks through four games, with the blocking help of running backs. That has kept Finley upright and looking downfield. And N.C. State has multiple wideouts capable of big output, preventing defenses from keying in on one guy on those critical plays.
It also helps that the Wolfpack averaged better than six yards on first downs through the past two wins against Marshall and Virginia, minimizing the third-and-really-long situations that typically lead to punts.
As center Garrett Bradbury put it: "It's everyone on offense. It's you doing your job and trusting the other 10 will do theirs."
"We have a lot of guys returning, a lot of veteran players," Bradbury said. "So I think with experience, you execute more, you don't mess up on the little things. And it's understanding your responsibility."
N.C. State's third-down success will be of particular concern for Boston College coach Steve Addazio. The Eagles (4-1, 1-0) have struggled to get off the field the past two weeks, allowing Purdue and Temple to convert a combined 16 of 33 third downs (48 percent).
"It kind of breaks your back a little bit because we get tired out there and the pass rushers start to wear down and get tired," Addazio said after last weekend's 45-35 win against the Owls. "If we could just get off the field a little bit better, I think the momentum would really swirl. So that's a critical deal for us right now. That's something I feel like we've got to get on top of, without a doubt."
---
---