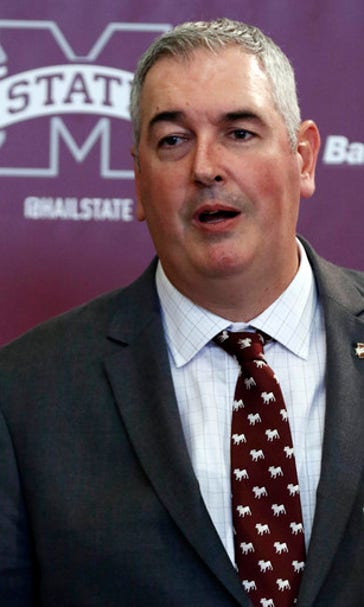 Moorhead, Mississippi St pushing for quick spring transition
March 30, 2018
STARKVILLE, Miss. (AP) Mississippi State's Joe Moorhead is going through the same problems and having the same headaches that first-year coaches always go through when establishing the way they want their football program run.
One difference: He won't be given much of a grace period to make it work.
That's because the 44-year-old Moorhead has the luxury - and responsibility - of taking over a roster with plenty of veteran talent . The Bulldogs expect to be a factor in the SEC West next fall after returning many of the main contributors from a team that finished 9-4 last season.
For that to happen, Moorhead, his staff and his team have to mesh quickly.
''You're teaching and learning essentially a new language and a new way to practice,'' Moorhead said.
That makes this ongoing stretch of 15 spring practices particularly valuable. Moorhead takes over for Dan Mullen, who left for Florida after nine seasons . His 10th team - led by quarterback Nick Fitzgerald, defensive tackle Jeffery Simmons and running back Aeris Williams - might have been his most talented.
But the Gators lured Mullen away and now it's Moorhead's job to make the quick transition.
The new coach - who spent the past two seasons as the offensive coordinator at Penn State - is adamant the transition can be fairly painless. He said there will be some differences with practice structure and terminology, but at its most basic, football doesn't change.
''There's just a difference in translation,'' Moorhead said.
Fitzgerald's presence at spring practice to learn the new offense has been crucial. The rising senior suffered a gruesome dislocated right ankle during the Egg Bowl against rival Mississippi in late November, but is back on the field four months later.
The 6-foot-5, 230-pounder has been limited, but is still running, throwing and getting used to Moorhead's system while wearing a bright yellow jersey that signals no contact.
''We're going to ease him back into it,'' Moorhead said. ''We don't want to get out too far in front of our skis, but we do want him doing what he's capable of doing.''
Fitzgerald grew into a solid SEC quarterback during his time under Mullen. He threw for 1,782 yards and 15 touchdowns last season while also running for 984 yards and 14 touchdowns. Now he's adjusting to Moorhead, who wasn't afraid to use quarterback runs during his time at Penn State.
''I want to have a very, very good knowledge of the offense,'' Fitzgerald said. ''I want to have a base knowledge of all the plays, know how to run them, the technique. That way over the summer we can get into more detailed parts of it.''
Fitzgerald should be surrounded by a good offense next season. Four starting offensive lineman and some talented young receivers return. So does Williams, who ran for 1,107 yards and six touchdowns last season.
Fitzgerald said the transition to Moorhead has been a good one so far.
''They tell us what they see,'' Fitzgerald said. ''They tell us the good things. They tell us the bad things and are very straight up about it. Ultimately, I feel like we are going to be in good position with them.''
---
More AP college football: www.collegefootball.ap.org and https://twitter.com/AP-Top25 .
---
---