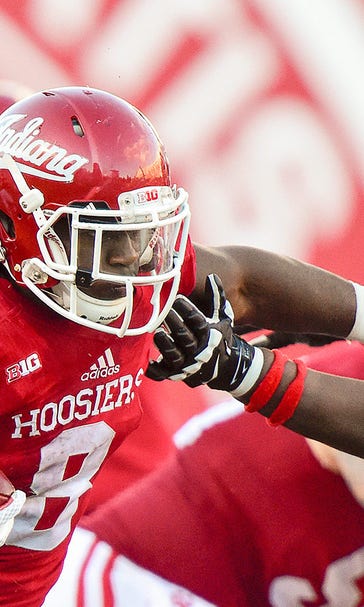 Jordan Howard thriving at Indiana after leaving UAB behind
BY Marcus Hartman • September 24, 2015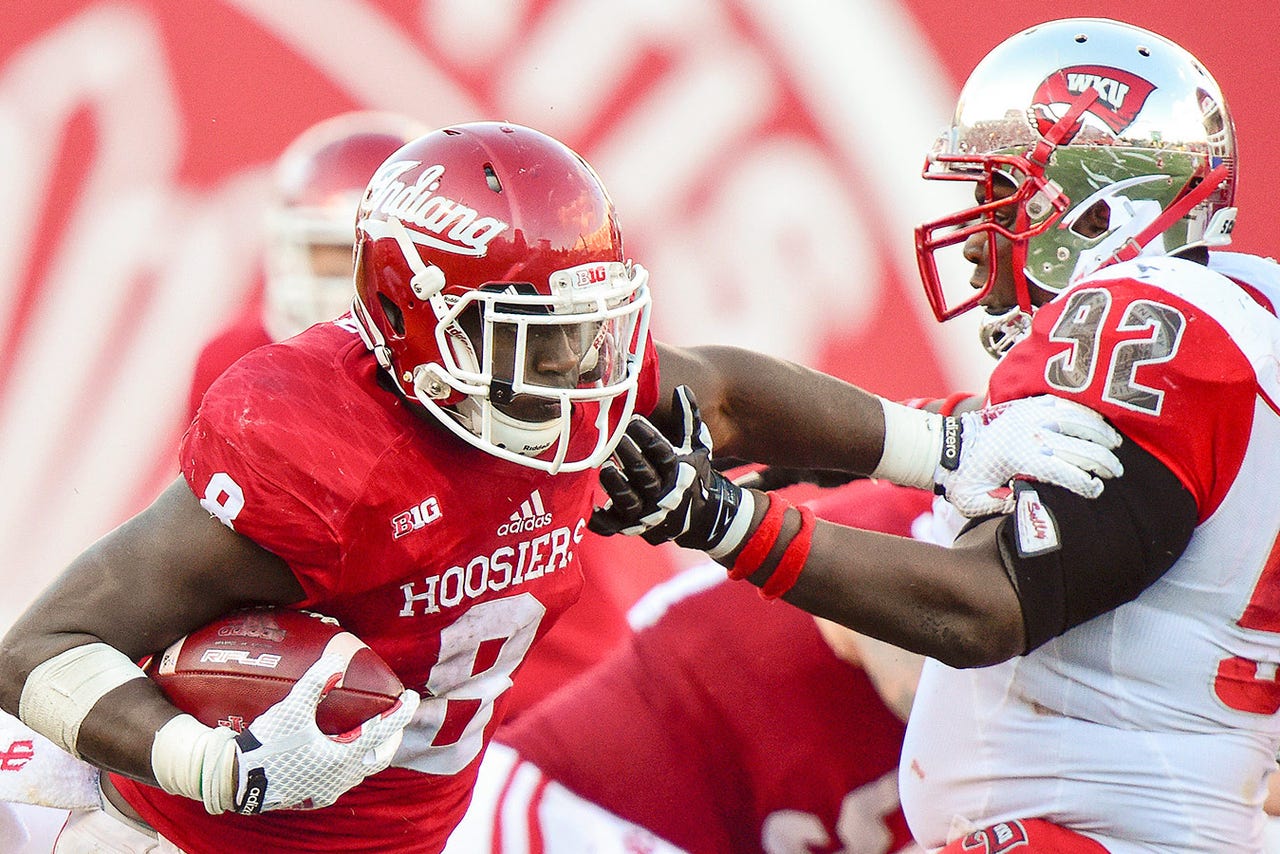 There is life after death of a football program. Just ask Jordan Howard of Indiana.
Howard has found a home in Bloomington after the school for which he ran for more than 1,500 yards last season, UAB, dropped football. Three weeks into the season, he's leading the nation in rushing less than a year after he was left without a team.
"At first I was worried just because I was going to have to leave UAB, and I really didn't want to leave," Howard told FOX Sports this week. "But then once I got over that and schools started to hit me up I started feeling more comfortable and I calmed down somewhat."
Moving to a Big Ten school from Conference USA has led to a higher profile for Howard, an Alabama native who said his only offer out of high school was from the Blazers. He has picked up nicely where 2,000-yard back Tevin Coleman left off when he opted to enter the NFL Draft, and that is a necessity for a team that missed a bowl for the seventh straight year in 2014.
The Hoosiers' 4-8 record last season was largely a function of the loss of quarterback Nate Sudfeld to a shoulder injury halfway through the season. Sudfeld's backup was also injured, and without a quarterback who was ready to play, the Hoosiers' previously high-powered offense became mostly grounded -- in more ways than one.
"That next week we played a great Michigan State team with 163-pound guy (true freshman Zander Diamont) that had no reps and threw for 11 yards," Indiana coach Kevin Wilson said from the podium at Big Ten football media days in Chicago in July. "You're farther away from me than 11 yards, so that's how far we threw the ball that game. Next week we doubled up and went for 24. So it took a hit."
Struggles on offense offset any gains the Hoosiers defense -- long an Achilles' heel in Bloomington -- made in Brian Knorr's first season as coordinator.
With Sudfeld returning this season, it stood to reason the Indiana passing game would at worst no longer be a liability and at best would get back to the high-flying ways of earlier years under Wilson, but what about the running game without Coleman?
Enter Howard.
All the 6-foot-1, 230-pound junior has done in the first three weeks of the season is rush for 145, then 159, then 203 yards in wins over Southern Illinois, Florida International and Western Kentucky. He's a huge part of an offense that is tied for 12th in the nation in yards per game at 673.
It's a happy chapter in a story that took an uncertain turn over the winter.
Among the first to contact Howard was Indiana running backs coach Deland McCullough, who worked hard to convince the running back that Bloomington was the place he should continue his career.
"I felt like this is the best fit with me," Howard said. "I was getting along with a lot of other schools I talked with, but Coach McCullough, I just liked the relationship I had with him. He's a genuine good dude. I felt like the offense fit my talents. I just felt like it was a good fit for me to help the team out."
Three-quarters of the season remains, but so far Howard has more than helped soften the blow of Coleman's departure, even though the two backs have different styles. Howard (6-1, 230) is bigger than Coleman and more of a power back than the 5-11, 206-pounder, who had 13 runs of 40 or more yards last season.
Howard's longest run so far is 35 yards, but he and Wilson both believe more are coming.
"A lot of times, it's just a back-side receiver, a back-side tight end, a guy on the second level doing his job," Wilson said of the difference between a 15- or 20-yard run and a longer one that goes the distance. "So a quarterback carrying out a fake that holds the safety two more steps, all of it just kind of adds up. So sometimes it's teammates. Not that we are doing bad, but sometimes the team gets him in the end zone as much as him."
Of course, Wilson has been talking up his veteran offensive line since the offseason, and Howard is quick to point out he has gotten plenty of help up front.
"I'm not doing it on my own," he said. "I get all my accolades, but I've got to give credit where it's due. "They're making it a lot easier because I'm not even getting touched in the first line. I'm making it to the second line very fast, and then the tight ends and receivers block very well as well."
He also visited Notre Dame and Vanderbilt and considered Wisconsin before settling on Indiana, a choice that seems to be working out.
"They welcomed me almost immediately," he said.
So far, Indiana's decision to do so appears to be one of the smartest moves of college football's offseason.
---
---