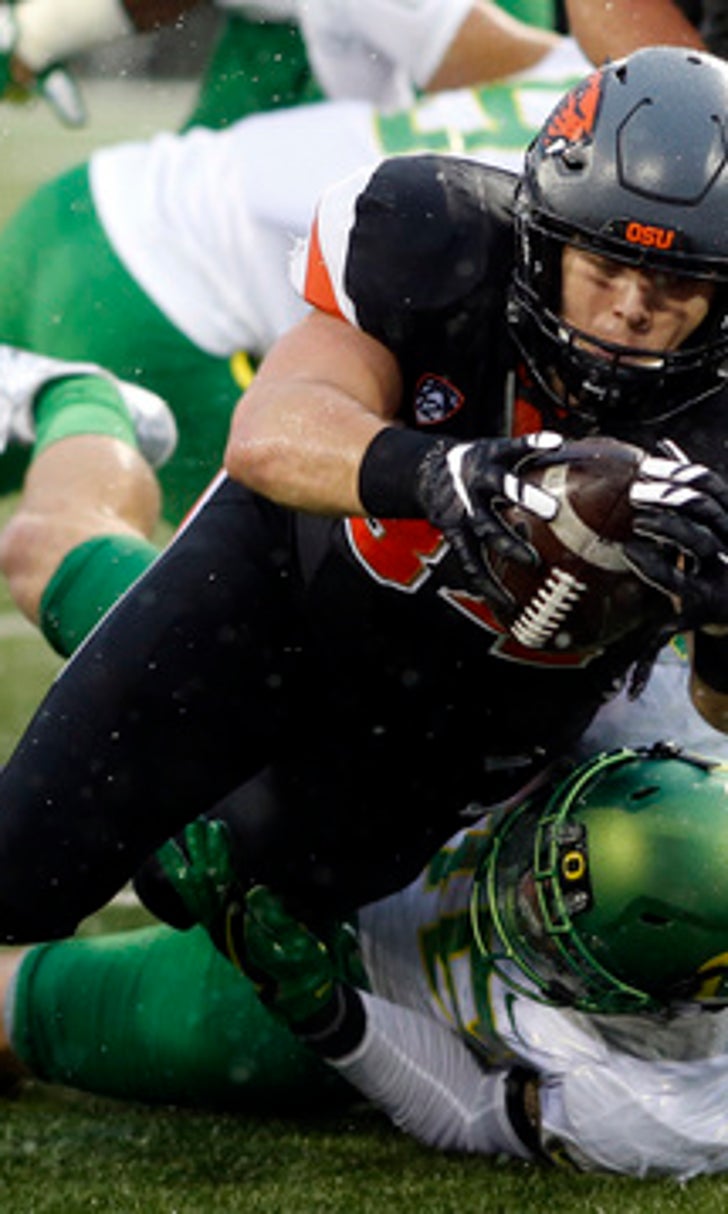 Ducks look for revenge, Oregon State just wants a Pac-12 win
BY AP • November 24, 2017
EUGENE, Ore. (AP) Oregon understandably wants a little revenge for last year's loss, while Oregon State just needs a conference win.
The Beavers won last year's Civil War 34-24, snapping an eight-game losing streak in the series. The teams meet for the 121st edition of the storied rivalry on Saturday at Autzen Stadium.
The Ducks (6-5, 3-5) have the most to gain from a win. Oregon became bowl eligible last week with a 48-28 victory over Arizona, getting quarterback Justin Herbert back after a five-game absence because of a broken collarbone.
So the Ducks will be playing for bowl position, while Herbert continues regaining his form. He threw for 235 yards and a touchdown, and also ran 40 yards for another score against the Wildcats.
Asked if he saw any rust on his starting QB, Taggart said this week: ''I guess if you want to try to pick out some things you can.''
''Was he as sharp as you want him to be? No. He made a couple reads that I think he'd want to take back after seeing the game, some simple things he could have done and helped us out a couple times, but for the most part I thought he was on,'' Oregon's coach added.
Herbert is obviously key to the team's bowl hopes wherever the Ducks ultimately land. Oregon was 1-4 during his absence.
The sophomore from Eugene has thrown for 1,499 yards and 10 touchdowns with three interceptions this season. He's also rushed for four scores.
The Beavers have had a season of disappointment coming off what appeared to be a confidence-boosting victory over the Ducks last year. Oregon State has won just one game this season, over lower-division Portland State, and hasn't won in conference play.
The team parted ways with head coach Gary Andersen early last month. Interim coach Cory Hall, who was cornerbacks coach under Andersen, knows he'll have a challenge in Herbert and the Ducks on Saturday.
''Don't think for one minute that Oregon has forgotten about that,'' Hall said about last year's win.
NEW BABY: Hall's Civil War week opened on a memorable note when his wife Sarah gave birth to their son, Isaiah-Bernard Hall. The baby weighed in at 8 pounds, 4 ounces when he arrived early Monday morning. He is Hall's eighth child, and fourth with wife Sarah. And according to Hall, he was the smallest of his children at birth.
''He's got some growing to do,'' Hall said. ''I was calling him Megatron and he was more like Bumblebee.''
ROLLS ROYCE: Oregon senior running back Royce Freeman needs two more rushing touchdowns to pass Oregon State's Ken Simonton for the Pac-12 record. If he rushes 100 yards on Saturday, he'll move into sixth all-time on the NCAA career list for rushing yards. Two rushing touchdowns will put him in 10th place on the NCAA's career list. He currently has 5,499 career rushing yards and 58 rushing TDs.
DYE HONORS: Oregon sophomore linebacker Troy Dye was named the Pac-12 Defensive Player of the Week for his 11 tackles (six solo) in the victory over Arizona. The Wildcats, who had the nation's third-ranked rushing offense going into the game, were held to just 171 yards by the Ducks. It was the sixth time this season and 11th in his career that Dye has had double-digit tackles.
A LITTLE CIVIL WAR TRASH TALK: Hall, who watched last season's Civil War from the coaches' box, recalled when he know the Beavers would win. ''I remember seeing that our sideline was jumping around and we didn't have raincoats on and then I saw the fancy Nike Duck raincoats on. And I remember thinking, `We're going to beat them. They're not prepared for these elements.'''
Oregon cornerback Arrion Springs responded: ''it just sounds like the guy is hating on the guy that gets all the girls. You can't never hate on the guy that gets all the girls, it just means the girls like him more. You can't do that. It just never works out in your favor,'' he told reporters.
NALL FUTURE: Oregon State junior running back Ryan Nall isn't saying what his plans are after this season. The Oregon native has rushed for 769 yards and eight touchdowns this season. Nall, who is on track to graduate after the winter term, needs 59 yards rushing to pass Pete Pifer (2,233) for seventh on the Beavers' career list.
---
---