Dobbs set to have a career day against Kentucky?
Published
Oct. 29, 2015 11:53 a.m. ET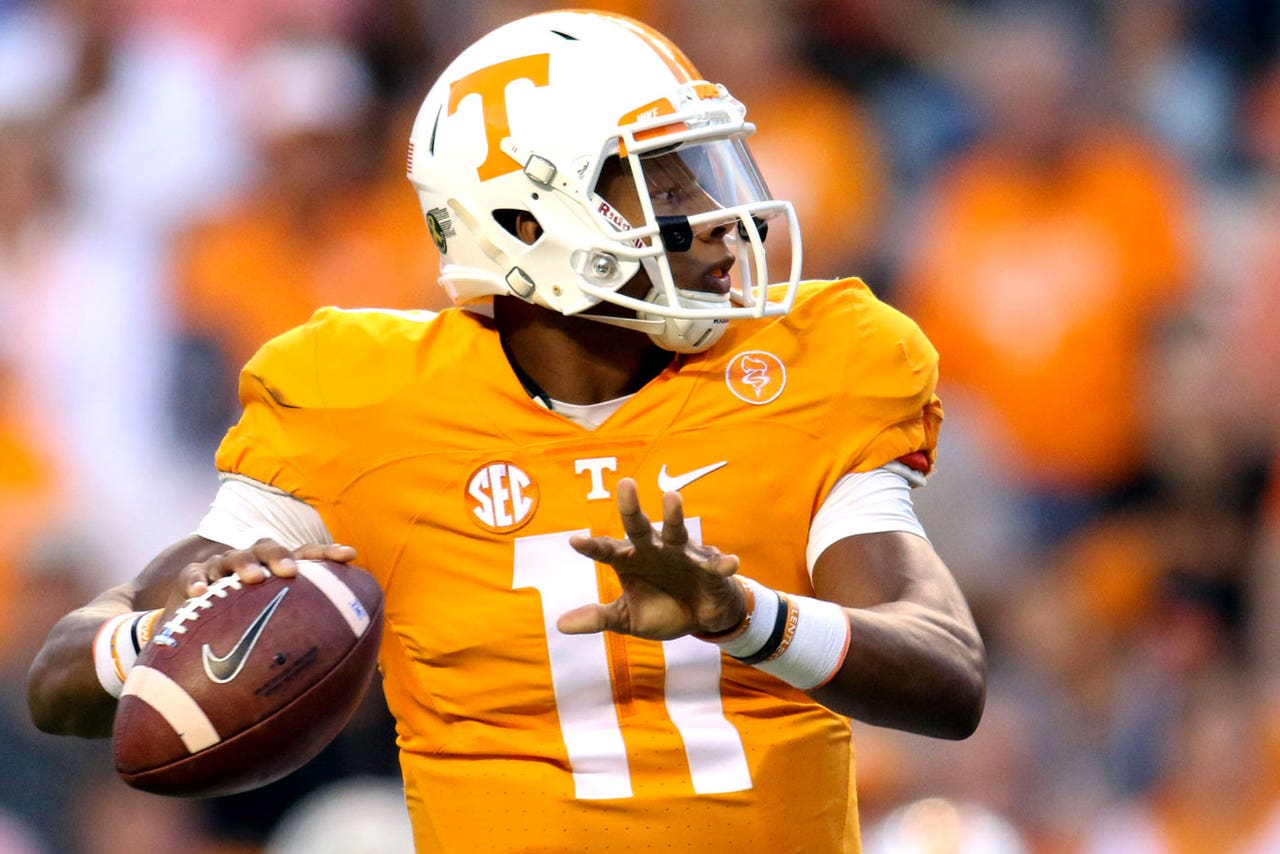 Kentucky is coming off a game in which it allowed 465 total yards and six touchdowns to Mississippi State quarterback Dak Prescott. Considering Tennessee's Joshua Dobbs has accounted for 620 yards of total offense and six touchdowns in his last two games against Georgia's and Alabama's defense, the Vols junior quarterback could be in for a career performance Saturday night. 
Tennessee head coach Butch Jones was asked Wednesday why his quarterback has been so successful against the Wildcats in the past. 
"(Dobbs) has been effective throwing the ball, running the ball, putting us in the right situations and being smart with the football," Jones said. "Just being smart with the football and he's been able to do that." 
That's an understatement.
In the game against Kentucky last season, Dobbs threw for 297 yards and three touchdowns and added another 48 yards and a score on the ground. His freshman season, Dobbs accounted for 251 total yards and three touchdowns in Lexington. 
Kentucky head coach Mark Stoops discussed the difficulties his team will face in stopping Tennessee's signal caller this weekend. 
"You see him getting better and better with every game, every rep," Stoops said. "I think he has a great command of the offense and what they're doing and a guy that's very comfortable back there. 
"He just has a great feel for the pocket and he's just one of those guys for a defensive guys, he's very aggravating because he has a great presence back there. He's strong. He can run it on designed quarterback runs, but he also has good feel for eluding pressure."
Adding to the Wildcats history of defensive woes against Dobbs, Kentucky has been forced to play a number of freshmen in its defensive backfield in recent weeks. 
True freshman Chris Westry starts at cornerback while redshirt freshmen cornerback Derrick Baity and safeties Darius West and Mike Edwards have received extensive playing time in the secondary recent weeks. 
"They made some mistakes, but they flew around and played fast and made some plays, too," Kentucky defensive backs coach Derrick Ansley said Wednesday. "We're very pleased with how they went into a hostile environment and played against a really good team and held their own."
Considering Dak Prescott was named the FWAA National Offensive Player of the Week after playing Kentucky, the results suggest the Wildcats' freshmen may not yet be ready for primetime. 
If Dobbs once again saves his best for Kentucky, the junior could be in for the performance of his career this weekend. 
---
---