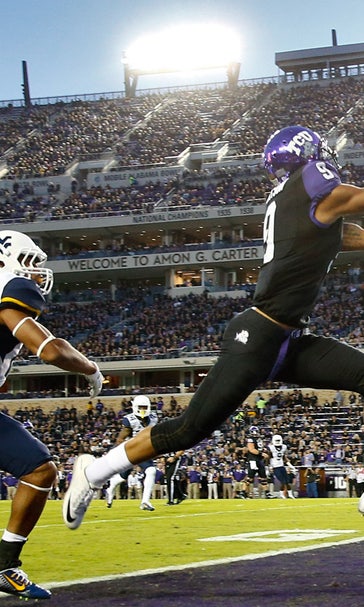 Big 12 notebook: Let the November round-robin begin
November 2, 2015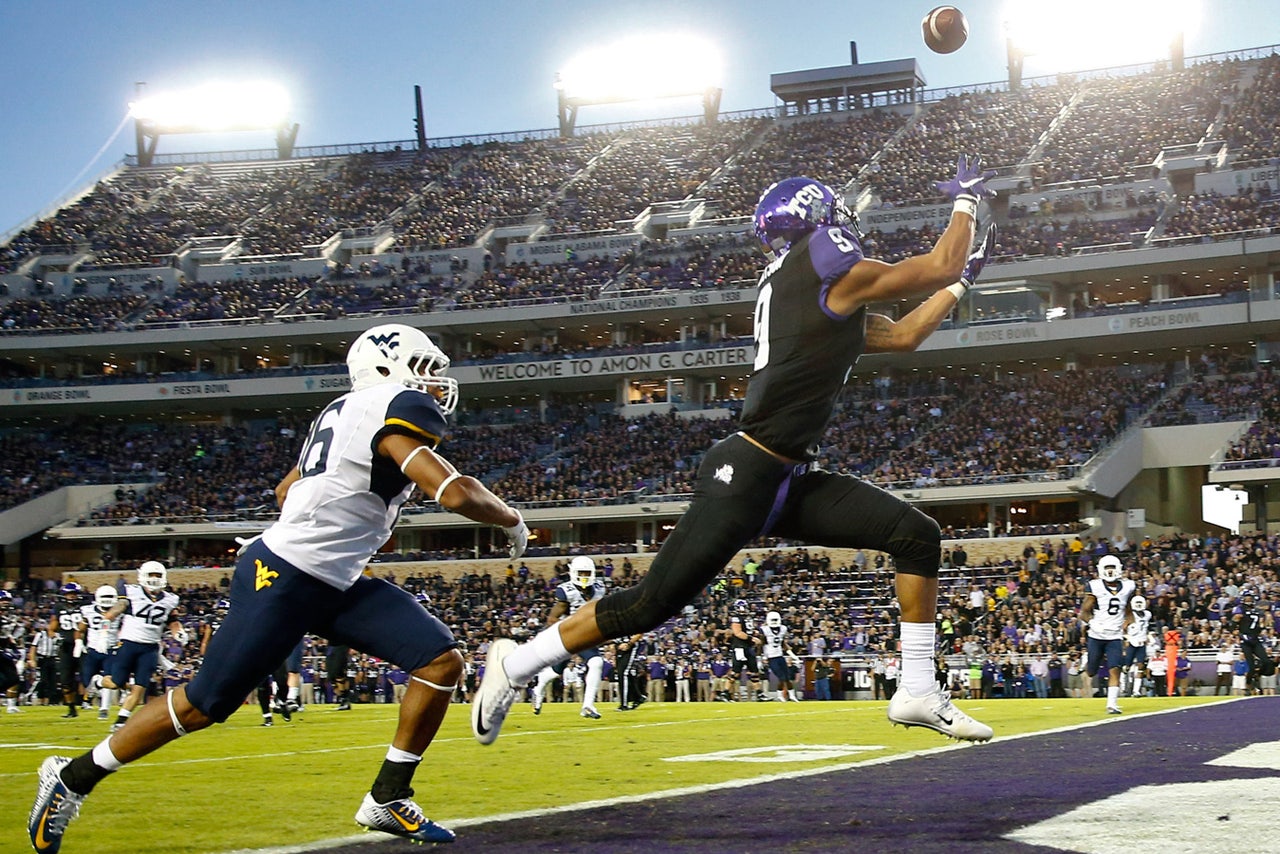 None of the teams mentioned above (sans Texas) have faced one another yet, so November is going to be a fantastic monthl. The final weeks of the season will essentially serve as a round-robin tournament for the top squads, and the first marquee matchup is on Saturday.
No. 5 TCU will travel to Oklahoma State to take on the No. 12 Cowboys. The field, the Pokes just hung 70 on Texas Tech, and they'll aim to come close to that mark against a patchwork Horned Frogs defense.
TCU made quick work of West Virginia on Thursday night, but is Gary Patterson's squad looking past Oklahoma State? Perhaps the better question is this: Is Patterson himself looking past Oklahoma State?
That depends on how you interpret the exchange he had with West Virginia head man Dana Holgorsen, whose Mountaineers have played both TCU and Baylor thus far.
From CBS Sports:
Patterson: "What do you think our chances are against Baylor?"
Holgorsen: "You'll win, you're a more complete team."
That may well be the case. It's been popular to suggest that Oklahoma State is a 'pretender' as far as undefeated teams go; after all, they defeated Texas, Kansas State and West Virginia by a combined 12 points. But Mike Gundy's bunch will take any bulletin board material they can get, and the bout against Trevone Boykin and the Horned Frogs should be a wild ride.
Speaking of Boykin…
TCU's signal-caller is quickly gaining ground on Leonard Fournette in the Heisman race. He's thrown for 824 yards and accounted for nine touchdowns in his last two games, and against West Virginia, he earned this high-five from Holgorsen in the middle of the game:
Holgorsen is no stranger to hyperbole. Two weeks ago, he called Corey Coleman the best player in college football. After losing 40-10 to TCU, 'Holgo' changed his tune.
"With all due respect to Corey Coleman two weeks ago, Trevone Boykin is the best player in college football," Holgorsen said. "You can't tackle him. He's a phenomenal football player and I'm glad we'll never have to see him again."
Baylor freshman wunderkind to make his first start at QB Thursday night
Baylor quarterback Seth Russell was a dark horse Heisman candidate in his own right before breaking a bone in his neck, which will require him to miss the rest of the season. Now, it's true freshman Jarrett Stidham's turn to try his hand at Art Briles' offense.
This will be a great test for Briles' system, which has seen players such as Robert Griffin III, Bryce Petty and Russell experience incredible amounts of success.
Baylor's coach is not concerned about Stidham's lack of experience.
"If he wasn't ready, he wouldn't be playing," Briles said. "That's the bottom line. He's a guy that's ready, so we're anxious to get on the field and let it fly."
Stidham has appeared in every Baylor game this season, albeit in mop-up duty. The true freshman has been impressive in small doses – he's completed 24 of 28 passes for 331 yards and six touchdowns.
Our Daily Bears put together this Stidham highlight reel that shows most of his game action from 2015, and his arm strength and athleticism jump off the screen.
Baylor takes on Kansas State this Thursday night (FS1, 7:30 p.m.) before hosting Oklahoma in Week 11.
Quick hits: Oklahoma State defeated Texas Tech 70-53 on Saturday, which was the highest scoring game of the 2015 college football season. Just another Saturday in the Big 12…. Iowa State shut out Texas 24-0 on Saturday night in Ames. Cyclones head coach Paul Rhoads on the performance: "We shouldn't beat Texas, but we did," ….. Texas head coach Charlie Strong obviously feels that way, too. According to a report, Strong cussed out his assistants for getting outcoached after the loss…. In a heartfelt gesture, Texas Tech paid its respects to Oklahoma State on the heels of last week's tragedy. Throughout Saturday's games, the messages "Red Raider Support" and "Stillwater Support" were displayed on Tech's giant video board. 
---
---