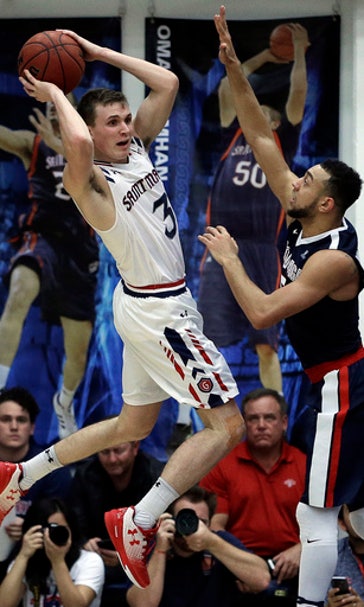 Top 25 Rewind: Poll to choose Gonzaga or Villanova at No. 1
February 12, 2017

The NCAA Tournament selection committee released preliminary seeds this weekend, putting Villanova as the top overall seed.
The Wildcats are No. 2 in the AP Top 25 , so the committee clearly viewed the Wildcats' resume to be better than top-ranked Gonzaga's.
But it wasn't just Villanova that surged past the Zags. Kansas earned the No. 2 overall seed and fellow Big 12er Baylor was third overall in the mock bracket.
Gonzaga was still the No. 1 seed in the West Regional, but was fourth overall.
Now that the committee has spoken, how will it affect poll voters?
Gonzaga received 59 of 65 first-place votes in last week's poll, with Villanova getting the other six. Kansas was third in the AP poll and Baylor was No. 6.
Voters in Monday's poll now must decide whether to leave Gonzaga at the top spot or move Villanova to No. 1.
''We're not thinking about all that,'' Gonzaga guard Nigel Williams-Goss said. ''We're thinking about getting better each and every week because if we keep getting better, nobody can stop us.''
The Zags (26-0) were not concerned with the committee's rankings Saturday when they faced West Coast Conference rival Saint Mary's. Gonzaga passed what's expected to be its last real test in its bid for an undefeated season, beating the 20th-ranked Gaels 74-64 in Moraga.
The Zags will be huge favorites in their final four games and will be 30-0 heading into the WCC Tournament in two weeks barring a slip-up.
''They haven't had a close game in 2 1/2 months,'' Saint Mary's coach Randy Bennett said. ''People say this and that about them; nobody's come close to beating them yet. They haven't had a team that's been this dominant.''
---
MORE CHANGES
Following two weeks of tumult in the AP Top 25, more changes are on the way after four top 10 teams lost and 12 ranked teams went down overall.
No. 4 Louisville lost to No. 12 Virginia, though the Cardinals were short-handed. Guard Quentin Snider was out with a hip flexor, while forward Deng Adel and center Mangok Mathiang were suspended for missing curfew.
No. 5 Oregon followed up a lopsided win over No. 9 Arizona with a three-point loss to No. 10 UCLA . That should move the Bruins up in Monday's poll, though it didn't sway the NCAA selection committee; the Ducks were the top team out of the Pac-12 in Saturday's rankings.
No. 8 North Carolina also lost to rival Duke, a game that should move the 18th-ranked Blue Devils closer to the top 10.
On Sunday, Northwestern may have punched its first NCAA Tournament ticket by beating No. 7 Wisconsin 66-59 in Madison.
---
HIGHLIGHT REEL
North Dakota State's Khy Kabellis had one of the more improbable baskets of the season, blindly flipping it into the basket while trying to save it in front of Denver's bench.
One problem: The ball went into his own basket. North Dakota State still managed to win the game, 81-63, though Kabellis took some serious ribbing from his teammates.
---
SHOCKERS RISE
This could be the week Wichita State works its way back into the poll.
The Shockers have been on a roll, stretching their winning streak to eight games with Sunday's victory over Loyola, Ill. Wichita State (23-4, 13-1 MVC) took control of the Missouri Valley Conference by crushing Illinois State 86-45.
The Shockers should be in good position to move into the poll after No. 19 South Carolina, No. 20 Saint Mary's, No. 21 Maryland, No. 22 Butler and No. 24 Xavier all lost.
---
FRESHMAN SPOTLIGHT
Jonathan Isaac, Florida State. The Seminoles (21-5, 9-4 ACC) were the No. 2 seed in the Midwest Regional in the selection committee's mock draft and Isaac has been a big reason for their success. The athletic 6-foot-10 forward is Florida State's second-leading scorer at 12.7 points per game and leads with 7.7 rebounds. Isaac is shooting 52 percent from the field, 35 percent from beyond the 3-point arc and holds his own at the defensive end, leading the Seminoles with 34 blocked shots.
---
More AP college basketball: www.collegebasketball.ap.org and https://twitter.com/AP-Top25.
---
---