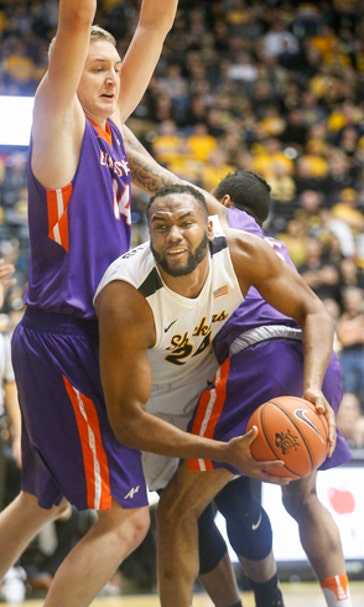 No. 25 Wichita State rolls right through Evansville, 109-83 (Feb 21, 2017)
February 21, 2017

WICHITA, Kan. (AP) The impressive depth of No. 25 Wichita State has never been more evident than Tuesday night, when little-used seniors John Robert Simon and Zach Bush checked into their final home game.
The Shockers were already on their way to a 109-83 blitz of Evansville, their 11th consecutive win and one that moves them to the brink of another Missouri Valley title. But the largest cheers were reserved for when Simon and Bush began pouring in shots in the closing minutes.
Simon hit three 3-pointers. Bush added his third basket of the season.
''Big night for our seniors, who have meant so much to us,'' Shockers coach Gregg Marshall said. ''They know the system and they executed it beautifully. They just went in and played with a flair.''
Still, it was the usual bunch that led the Shockers (26-4, 16-1) to another easy win.
Shaq Morris had 18 points, five assists and five boards. Connor Frankamp, Markis McDuffie and Rashard Kelly had 13 points apiece. Landry Shamet scored 12 on 4-for-4 shooting. And surging big man Darral Willis Jr. finished with 11 points, five rebounds and four blocks.
The Shockers played 16 players, nine of them at least 10 minutes. All but two scored.
''That's what we wanted to do, get them in the game and get some playing time. To see them get points was even better,'' Frankamp said of the two seniors. ''They're great leaders and they're the best people you could ever ask to be around.''
It took until their final week of the regular season for the Shockers to elbow their way into the Top 25 for the sixth straight season, but they might just keep rising. The nation's No. 2 team in scoring margin and one of the best defensive teams in the country hasn't lost since Jan. 14.
Jaylon Brown had 25 points to lead Evansville (14-16, 5-12), which has dropped nine straight to Wichita State. Dru Smith hit five 3-pointers and finished with 19 points.
''I mean, they executed at a high level,'' Evansville coach Marty Simmons said. ''They made it so difficult. We had some breakdowns, they made some tough shots, but then we gave up some easy baskets. But we just have a lot of respect for them.''
Shamet started the onslaught with consecutive 3-pointers during a 12-0 run in the game's first 5 minutes. Then, Frankcamp got busy at both ends of the court, at one point ripping away a steal and then tallying an assist by finding McDuffie for an easy basket at the other end.
Frankamp also poured in a couple of 3s of his own as Wichita State built a 48-32 halftime lead.
The Purple Aces, overmatched and outhustled, allowed the game to get away from them early in the second half. Wichita State converted points on eight consecutive possessions, and then Zach Brown hit a 3-pointer following their first empty trip, as the lead swelled to 66-42 with 14:50 to go.
The Shockers' seniors entered with 7:06 left. And on a night when everything was going right, Busch and Simon got into the scoring act to put a tidy bow on an easy win.
''We're always working, trying to get better,'' Kelly said. ''Early on this season we'd have good practices, bad practices, but we've grown together. Every day we want to give it our best, and that's carried over to the games.''
BIG PICTURE
The Shockers can clinch a share of their fourth straight Missouri Valley title if Illinois State loses to Southern Illinois on Wednesday night. But they will most likely need to beat Missouri State on the road Saturday. Their only league loss was at Illinois State on Jan. 14.
Evansville appeared to be turning its season around when it followed a nine-game skid with four straight wins. But the Purple Aces blew a 14-point second-half lead at Bradley, then never put up much of a fight against the hot-shooting Shockers.
UP NEXT
Wichita State finishes its regular season against the Bears on Saturday.
Evansville returns home to face Indiana State on Saturday.
---
More AP college basketball: www.collegebasketball.ap.org and https://twitter.com/AP-Top25.
---
---