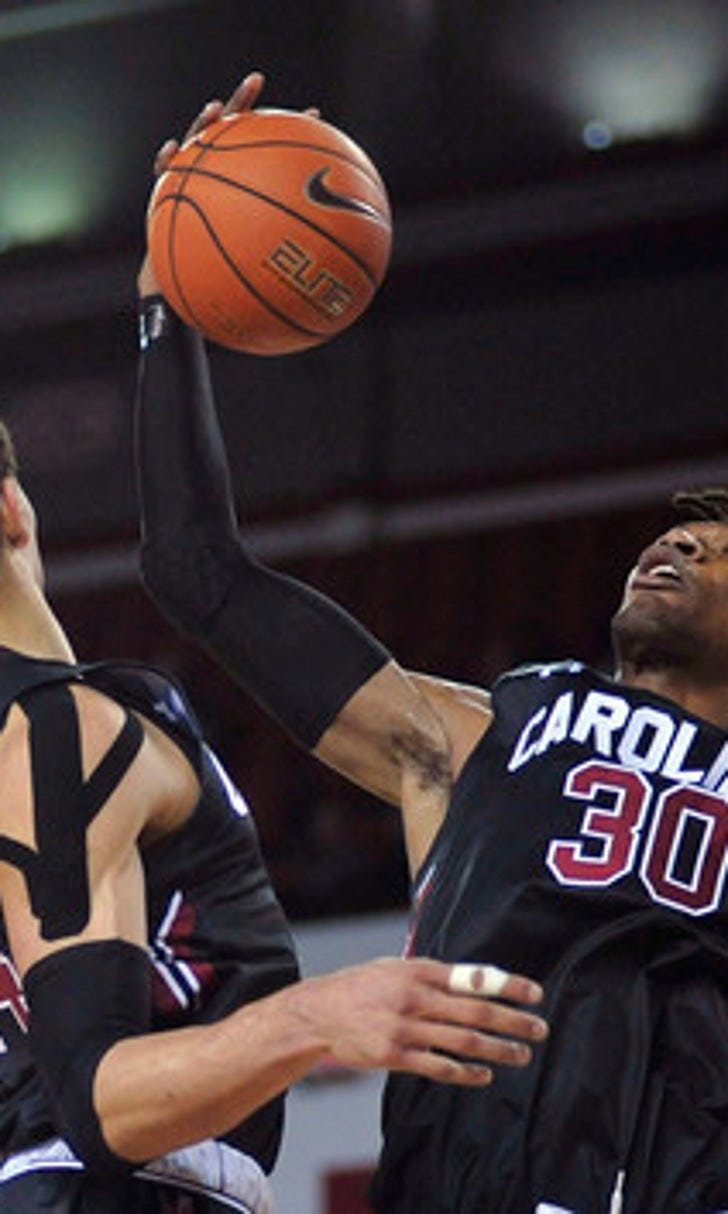 No. 25 South Carolina looks for win at No. 8 Texas A&M
BY foxsports • February 5, 2016
COLUMBIA, S.C. (AP) No. 25 South Carolina has followed both of its previous losses with victories in the next game. They look to do it for the third time on Saturday against Southeastern Conference co-leader in No. 8 Texas A&M.
South Carolina (19-3, 6-2 SEC) can inch closer to the top of the SEC against the Aggies (18-4, 7-2), reach 20 wins for the first time in seven years and prevent its first two-game losing streak of the season.
Gamecocks forward Mindaugas Kacinas said the players won't worry much about all that, carrying the same mindset into Texas A&M they've worked with all season.
''We don't overreact to a win or loss,'' said Kacinas, a senior who is among five South Carolina players averaging double-figure points this season. ''We come in every day after the game just work hard, learn from our mistakes and move forward.''
If the Gamecocks do that once more, they could come out of the weekend on top of the SEC. South Carolina is a game behind the Aggies and LSU, both 7-2 in SEC play.
South Carolina might've been in first already if it had taken care of things against up-and-down Georgia this past Tuesday in a 69-56 loss. Kacinas said the team came out sluggish and could not match the Bulldogs' intensity.
''We got outrebounded, got outshot at the free throw line,'' South Carolina coach Frank Martin said. ''It's hard for us to win when that happens.''
Martin said several players were ''listless'' against Georgia.
The Gamecocks put those issues aside the next day and had several days of perky workouts, Kacinas said.
''We've worked on what we did wrong,'' he said. ''We're ready to go.''
It's been a season of surprise so far for the Gamecocks.
They were one of the last two unbeaten Division I teams in the country with a 15-0 start - SMU went 18-0 before its first loss - and have spent six weeks in the Top 25 after getting picked for seventh in the SEC this preseason.
South Carolina has won two SEC road games so far, something it had not done in Martin's first three seasons in charge. But the Gamecocks have leveled off some during league play, going 4-3 since their perfect start.
The team will face a motivated A&M club that lost its past two league contests and is eager to regain its footing.
''We know what we'll be up against,'' Kacinas said.
South Carolina is in the bottom half of the SEC in field goal percentage so Martin said his team must rely on outrebounding and out-efforting opponents with solid defense. In the games it has lost, South Carolina has come up short in those areas, Martin said.
''It's been 22 games, who we are as a team has already been determined,'' he said.
Martin said the Gamecocks interior defense also has to improve. To help that along, rangy 6-foot-9 freshman Chris Silva has started the past two games in place of 6-11 senior Laimonas Chatkevicius. Martin said Silva plays fast and relentless, giving the Gamecocks a presence underneath they have not always had in years past.
Silva is eager to improve; he was in the Gamecocks' arena Thursday night at 10 p.m. after a South Carolina women's game working on his shooting and defensive positioning.
Kacinas said all the Gamecocks are ready to show they've got staying power and their early season success was not a fluke.
''Everyone is `Let's get it popping. Let's play,''' he said. ''Everyone is super excited.''
---