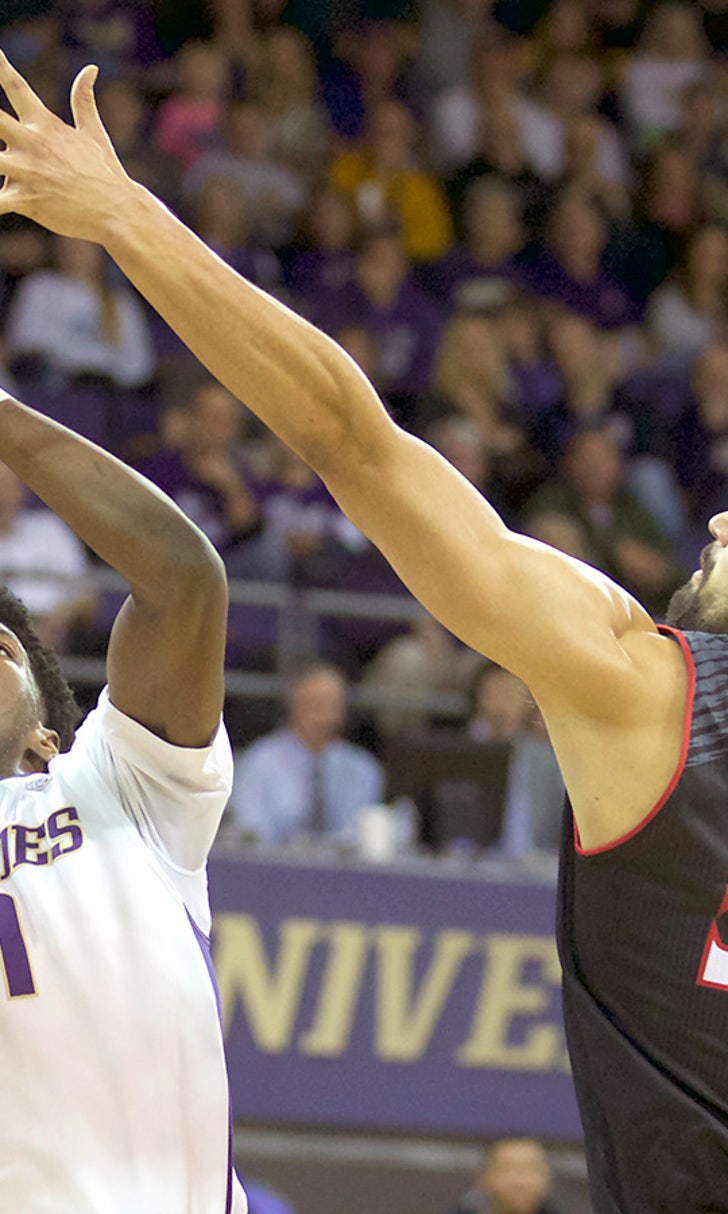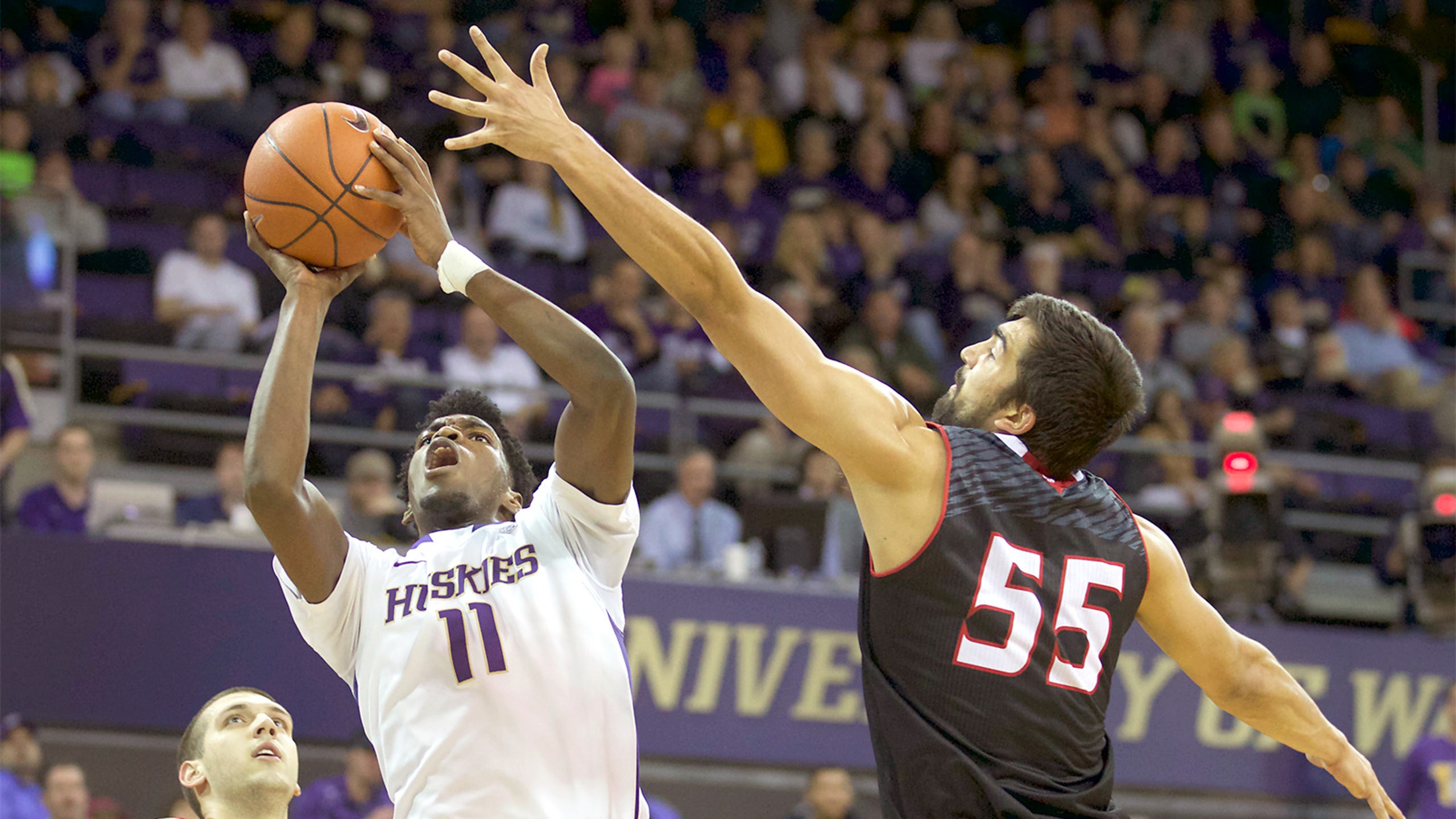 No. 17 Washington rallies to defeat Eastern Washington
BY foxsports • December 14, 2014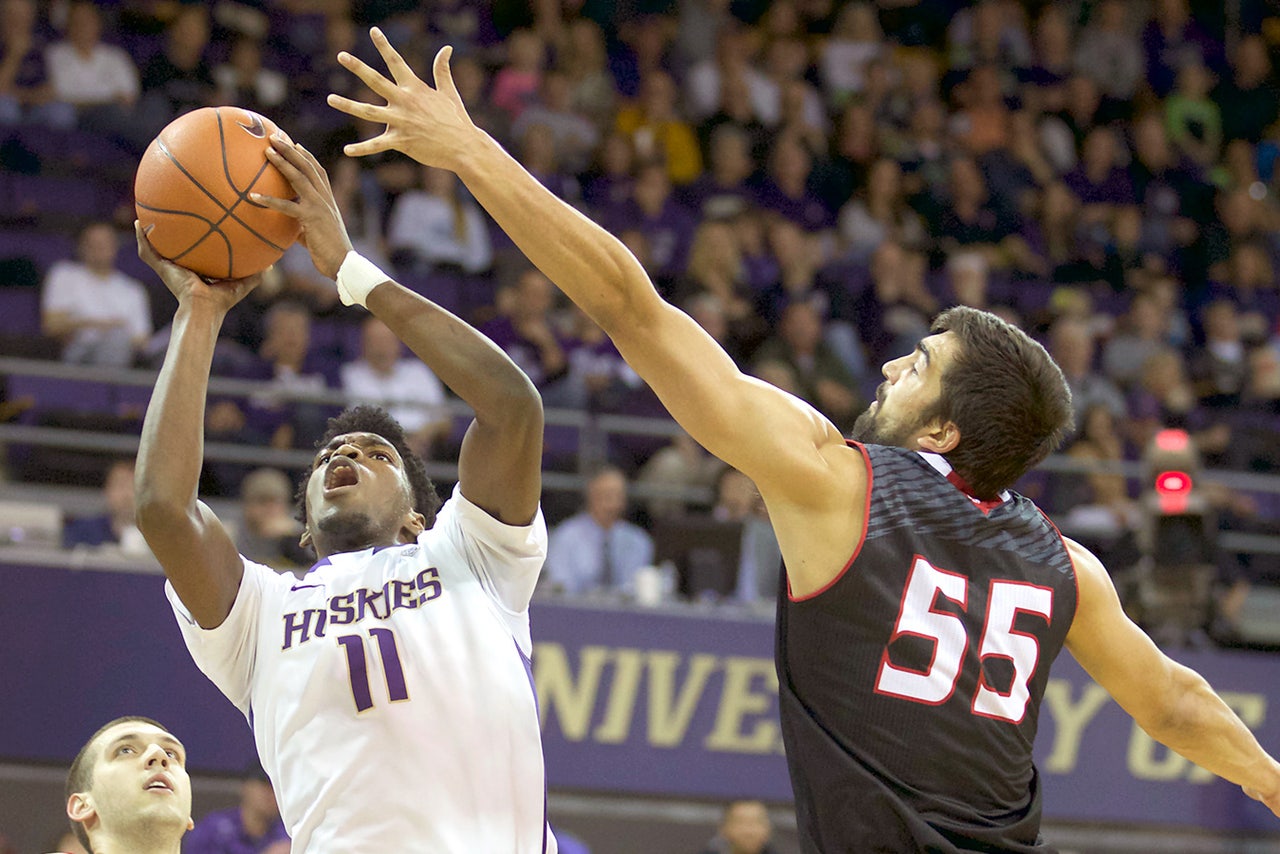 Washington guards Nigel Williams-Goss and Darin Johnson made crucial 3-pointers Sunday night after struggling from outside this season.
No. 17 Washington trailed Eastern Washington much of the game, but Williams-Goss and Johnson hit 3-pointers on consecutive possessions in the final 1:16 to cap a big comeback in an 81-77 victory.
"We're all confident shooters," Williams-Goss said. "We all put the time in outside of practice, we shoot a lot during practice, so we have confidence that guys are going to make open shots, whether they're missing or making."
Eastern Washington (8-2) led by 10 points with about 11 minutes to play when Washington (8-0) started to rally. Robert Upshaw's tip-in with 1:42 to play gave the Huskies their first lead since midway through the first half, 71-70.
Drew Brandon had an airball on a 3-point attempt for Eastern Washington and Williams-Goss then hit his 3-pointer from the left elbow to push the lead to four points. After a pair of free throws by Eastern Washington, Johnson hit another 3-pointer with 53 seconds left.
Williams-Goss came into the game shooting 25 percent on 3-pointers, and Johnson was 2 for 9 this season.
"They made two big-time 3-pointers," Eastern Washington coach Jim Hayford said. "If you look at those guys, it's probably who we want shooting them. They made the winning plays down the stretch."
Robert Upshaw led Washington with a career-high 21 points and added nine rebounds and six blocks. Williams-Goss had 19 points and Andrew Andrews added 18 for the Huskies, including all four of his free throws in the last 33 seconds to seal the win.
Tyler Harvey had 21 points for Eastern Washington, and Drew Brandon added 16. The Eagles were the first team this season to score more than 70 points against Washington.
Eastern Washington was trying for its second win over a ranked opponent in 22 tries. The Eagles' only win against a ranked team was a 68-67 victory over then-No. 10 St. Joseph's on Nov. 15, 2001.
Washington was playing as a ranked team for the first time since January 2011. The Huskies are off to their best start since the 2005-06 season, when they started 11-0.
"Through adversity, I thought we did a really good job," UW coach Lorenzo Romar said. "We pulled together and really, really gathered ourselves and had a great focus down the stretch in that game. We just kind of whittled away at their lead through defense and some guys hit some big shots."
TIP-INS
Eastern Washington: The Eagles are 1-13 against the Huskies, with their only win coming exactly 12 years earlier on Dec. 14, 2002. Eastern Washington has lost 18 straight games against Pac-12 teams.
Washington: The Huskies were 0 for 6 from the free throw line in the first half and missed their first seven free throws overall. Washington had more opportunities in the second half, finishing 24 for 37. Upshaw, who came into the game shooting 40 percent from the line, had the toughest night, going 5 for 14 on free throws -- although he made four of his last five attempts.
"He made most of his free throws down the stretch," Romar said. "Obviously he had a very bad start from the foul line tonight, but I think almost every tight game we've had, Robert has been in the game at the end of the game. It hasn't hurt us one time."
STAT LINE
In Washington's previous game, the Huskies held No. 18 San Diego State to a school-record low point total in a 49-36 win. Eastern Washington bettered the Aztecs' game score with 1:41 left in the first half. The Eagles had a 42-31 lead at halftime. 
---