College Basketball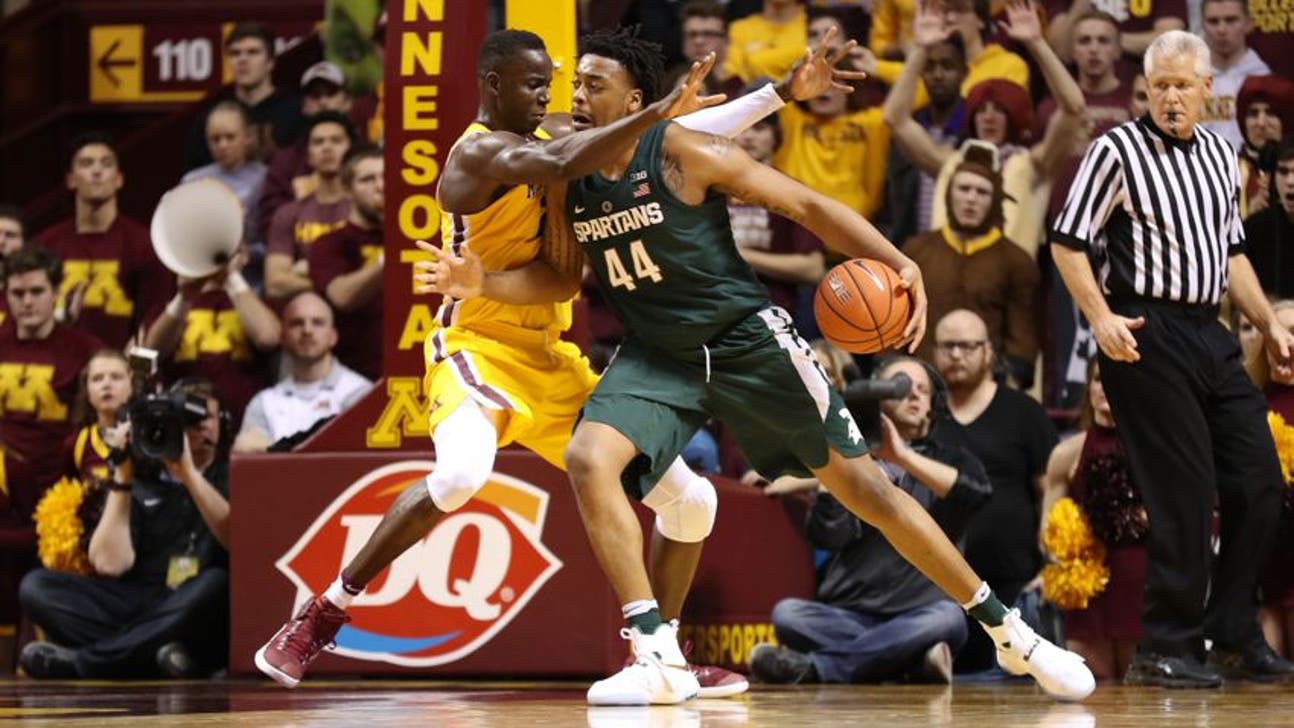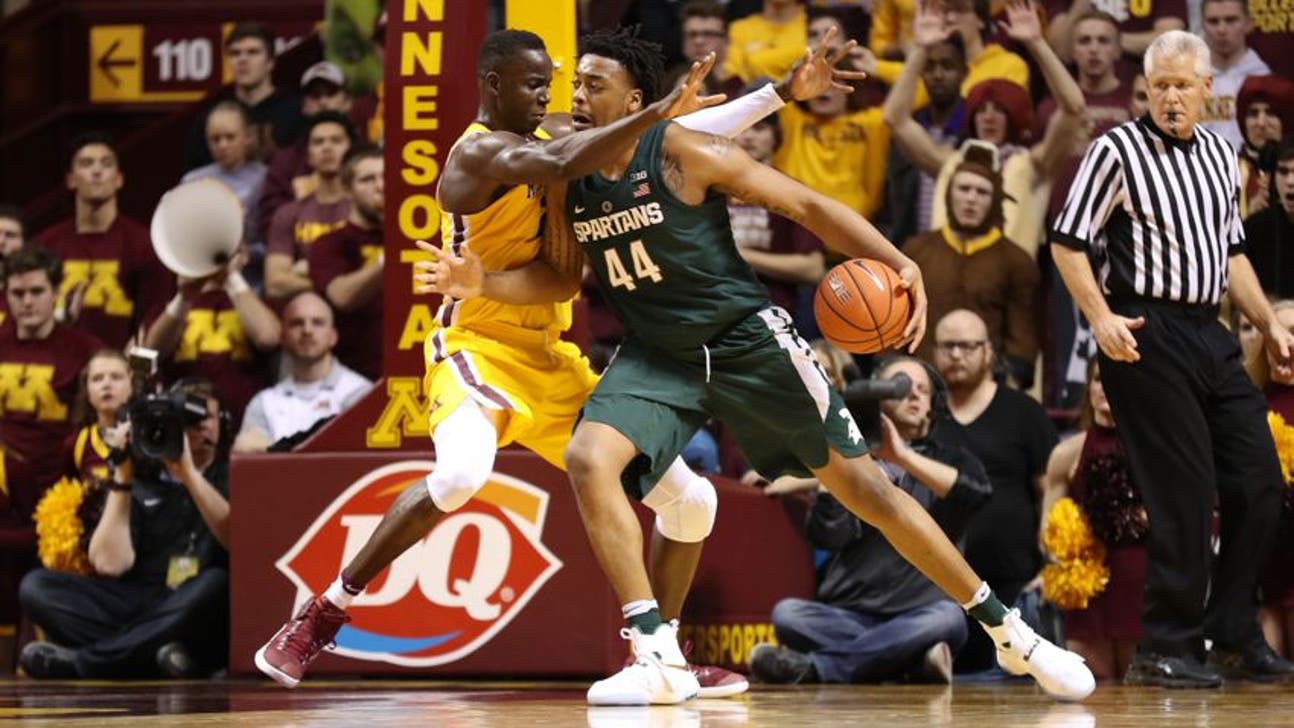 College Basketball
Michigan State Basketball: 5 bold predictions vs. Northwestern
Updated
Mar. 4, 2020 5:35 p.m. ET

Fansided, Connor Muldowney/FanSided via Spartan Avenue
Michigan State basketball will host Northwestern on Friday night and here are our five bold predictions for the matchup.
If you've been paying close attention to Michigan State basketball through the first couple months of the season, you would realize that this team has the potential to be very good and it can also play poorly enough to lose to Northeastern.
Now, Northwestern comes to town and the Spartans are looking to build on a two-game win streak that includes nice wins over Oakland and Minnesota. If the Spartans can take down Northwestern on Friday night, that would mean that their last three wins came against teams which had a combined 32-5 record coming into the matchup.
The grittiest win of the season came on Tuesday night as the Spartans furiously mounted a comeback in the second half against Minnesota, beating the Golden Gophers 75-74 in overtime. That had to make Tom Izzo proud and it's something to build on.
With Northwestern posing a tough matchup, here are five bold predictions for the big game on Friday night.
5. Alvin Ellis III comes back down to earth
Dec 27, 2016; Minneapolis, MN, USA; Michigan State Spartans guard Alvin Ellis III (3) shoots the ball against Minnesota Golden Gophers forward Jordan Murphy (3) during the second half at Williams Arena. Michigan State defeated Minnesota 75-74 in overtime. Mandatory Credit: Jordan Johnson-USA TODAY Sports
This shouldn't really surprise anyone. It's tough to live up to unreasonable expectations, especially with one breakout game under the belt. Alvin Ellis III was one of the main reasons why the Spartans defeated Minnesota on Tuesday, scoring 20 points with two big free throws to seal the deal, but everyone is already expecting him to take over as a scorer.
No, Alvin is probably not going to be a go-to scorer for this year's team, but he does have an opportunity to be a leader and a secondary offensive weapon. He has the ability to drain threes and put up some points, but 20 points a night isn't realistic.
Everyone's already starting the "bench Eron Harris, start Ellis" train and that's not going to end up like people are expecting. Ellis is going to make a few shots against the Wildcats, but scoring in double-figures isn't likely.
Expect Ellis to play about 15-20 minutes and score eight points with a couple of three-pointers, but some mistakes will force him back to the bench.
Nov 28, 2015; Evanston, IL, USA; Northwestern Wildcats guard Scottie Lindsey (20) shoots against the New Orleans Privateers during the second half at Welsh-Ryan Arena. Mandatory Credit: Kamil Krzaczynski-USA TODAY Sports
4. Northwestern makes a living behind the arc
It seems like teams love to shoot three-pointers against the Spartans. Michigan State has had some difficulty defending against the three-point shot so far this season and that needs to change against the Wildcats in order to result in a green and white victory.
However, the Wildcats are one of the better shooting teams in the conference and it seems like they always have a few guys who can light up a scoreboard from distance — a la Kevin Coble from about five years ago who helped upset the Spartans as the Breslin Center.
Two guys stand out on this year's team. While Bryant McIntosh always has the ability to make a three, or two, he has struggled from behind the arc this season. It's Vic Law and Scottie Lindsey who have been making high percentages.
Lindsey leads the team in scoring with 16.1 points and he has also made the most three-pointers, averaging 42 percent from long range. Law leads the team in three-point percentage, about 44, and is second on the team in scoring with 13.6 points per game.
Those two are going to make a living from long range and the Spartans will be answered with every big shot by a three from Law and Lindsey.
Dec 10, 2016; East Lansing, MI, USA; Michigan State Spartans guard Eron Harris (14) takes a shot against the Tennessee Tech Golden Eagles during the second half at Jack Breslin Student Events Center. Spartans win 71-63. Mandatory Credit: Raj Mehta-USA TODAY Sports
3. Eron Harris returns to form (slightly)
Everyone is down on Eron Harris right now, it seems. That's fair, though. The senior guard has had trouble living up to expectations, averaging 12.8 points per game and only shooting 38 percent from behind the arc. He was supposed to be the go-to scorer for this year's team, but he has been known to disappear during big games.
Harris can be that guy who drills a big-time three, though. He has done it a couple of times this season and can be a lights-out shooter, but he is lacking confidence. Tom Izzo has been in his ear for the past few games about taking/not taking certain shots and he looks to be down on himself.
After hearing all about how "bad" he is following the Minnesota game in which he scored just five points on 2-of-9 shooting, he's going to return to form, ever so slightly, making over 50 percent of his shots and finishing with 12 points.
A 12-point performance might not seem like much, but it'd be a step in the right direction. Stringing a few games like that together would do wonders for his confidence and that seems to be the only thing lacking right now with him.
It won't be a breakout game, but 12-15 points will get him back on track after a rough five-point showing at Minnesota.
Dec 27, 2016; Minneapolis, MN, USA; Michigan State Spartans forward Nick Ward (44) backs down Minnesota Golden Gophers center Bakary Konate (21) during overtime at Williams Arena. Michigan State defeated Minnesota 75-74. Mandatory Credit: Jordan Johnson-USA TODAY Sports
2. Nick Ward records another double-double
I'm running out of good things to say about Nick Ward. The freshman big man is arguably the best first-year player in the Big Ten, other than Miles Bridges, and he has been dominating over the past month.
It's hard to believe that Ward is only seventh on the team in minutes per game, with 18.7, and he is still second on the team in scoring and rebounding behind Bridges. He averages 13.8 points and 6.6 rebounds per contest and is shooting 61 percent from the floor.
Ward's production in recent games has elevated, however. He is getting more minutes in the absence of Bridges and he's making the most of them. He's scored in double figures in eight straight games and over the past six, he's averaging 18.2 points, 8.2 rebounds and 2.8 blocks.
Against the Wildcats on Friday night, Ward will have yet another big performance and record his second straight double-double and his third of the season. He's going to finish with 18 points, 11 rebounds and three blocks.
Northwestern will have a tough time finding an answer for Ward in the post and he will be doing whatever he wants in the first half. The Wildcats will slow him down slightly in the final 20 minutes, though.
Dec 27, 2016; Minneapolis, MN, USA; Michigan State Spartans head coach Tom Izzo reacts against the Minnesota Golden Gophers during the second half at Williams Arena. Michigan State defeated Minnesota 75-74 in overtime. Mandatory Credit: Jordan Johnson-USA TODAY Sports
1. Michigan State wins by five
It's not going to be easy, but the Spartans will cover the spread and beat the Wildcats at home by five points, 66-61. The Spartans will have a tough time defending the perimeter once again as it will seem like anything the Wildcats jack up finds the bottom of the net.
Must Read: MSU Basketball: Report card for non-conference action
Michigan State looks like one of those teams that can get hot at the right time and carry a big win over into 5-or-10 in a row. The Spartans are currently on a two-game streak and won a big home game against Oakland and another road contest against Minnesota and both without top player Miles Bridges.
Accumulating these nice wins without their top player is only going to make the Spartans stronger in the long run. Bridges would be nice to have back for this one, but that's unlikely as he will miss his seventh straight game.
In his absence, Ward will have another big game, as mentioned on the previous slide, and Cassius Winston will continue to grow as a point guard. Josh Langford is starting to gain confidence and he will add to that on Friday.
The Spartans will battle the Wildcats back-and-forth and ultimately come out with a big win on their home court to improve to 2-0 in Big Ten play.
More from Spartan Avenue
This article originally appeared on
---
---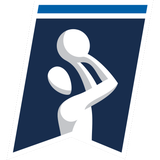 Get more from College Basketball
Follow your favorites to get information about games, news and more
---