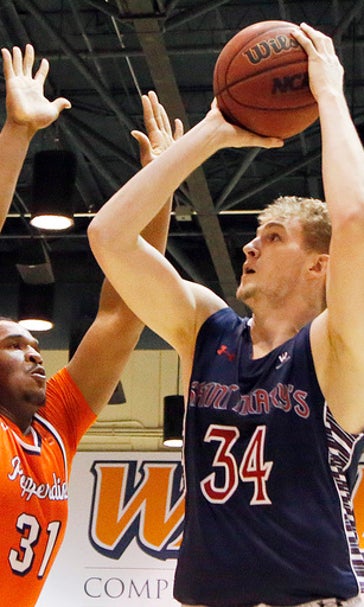 Landale leads No. 20 Saint Mary's over Pepperdine (Feb 23, 2017)
February 24, 2017

MALIBU, Calif. (AP) Saint Mary's Jock Landale had a distinct height advantage against Pepperdine, and the only thing that slowed him was a power outage that caused the lights to go out.
When the lights came back on, Landale almost immediately had an emphatic dunk and the Gaels continued the rout.
Landale had 23 points, 14 rebounds and two blocks to lead No. 20 Saint Mary's to a 78-49 victory Thursday night.
''At first we were all joking that it gave us the fright of our lives when the lights went out,'' Landale said. ''We just kept saying to stay warm and not let it affect us. We were on a roll at the time and we just wanted to keep it that way.''
The Gaels (25-3, 15-2 West Coast) continued to roll in winning 10 of their last 11 games. Their only loss in that stretch was to No. 1 Gonzaga.
Lamond Murray Jr. had 17 points for Pepperdine (9-20, 5-12), which lost its third consecutive game.
The power outage caused the lights to go out with 18:41 left in the second half. Pepperdine official Roger Horne said power surges throughout campus caused the 15-minute delay. Players stayed loose by shooting in the dark.
''Never happened before. I found out it was campus-wide. I didn't know if it was city-wide, because we've had it off and on,'' Pepperdine coach Marty Wilson said. ''I've never been a part of any game ever, in the 100 years I've been coaching, that's ever happened. I didn't know the protocol.
''I asked the refs, `How long do we wait?' They said typically one hour. It didn't take that long.''
Saint Mary's coach Randy Bennett said he had never been a part of game in which the lights went out, either.
''I was just glad we were able to finish it,'' Bennett said. ''I didn't want to be here waiting for an hour. It worked out good.''
The delay didn't slow down Saint Mary's, which led 41-21 before the lights went out. The Waves had no answer for the 6-foot-11 Landale, who is from Australia.
''Obviously, he's 7-foot,'' Pepperdine guard Jeremy Major said. ''It wasn't necessarily him so much. We're having a hard time with our injuries. With our personnel, it's tough to guard a 7-footer when you don't have anybody over 6-6, 6-7. They're so good on the pick-and-roll. That puts you in a tough situation. You've got to pick your poison. When you have a guy that big, you can toss it up and he'll win that battle nine times out of 10.''
BIG PICTURE:
Saint Mary's did what it needed to do in recording another road victory. The Gaels and Landale continued to flex their usual muscles as they dominated in the paint and outrebounded the Waves 47-29.
Pepperdine has weathered the storm of an injury-plagued season and played with its 10th lineup of the season. Chris Reyes (heel) was ruled out for the season on Thursday, but the Waves still suited up nine players.
QUOTE OF THE GAME
''When they went out, I was talking to (assistant coach) John Impelman, and he was talking about the Super Bowl back when the Ravens were in it, and (the 49ers rallied) and we thought, you know what? It might be our opportunity to do that. Obviously, it didn't happen.'' Major on how the Waves hoped they could follow the 49ers near-comeback in the Super Bowl after the lights went out. The Ravens hung on for a close win despite leading by 22 points.
HEY MATE
Saint Mary's has seven players on its roster who hail from Australia. Six earned playing time Thursday, and each played 5 minutes or more.
UP NEXT:
Saint Mary's returns home to play its regular-season finale against Santa Clara on Saturday, the final tuneup before the WCC Tournament. The Gaels won the last matchup, 72-59.
Pepperdine plays its last home game on Saturday against San Francisco. It's the final game at Firestone Fieldhouse for Major, who is scheduled to make his 122nd career start, which would become most in school history.
---
More AP college basketball: www.collegebasketball.ap.org and https://twitter.com/AP-Top
---
---