Kentucky takes SEC title with OT win against Texas A&M
Published
Mar. 13, 2016 3:43 p.m. ET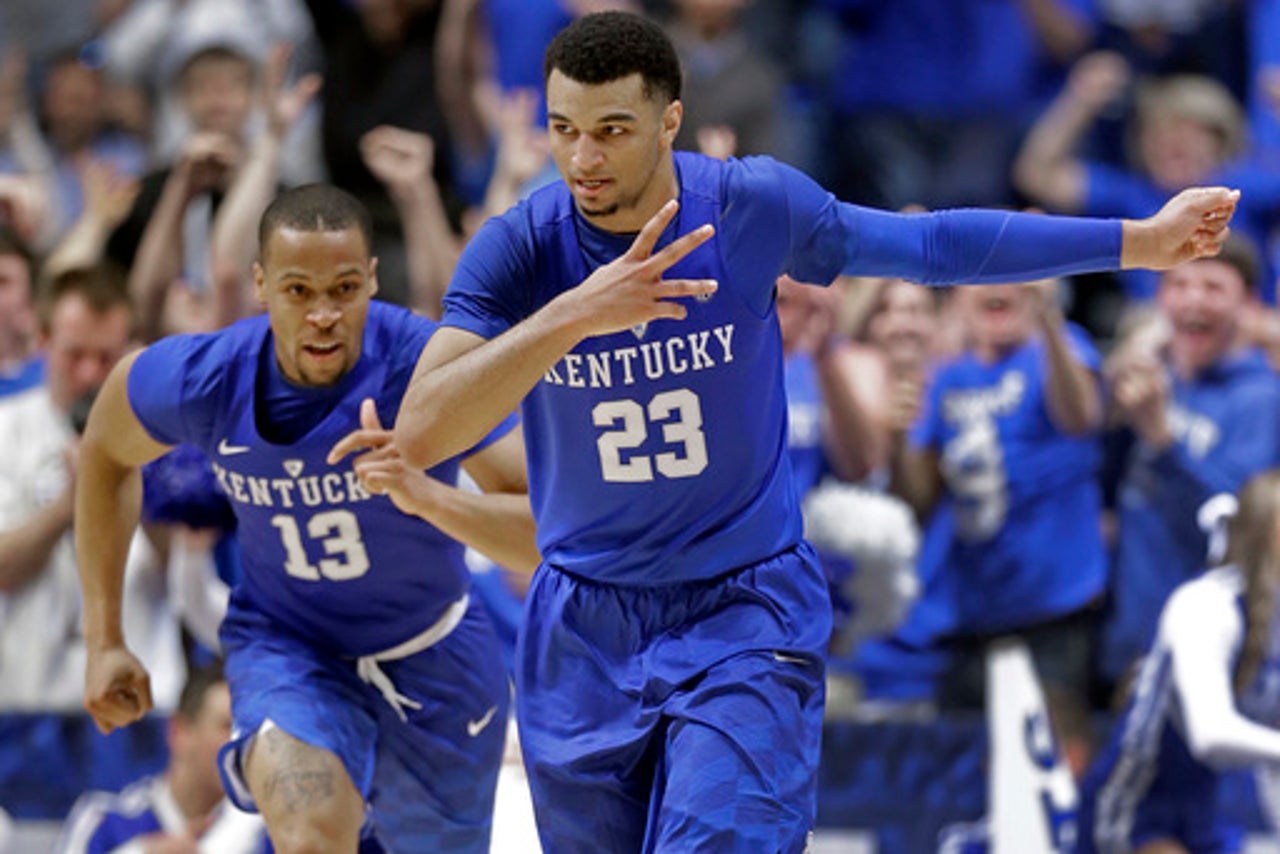 NASHVILLE, Tenn. -- For the Kentucky Wildcats, every Southeastern Conference Tournament title is special.
No matter how many the program already has.
Derek Willis's 3-pointer with 1:01 left in overtime put Kentucky ahead to stay, and the 16th-ranked Wildcats beat No. 17 Texas A&M 82-77 in overtime on Sunday for their second straight SEC Tournament championship and 29th overall.
"It's a great feeling getting this win," Kentucky sophomore guard Tyler Ulis said.
Kentucky freshman Jamal Murray summed it up: "Whoo! It's a good feeling."
These teams split the regular season title after the Aggies edged Kentucky in College Station in overtime on Feb. 20 and each finished 13-5 in league play. But SEC Tournament titles are treasured by Kentucky faithful, and the Wildcats (26-8) gave fans yet another to celebrate in a game they have lost only 10 times in the program's storied history.
"That's why we finished co-champions of the SEC, two really good teams battling it out," A&M's Alex Caruso said. "I mean there's just a testament to how good each of these teams are and how well coached they are."
Ulis played all 45 minutes and scored a career-high 30 points, including Kentucky's final point on a free throw with 8.7 seconds left. Murray added 17 points, and Willis, Alex Poythress and Isaiah Briscoe all finished with 10.
Danuel House scored a career-high 32 points for Texas A&M (26-8). Jalen Jones had 15 points, and Caruso added 11.
Texas A&M hadn't played for a tournament title since 1994 or won one since 1987. The Aggies' drought continues after they found themselves playing essentially a road game before an arena smothered in Kentucky blue with fans roaring every basket by the Wildcats.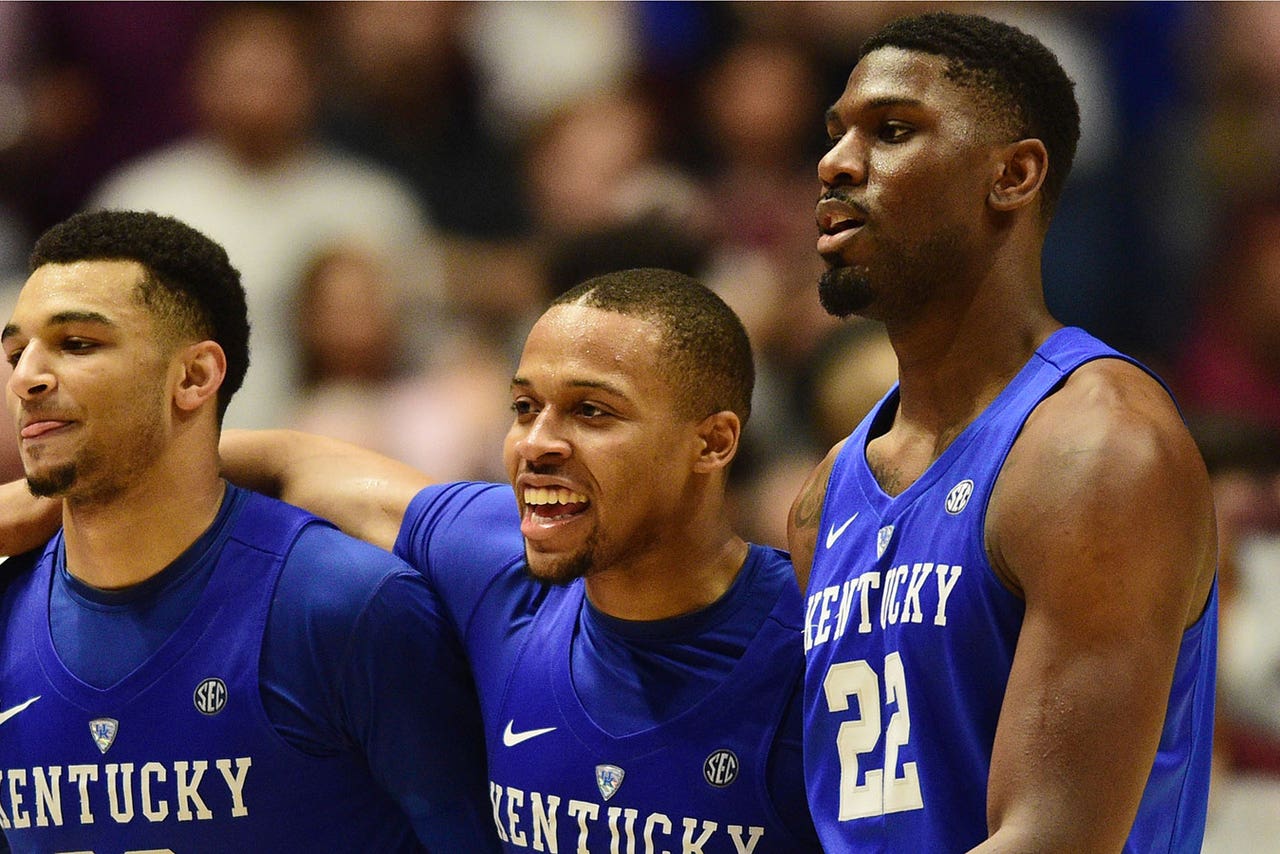 "We're disappointed, but we don't have time to hang our heads or be disrupted in the journey we're trying to accomplish," Texas A&M coach Billy Kennedy said with the NCAA Tournament next.
In a game featuring 10 ties and eight lead changes, Kentucky had the biggest lead at seven points with 3:59 left on a 3-pointer by Murray and were up 71-65 on two free throws by Poythress with 1:43 left in regulation.
House forced overtime with the performance of his career, even though he was bent over late with his hands on his knees. He hit a 3-pointer, then tied it at 71 with a driving layup with 18.7 seconds left. Guarded by Caruso, Ulis' fallaway jumper hit off the front rim to force the teams to keep playing.
Kennedy had been expecting a breakout game from House at some point.
"And this is when we needed it," Kennedy said.
House hit his last 3 to force the final tie at 75, then Willis hit his 3 to put Kentucky ahead to stay. Murray added a 3 with 15.8 seconds left. House missed two 3-point attempts, including one just before the buzzer that Briscoe rebounded and then celebrated the win by tossing the ball high up in the air near the top of the video board.
Texas A&M led 38-34 at halftime.
------
TIP-INS
Kentucky: The Wildcats are 20-2 in this tournament in Nashville and 17-2 in this arena. Coach John Calipari has won five tourney titles with the Wildcats. ... Poythress fouled out with 3:14 left in overtime. ... The Wildcats were 2 of 6 from beyond the arc in the first half and hit 8 of 18 the rest of the way. ... Murray snapped a 12-game streak scoring 20 or more points.
Texas A&M: The Aggies' two tournament titles came in 1980 and 1987. This was their first tournament final since 1994. ... The Aggies outrebounded Kentucky 41-35.
ULIS FOR PLAYER OF YEAR
Calipari lobbied not for more SEC teams for the NCAA Tournament. He argued that Ulis deserves as much consideration for player of the year as anyone both on TV after the game and again with reporters. "And because he's 5-foot-9, everybody, it's like `How can you do it?' But when you look at his numbers and what he's doing, that's the player of the year those numbers," Calipari said.
UP NEXT:
Kentucky: NCAA Tournament
Texas A&M: NCAA Tournament
---
---