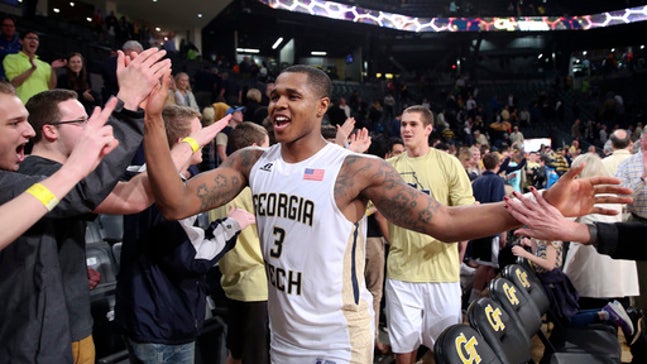 Georges-Hunt's faith finally paying off for Georgia Tech
Published
Feb. 24, 2016 5:18 p.m. ET

ATLANTA (AP) Marcus Georges-Hunt kept his faith as Georgia Tech suffered two straight losing seasons and a particularly dreadful ACC finish last season.
Georges-Hunt's resolve even endured the Yellow Jackets losing eight of their first 10 Atlantic Coast Conference games this season.
Led by the senior, Georgia Tech has finally found a way to win close games.
The Yellow Jackets (16-12, 6-9 ACC) have won three straight regular-season conference games for the first time since the 2007-08 season, and four of their last five.
With the game tied, Georges-Hunt sank two free throws with three seconds remaining, giving him a game-high 25 points, in a 75-73 win over Clemson on Tuesday night. Three nights earlier, he hit a last-second shot for a 63-62 upset of then-No. 19 Notre Dame.
The Yellow Jackets are in position to contend for their first postseason bid in five seasons under coach Brian Gregory. A spot in the NIT would be a reward for Georges-Hunt and other upperclassmen.
''Men of lesser character wouldn't have gotten to this point,'' Gregory said after Tuesday night's win. ''They just wouldn't have and they get credit for that.''
Georges-Hunt said even last season's miserable finish - 12-19 overall and 3-15 in the ACC - couldn't shake his faith. Georgia Tech was 0-10 in games decided by no more than five points or in overtime.
''I'm a believer,'' he said. ''People ask me, especially last year losing a lot of close games, if I was down or depressed. I never got down. I just kept thinking of what I could do to make sure we win these close games.''
Each of the last four wins has been by no more than six points.
Georges-Hunt (6-foot-5, 216 pounds) has been a four-year starter but his junior season ended when he suffered a broken right foot. He said watching the end of the season from the bench gave him a new perspective for his senior year.
''I think that injury helped a lot,'' he said. ''l was sitting back and just watching, I guess like from a coaching standpoint, especially in the ACC tournament. ... I saw we had a lot of potential.''
The lineup was boosted after last season by such veteran transfers as guard Adam Smith, a 3-point specialist who played at Virginia Tech the last two years, and forwards Nick Jacobs and James White.
It took a few months for Gregory to find the right mix. Most recently, he added small forward Quinton Stephens to the starting lineup and moved Georges-Hunt to point guard.
Georges-Hunt's scoring average has climbed in each season to his current mark of 16.9 points per game. Smith, who had 20 points while making four 3-pointers against Clemson, has averaged 14.3 points while leading the ACC in 3s made per game.
Georges-Hunt, Smith and Stephens combined to make eight 3s against Clemson.
''When you're close and you've got Adam and Marcus, you've got a good chance to win the game,'' Gregory said.
With only three regular-season games remaining, including Saturday's game at Boston College, Georgia Tech suddenly looks like a tough early draw in next month's ACC tournament.
Georges-Hunt said players have developed confidence with the recent wins.
''I feel like we've been there so many times,'' he said of the team's history of close losses. ''You've got to get sick and tired of it and you have to do something about it.''
---