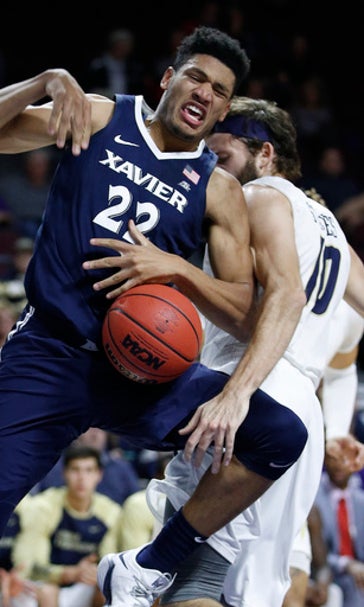 Bluiett scores 20 points, leads No. 15 Xavier past GW (Nov 23, 2017)
BY AP • November 23, 2017
LAS VEGAS (AP) Xavier coach Chris Mack has a handful of offensive specialists who have an explosive first step, with none of them afraid to use it.
But Mack also knows none of that means a thing without defensive stops.
So, when his 15th-ranked Musketeers saw a 14-point lead shrink to six on Thursday in the Las Vegas Invitational, they shifted gears and held George Washington without a field goal for nearly seven minutes en route to an 83-64 win. Trevon Bluiett scored 20 points to lead the Musketeers, who went into the game leading the Big East and ranked fifth nationally in field-goal percentage at 56.8.
''You're eventually going to run into an off-shooting night, or an opponent that has just as much talent as you on the offensive end, and if you can't stop somebody, your season is going to end short,'' Mack said. ''We want to measure ourselves against the elite defensive teams in the country, and we're not there yet, but we need to get there.''
Xavier (5-0), which shot a blistering 62.5 from the field in the second half, finished the game hitting 33 of 57 from the floor, including 5 of 13 from 3-point range. At the other end, the Musketeers held George Washington to just 37.9 percent shooting (11 of 29) in the second half, and 23 of 57 (40.4 percent) for the game.
''We competed our tails off,'' George Washington coach Maurice Joseph said. ''I was proud of our effort. ... But you've got to put together 40 minutes of basketball to beat a time like that.''
Xavier got 14 points off George Washington's 13 turnovers, while outscoring the Colonials 54-16 in the paint.
Quentin Goodin added 16 points for the Musketeers, and Sean O'Mara had 10.
''We've built the chemistry not only on the court, but off the court,'' Bluiett said. ''We're a pretty close, tight-knit group and I think that helps when we're on the court together. Everybody, one through 13, has the confidence in their abilities.''
Trailing 62-48 in the second half, George Washington (2-3) made a run at the Musketeers to make things interesting, using an 8-0 spurt to cut the lead to 62-56 with 8:46 left. After a scoring drought of nearly six minutes, Bluiett scored seven of the Musketeers' next nine points to push Xavier's lead back to double digits with 3:49 left in the game.
''Tre has that capability, he's got the green light, he's got all the confidence in the world and we run some stuff for him, to free him,'' Mack said. ''He makes game-winning plays, and you got to expect that when you're a senior all-American candidate.''
Meanwhile, as Bluiett was taking over, the Colonials' only points during a six-minute, 42-second scoring drought came from a pair of free throws by Justin Williams.
''Trevon Bluiett is an experienced guy, hell of a shot maker,'' Joseph said. ''We lost him a couple of times. Credit to him and his experience and talent level and his ability to make shots. But we also lost him a couple of times and had some breakdowns. They went to their star player and he made big plays for them.''
Terry Nolan Jr. led George Washington with 18 points. Jair Bolden and Yuta Watanabe each had 16.
BIG PICTURE
George Washington: With one of the toughest nonconference schedules in the nation, the Colonials should be tested by their Atlantic 10 opener against St. Joseph's on Dec. 30. After Florida State and Xavier, the Colonials still have either Arizona State or Kansas State, Temple, Princeton, Penn State and Miami.
Xavier: Macura moved up to 35th place on Xavier's career scoring list. Heading into Thursday's matchup, the 6-foot-5 senior guard and Bluiett ranked first among the nation's top active scoring duos with a combined 2,790 points.
UP NEXT
George Washington faces the loser of the Arizona State-Kansas State game Friday.
Xavier will play the winner of the Arizona State-Kansas State game Friday.
---
---