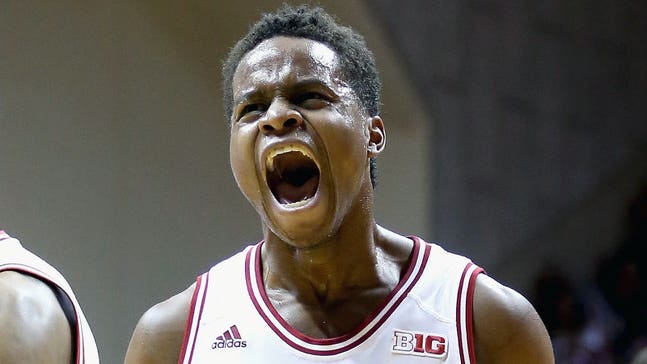 9 things you need to know about the wild Indiana-Kentucky rivalry
Published
Mar. 18, 2016 6:45 p.m. ET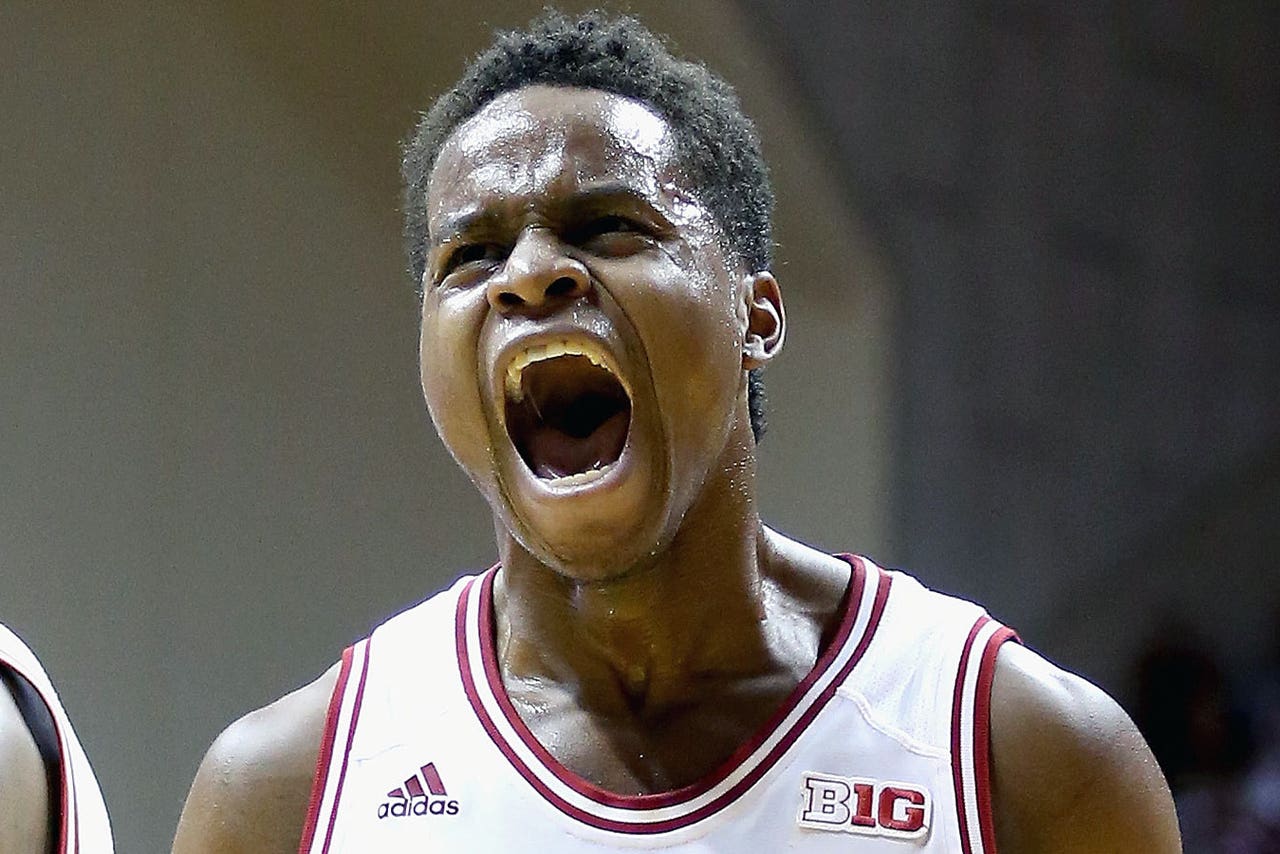 Earlier this week I joked that if Indiana and Kentucky met in the second round of the NCAA tournament, the game would turn into a blood bath. No, not a figurative "blood bath" but a literal one. As in, to quote Ted Wells, it would be "more likely than not" that there would be a fight in the stands, and that blood might actually be spilled between the two fan-bases.
Yes, the hatred runs that deep for two programs who first met in 1924, played annually from the 1960's to 2012 (before the series was discontinued over political reasons) and featured some of the biggest names in college basketball, including Bob Knight, Rick Pitino, Isaiah Thomas, Anthony Davis and John Calipari.
So just how crazy is the Indiana-Kentucky rivalry?
Here are 9 things you need to know before the two teams meet in the Round of 32 on Saturday.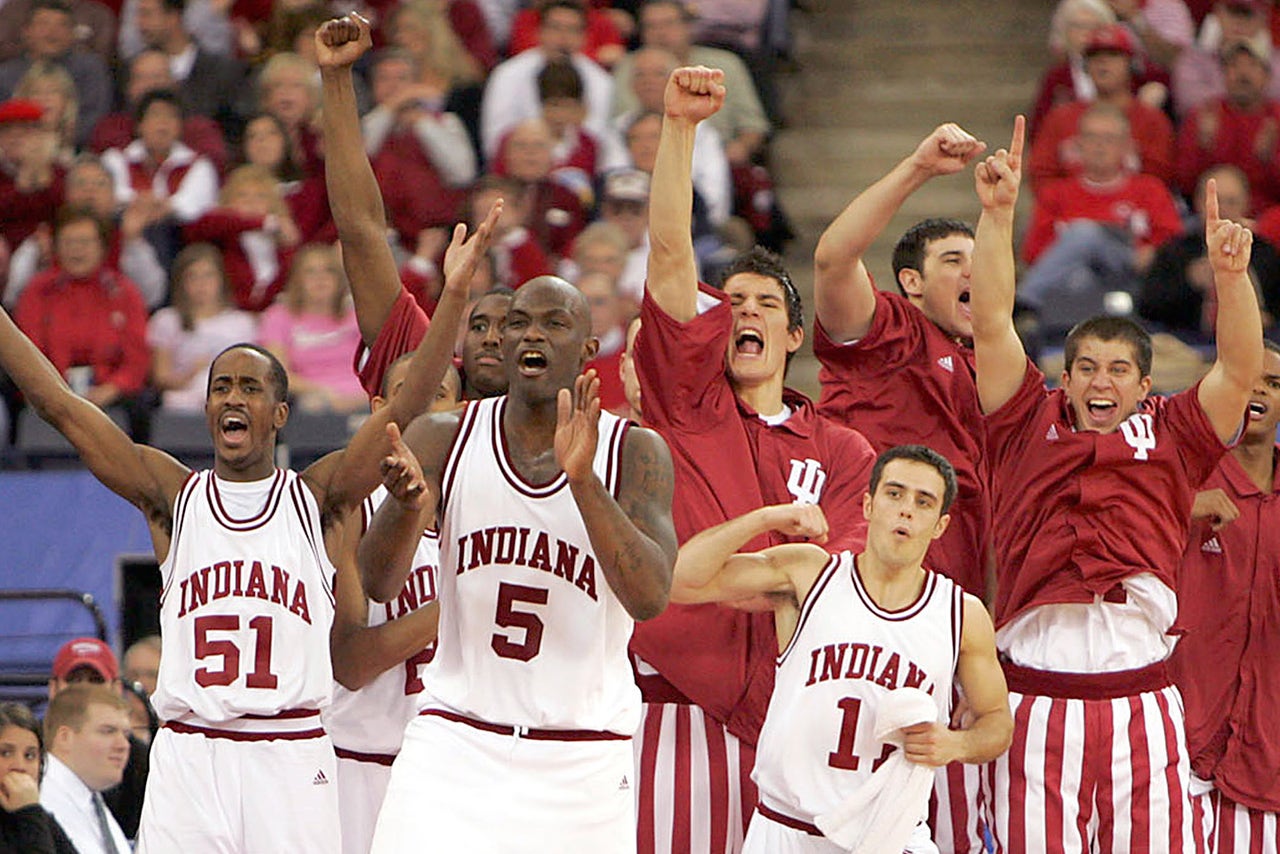 The Indiana bench celebrates during a 2005 game against Kentucky.
1. These aren't just two good programs, but historically great ones
Yes, you probably already knew that, but there is one stat above all others that proves just how spectacular these two teams have been through the years.  
That stat? Saturday will mark the 57th time these two teams have played, and in 11 of them, one of the schools has been ranked No. 1 in the country.
Clearly that won't happen Saturday, but it's still incredible to think about. Out of 57 matchups, over 20 percent of them have begun with one team ranked No. 1 in the country.
Forget all the combined National Championships and Hall of Famers. That stat above all shows how crazy this rivalry is.
2. Things really got going when Indiana coach Bobby Knight and Kentucky coach Joe B. Hall nearly got into a fight in 1974
So picture this: It's late in the game, and Kentucky is down by a pretty substantial margin. A questionable call brings both coaches to the scorer's table, and right as they were leaving, Knight reportedly gave first-year UK coach Joe B. Hall, a man he considered a friend at the time, a smack in the back of the head.
As you might have guessed, this didn't go over well with the Kentucky coaching staff. Ironically it was Hall who had to hold back an assistant coach from attacking Knight.
Following the game, Knight claimed the slap was "affectionate" while Hall admitted to being embarrassed by the whole thing.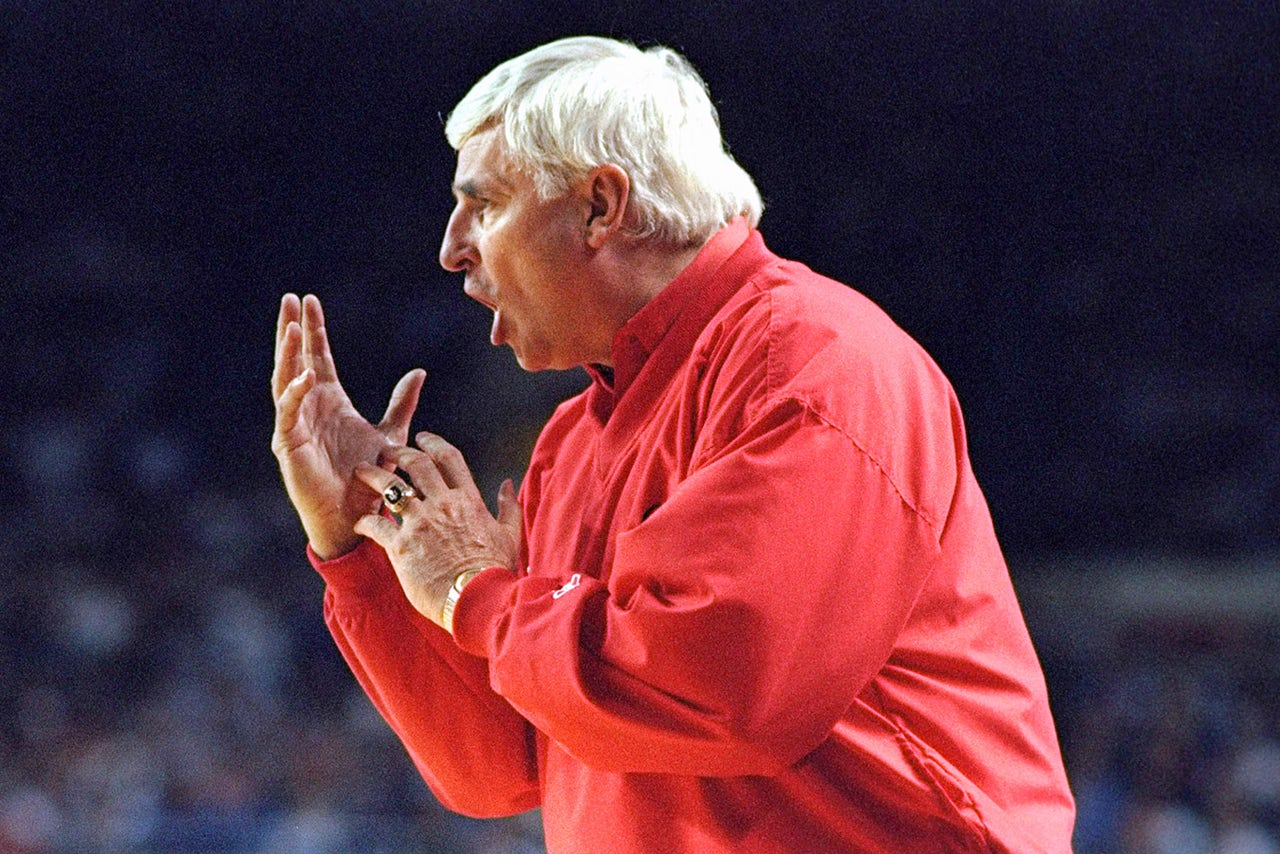 Bobby Knight, coaching Indiana in 1998.

The last college basketball team to finish a season undefeated was Indiana back in 1976. But what many don't know is that Indiana actually entered the NCAA tournament undefeated the season before as well, before they were stunned by Kentucky in the Mideast regional final. The Hoosiers' best player, Scott May, was injured in that game and was held to just two points, after scoring 25 in a regular-season meeting between the two.
For Joe B. Hall, it was revenge for the season before. For Knight, the loss turned out to be one of the most crushing in his career. He later said that he believed that his 1975 team was the best one he ever coached at Indiana, even better than the undefeated '76 title team.
As for Kentucky, they went on to the national championship game that season, where they lost to UCLA. It would go down as the final game of John Wooden's career in Westwood.  
4. That wasn't the last time Kentucky handed Knight a frustrating loss
During the 1992-93 season, the No. 3-ranked Wildcats beat the No. 4-ranked Hoosiers in a neutral court game in Louisville. That in and of itself isn't that big of a deal, but this is: The victory by Kentucky kept Knight from winning his 600th game as a college coach.
He'd eventually get the win a few days later against Iowa.
The series shifted from home courts in the 1980's to neutral courts in Louisville and Indianapolis from the mid-80's to 2006. That included some of the biggest regular-season crowds in college basketball history, when games were played at Indianapolis' "Hoosier Dome." The 1988 game between the two schools attracted over 45,000 spectators (take that, Syracuse!).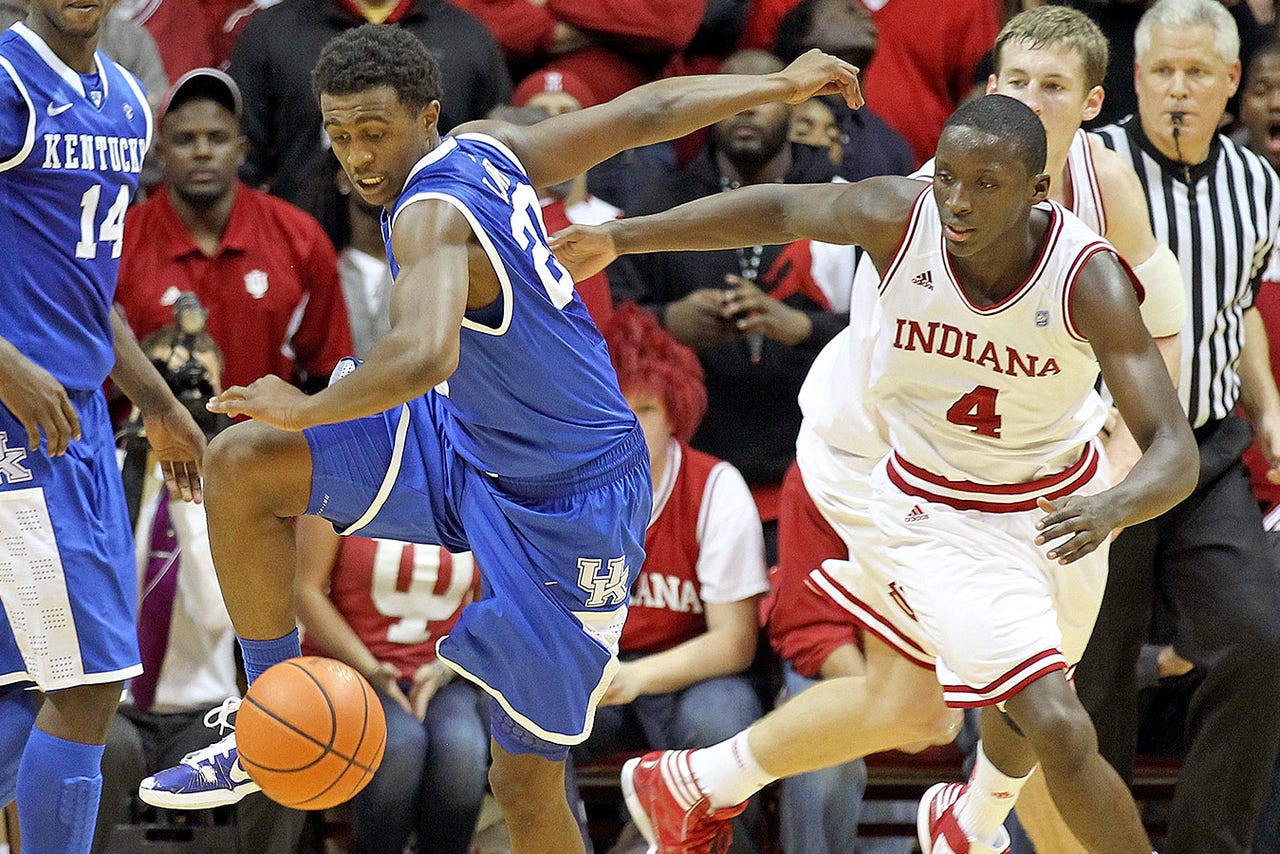 Victor Oladipo of Indiana and Doron Lamb of Kentucky, during a 2011 game.

The series shifted back to home courts when Louisville's Freedom Hall was unable to host the game in 2006.
6. The regular-season finale in 2012 was one to remember
The two teams' final regular season game against each other came at Indiana's Assembly Hall in 2012 and ended with one of the most famous shots in recent college basketball history thanks to Christian Watford.
7. The rivalry has gotten contentious off the court as well
At times, things have gotten ugly in recruiting. Most recently, there was an incident with current Utah Jazz forward Trey Lyles.
Lyles was a long-time Indiana commit (he actually decided to go to the school before ever playing a game of high school basketball), but in the summer before his junior year decided to re-open his recruitment.
Eventually, he committed to Kentucky, but even before then, things weren't pretty with Indiana fans.
On the day he committed to the Wildcats, Lyles' mother told KSTV, "It's been, like he said, he's been attacked, the family's been attacked, since his decommitment, so this is definitely a weight lifted off his shoulders."
Thankfully it doesn't sound like those were literal attacks, but instead verbal ones. Still, it shows just how deep the rivalry runs.
8. The last time these two clubs played was in the 2012 NCAA tournament
Which came just a few months after the Watford shot.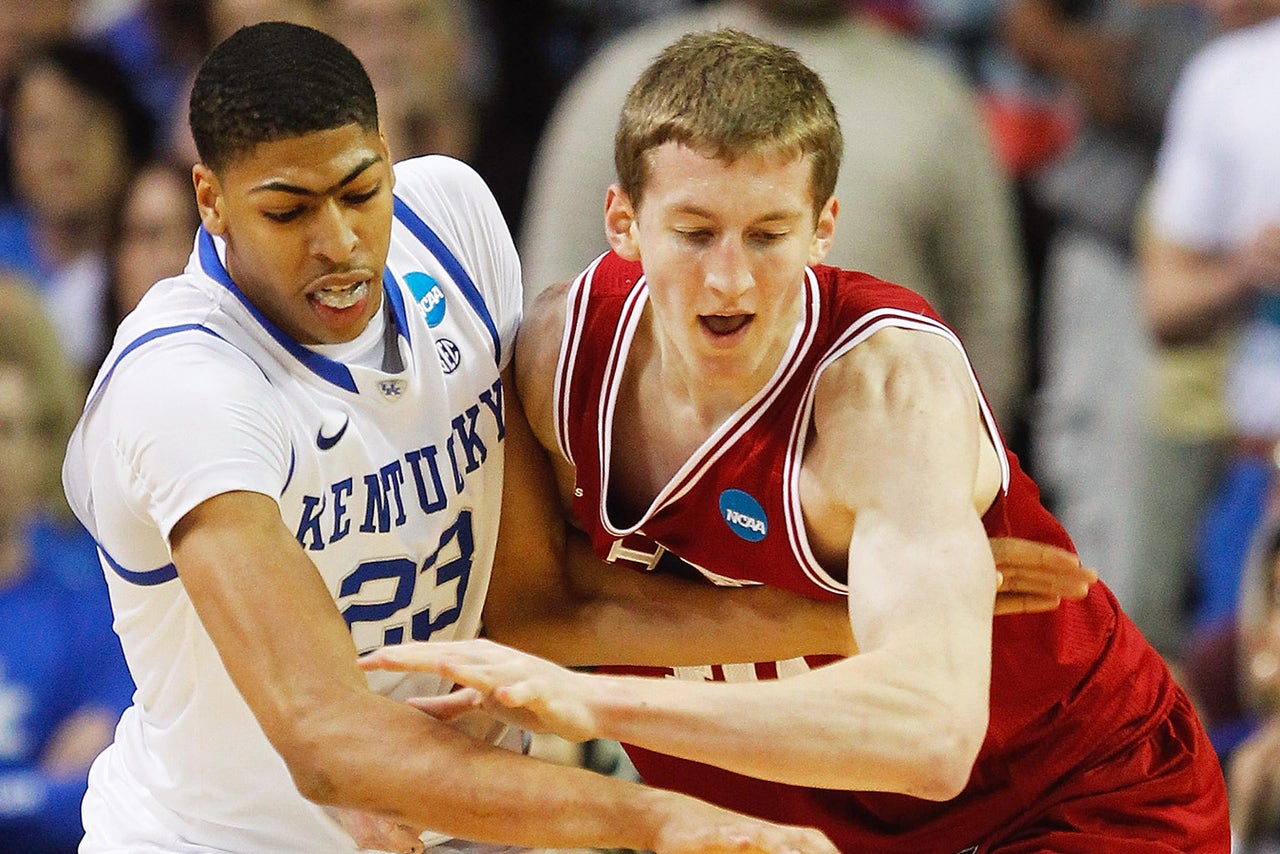 Anthony Davis of Kentucky Wildcats and Cody Zeller of Indiana, during a 2012 game.
Anthony Davis, Michael Kidd-Gilchrist and the Wildcats got their revenge on Cody Zeller and Victor Oladipo with a 102-90 win in the Sweet 16.
A week later, Kentucky would cut down the nets as the 2012 national champions.
9. The regular-season series could return
As a dispute has popped up over where the games should be played. John Calipari and Kentucky want them to return to neutral courts, while Tom Crean and Indiana would prefer the series remain home-and-home.
There has been conversation that the series could return, but for now, it's all just talk.
Meaning that college hoops fans should enjoy Kentucky-Indiana Saturday.
Who knows when we'll see it again.
Aaron Torres is a contributor to FOXSports.com. Follow him on Twitter @Aaron_Torres.
---
---