Nashville Predators: Paul Gaustad Retires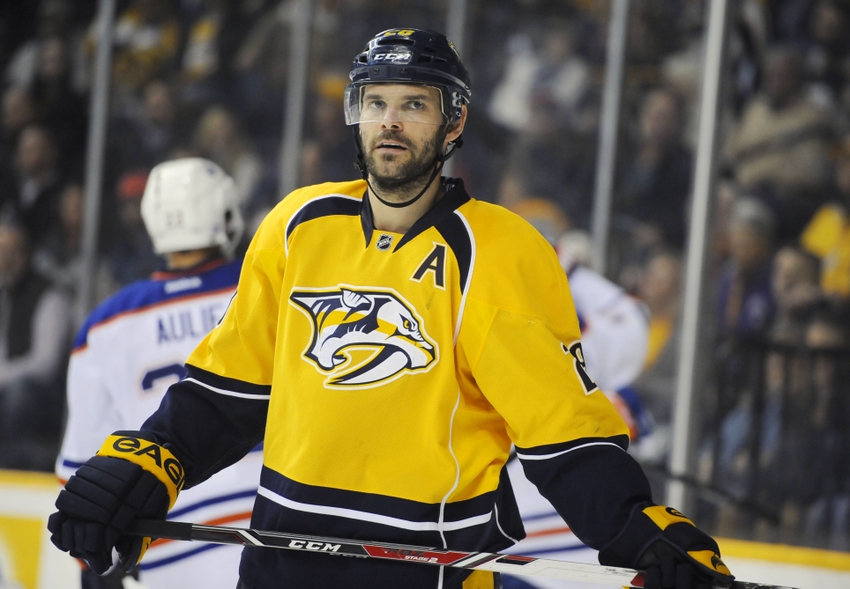 The Nashville Predators long-time center and Alternate Captain has chosen to hang up the skates.
Nashville Predators fans need to make time for one last goose call. Veteran center Paul Gaustad, affectionately known as "Goose," decided Friday to retire from the sport of hockey.
Gaustad was a perennial depth center in Nashville, bringing size and grit to the ice while serving in a defensively minded forward role. He was a mainstay on the team's penalty kill unit and consistently ranked with the league's best faceoff specialists, finishing his career with an all-time 56.8 faceoff win percentage.
Goose flew to Smashville via trade from Buffalo in 2012 packaged with a fourth round draft pick (Juuse Saros) for the Predator's first round selection, which the Sabres subsequently traded to Calgary (Mark Jankowski).
The towering 6'5 skater became a popular figure in town during his four and a half seasons with the Nashville Predators for his fearlessness, work ethic, and classic drag-out fights while earning his way to an Alternate Captain role with the team. His retirement comes after sitting through the season's free agency without receiving a contract offer following the fulfillment of his contract at the conclusion of last season. 
Gaustad was taken in the 7th round (220th overall) in the 2000 NHL Entry Draft before tackling his 13-year career, playing only for the Buffalo Sabres and Nashville Predators franchises. His play wasn't defined by point production- and as a defensive forward who was deployed primarily in own-zone situations, managing to achieve a +10 plus/minus career rating is a testament to his successes in the NHL.
The Nashville Predators fans wish Goose the best of luck with his future endeavors, and thank him for the many times he brought Smashville to its feet.
This article originally appeared on