Arizona Coyotes Sign Kyle Capobianco To Three-Year Entry Level Deal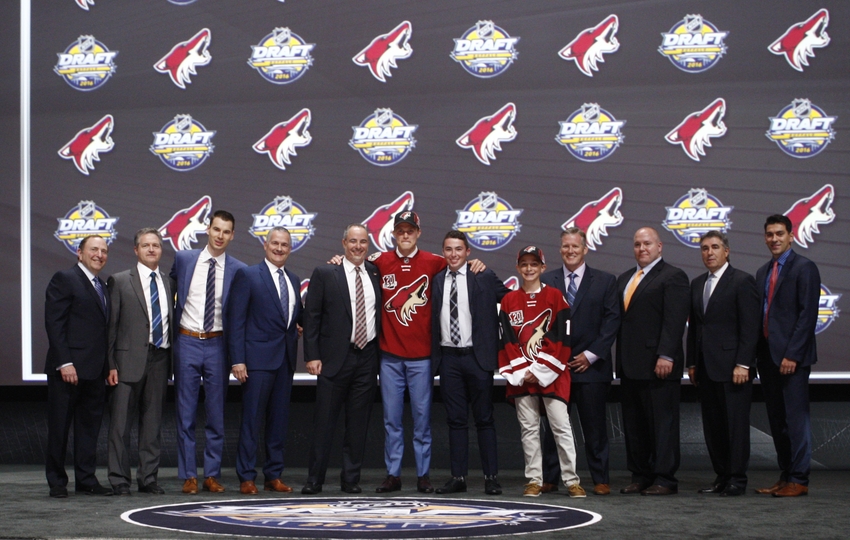 Kyle Capobianco has signed his first professional contract with the Arizona Coyotes.
The Arizona Coyotes have signed Sudbury Wolves captain Kyle Capobianco to a three-year, entry-level contract.
Capobianco was selected 63rd overall by the Coyotes in the 2015 NHL draft.
The news comes hot on the heels of a dynamite start for Capobianco in Sudbury of the OHL.
Here's the team's press release on the signing:
GLENDALE, ARIZONA – Arizona Coyotes General Manager John Chayka announced today that the Coyotes have signed defenseman Kyle Capobianco to a three-year, entry-level contract. As per club policy, terms of the contract were not disclosed.

The 19-year-old Capobianco has registered 4-7-11 with a plus-6 rating in 12 games with the Sudbury Wolves (OHL), which ranks 4th on the team. The 6-foot-2, 190-pound native of Mississauga, Ontario has collected 21-84-105 in 201 career games with Sudbury.

Capobianco was drafted by the Coyotes in the third round (63rd overall) in the 2015 Entry Draft.
The 19-year-old defenseman joins a solid defensive prospect pool that has recently seen the quick graduation of Jakob Chychrun to the NHL level.
Assuming things go as planned, Capobianco will likely report to the Tucson Roadrunners next fall where he will join the likes of Coyotes' prospects Kyle Wood, Anthony DeAngelo, and Dakota Mermis.
Arizona Coyotes Poor Start Should Encourage Change In Approach
There are some pretty decent names on that list if you're a Yotes fan. Adding Capobianco sweetens the pot. Now we let them marinate for a bit and see which ones pan out.
Elite Prospects had this to say about Capobianco:
"He is a smooth skater, good passer and is a capable powerplay quarterback, but is also sound defensively, making the smart play often and shutting down the passing lanes."
Tyler Parchem also added that during his draft year, "Capobianco would be ranked much higher if not on such a weak team this season."
With 11 points in just 12 games this season, it's not hard t o see why Parchem was higher on Capobianco than some other analysts.
He has decent size and skating ability, and his early season scoring outburst portends well for his future considering he is likely in his final junior season.
Capobianco scored 7 goals and added 36 assists in 68 games for Sudbury last season.
He's already well on his way to trouncing those numbers if he can keep up even a moderate pace through the rest of the OHL season.
In short, the Coyotes prospect pool is in great shape.
The formal addition of the Mississauga native adds yet another piece to John Chayka's growing arsenal.
This article originally appeared on