Ranking the 5 worst performances of Kobe Bryant's career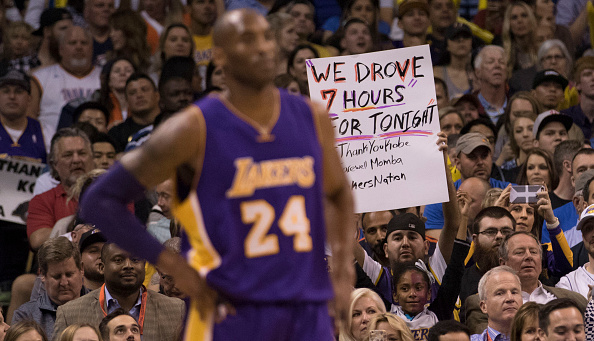 The curtain will officially close on Kobe Bryant's 20-year NBA career Wednesday night, when his Los Angeles Lakers take a wild lunge for their 17th win of the season.
Through it all—over 1500 games, 57,000 minutes and hundreds of thousands of audience-free jumpers—Bryant's never strayed from his true identity: the blood-thirsty barbarian whose life priorities on any given day read as follows: 1) winning, 2) winning, 3) friends and fami—winning, 4) not losing.
But despite the five championships, two scoring titles and one MVP trophy, Bryant met his fair share of struggle. The very same qualities that made him so successful—mainly an unyielding competitive edge—also led to his downfall. Excluding years 1 and 20, here's a statistics-based look at five games from Kobe's unforgettable career that he probably wishes people would never talk about again
5. December 20, 2004 vs. the Memphis Grizzlies
This game came during one of the darkest periods of Bryant's career, right after the Lakers lost to the Detroit Pistons in the 2004 NBA Finals and Shaquille O'Neal was shipped to the Miami Heat. Los Angeles was Bryant's city, but he had no supporting cast.
On this night, he managed 11 points in 44 minutes. Only two of his 16 shots went in. Two! More important than the horrific box score was what it symbolized. This game showed how eerily dependent the entire organization was on Bryant's theatrics each and every night. If he didn't score 30 points, they weren't winning.
Needless to say, they lost this game by 10 points. Memphis' leading scorer? Pau Gasol.
4. January 10, 2010 vs. the Milwaukee Bucks
At the time, the defending champs were 29-8, rolling towards a second-straight appearance in the NBA Finals when Bryant had nearly twice as many shots as points in an otherwise uninteresting 18-point victory against the Milwaukee Bucks.
On a game-high 21 shots—with an injured finger—Kobe connected on four while only registering one assist. The Bucks' best player that night was probably Hakim Warrick, so, obviously, the wretched performance wasn't too costly.
3. April 23, 2009—Game 3 of the first round—vs. the Utah Jazz
While Bryant's 7-of-24 outing in Game 7 of the 2010 NBA Finals is viewed by many as a perfect silhouette for who he was as a basketball player (an inefficient champion), this was just objectively terrible. Facing off against Deron Williams' overmatched Jazz in just his third playoff game since the Lakers were obliterated by the Celtics in the 2008 championship, Bryant made five of his 24 attempts, scoring 18 points in L.A.'s two-point loss.
The Lakers bounced back to win the series—Bryant burned Salt Lake City to the ground in Game 4 with 38 points in just over 39 minutes—and eventually took down Dwight Howard's Orlando Magic in the Finals, but, um, wow, this was a horrible game.
2. March 31, 2012 vs. New Orleans Hornets
The box score from this Lakers win is hard evidence of Bryant's well-documented on-court amnesia. On his way to scoring 11 points, the 33-year-old made only three of 21 shots. Three makes. 21 shots. That's a cool 14.3 percent shooting against a 13-39 Hornets team that was 13-39 at the time, and played guys like Jarrett Jack, Marco Belinelli, Al-Farouq Aminu and Lance Thomas over 30 minutes.
Miraculously, Bryant finished a plus-4 in over 38 minutes of action (probably because Andrew Bynum and Pau Gasol combined for 40 points and 21 rebounds).
1. June 16, 2000—Game 5 of the NBA Finals—vs. Indiana Pacers
One week after he badly sprained his ankle in his very first Finals appearance, Bryant managed only eight points in a 33-point trouncing by the Indiana Pacers. He launched 20 shots in 37 minutes and only four of them went through the hoop. To make matters worse, Bryant committed five fouls and helped let Jalen Rose and Reggie Miller go off for 57 combined points.
Phil Jackson went easy on his tortured prodigy after it was over (via Los Angeles Times):
The Lakers would come back and win the series in six, but this game was an epic failure on the heels of perhaps his single breakout performance: 28 critical points in a two-point overtime Game 4 triumph.
Sometimes, the Lakers didn't need his best to win it all.