Legendary basketball coach Pat Summitt passes away at 64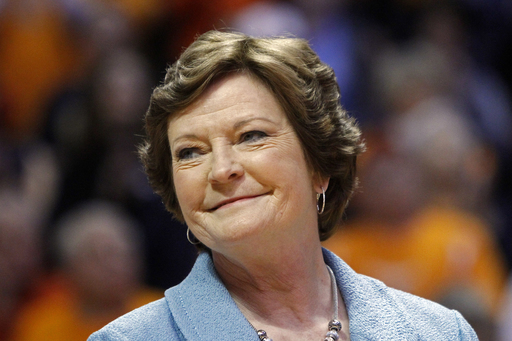 Pat Summitt, the legendary women's basketball coach at the University of Tennessee from 1974 until 2012, has passed away at age 64.
The Associated Press confirmed her passing early Tuesday morning.
Her son, Tyler Summitt, issued a statement Tuesday morning saying his mother died peacefully at Sherrill Hill Senior Living in Knoxville surrounded by those who loved her most.
"Since 2011, my mother has battled her toughest opponent, early onset dementia, 'Alzheimer's Type,' and she did so with bravely fierce determination just as she did with every opponent she ever faced," Tyler Summitt said. "Even though it's incredibly difficult to come to terms that she is no longer with us, we can all find peace in knowing she no longer carries the heavy burden of this disease."
Summitt had battled the effects of early-onset dementia, Alzheimer's type, since 2011, and on Sunday her family issued a statement asking for prayers and saying that the winningest coach in college basketball history was surrounded by the people who meant most to her.
On Monday, Summitt's pastor told reporters that the family was no longer accepting visitors and that her health was rapidly declining.
Summitt — who held the position of coach emeritus until her death — stepped down as Tennessee's coach in 2012, one year after her diagnosis and two years after she first noticed symptoms. During her 38-year career, she posted a sterling 1,098-208 record and won eight national titles — the first in 1987 and the last in 2008.
Summitt attended nearly every home game and many practices in the first year after she stepped down as coach, but she cut back on public appearances in recent years.
After her diagnosis, she launched the Pat Summitt Foundation, which is dedicated to researching and educating people about the disease while also providing services to patients and caregivers. The Pat Summitt Alzheimer's Clinic is scheduled to open at the University of Tennessee medical center in December.
Information from The Associated Press was used in this report.