Why Metamoris 3 represented everything I love about Brazilian Jiu-Jitsu
In the main event we had a rematch that was 12 years in the making. Back in 2003 at the ADCC World Championship, one of the greatest BJJ competitors of all time and 3-time winner of the event Royler Gracie was submitted by Jean-Jacques Machado brown belt, Eddie Bravo by triangle choke. This was one of the greatest upsets of all time in the sport. Shortly after his victory over Royler, Eddie Bravo not only gained his black belt but also gained a tremendous following and people from all over the world wanted to learn his unique style of 10th Planet Jiu-Jitsu.
As Gracie and Bravo began their entrance onto the Metamoris mat, the whole crowd was on their feet and the energy was palpable. As many would've predicted, it was Eddie sitting to guard and Royler looking to pass the dangerous legs of Bravo. To me, this was exactly what I wanted to see, the precise knee slide pass technique of Royler Gracie versus the sophisticated ½ guard and ¼ guard of Eddie Bravo. These are some of two best techniques in their respective repertoires. I felt like I was watching "Tiger style" vs. "Crane". It was Gracie who seemed to have the advantage early on. Royler was doing an excellent job at keeping Bravo flat on the mat and was taking away Bravo's options in a methodical manner. Several minutes of battling with these positions and Bravo started to set up his attacks.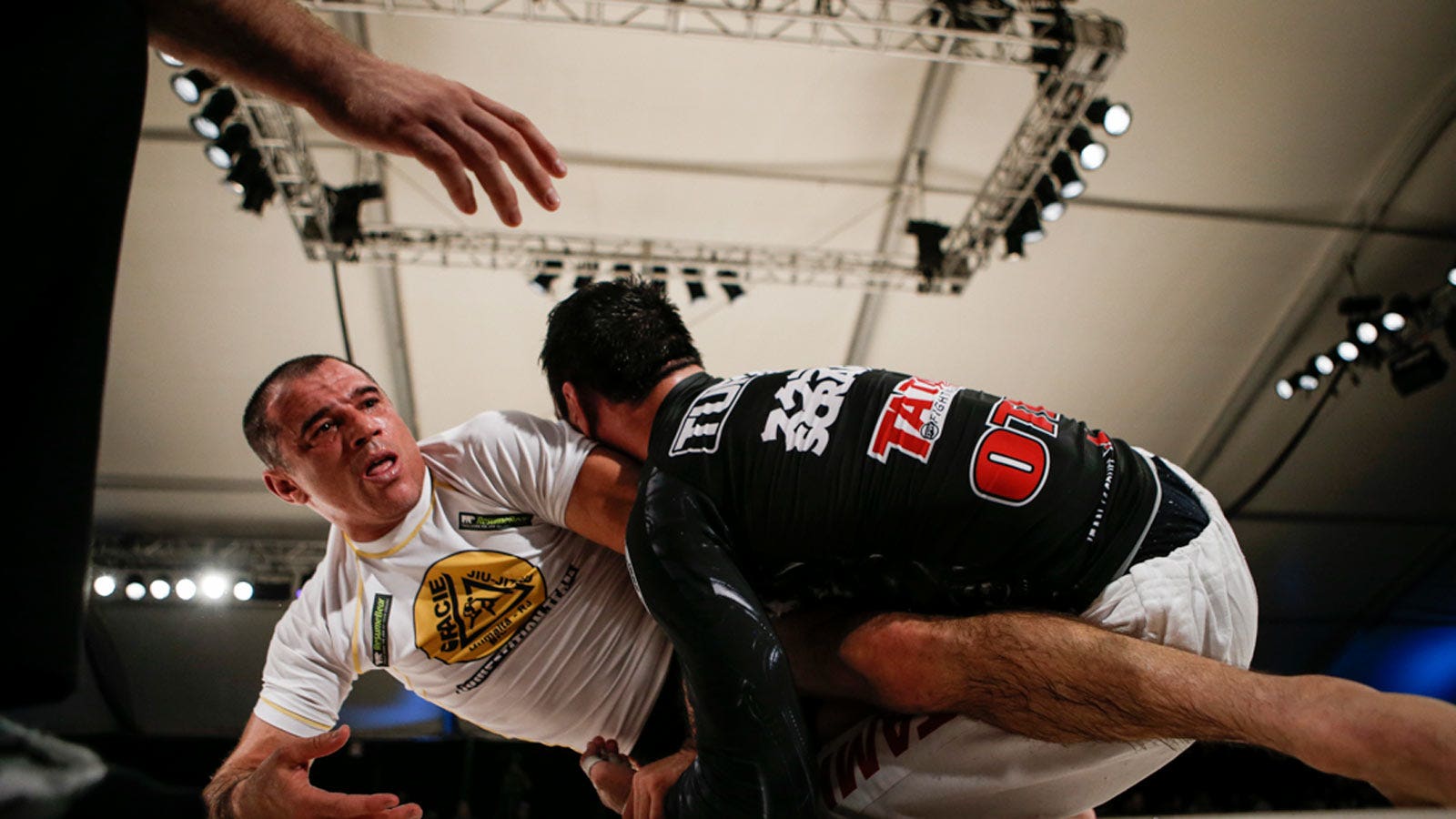 The game changed when Eddie was able to get on the side of his hip and literally "lockdown" Gracie's leg that was caught in his guard. From there Eddie was able to attack with his patented "electric chair" submission that basically rips your groin apart if you're not ready or flexible. What may have been even more impressive than the near submissions that Eddie set up were the sweeps and reversals from ½ guard. Eddie doesn't really explode into his sweeps like a Marcelo Garcia would for example. Eddie controls, eliminates and then slowly manipulates into the position that he wants. It is a helpless feeling for those caught in his web of combinations and control. Royler did an excellent job to avoid getting submitted and reversed Eddie a couple times as well.
It was beautiful to see these two legends smile and head nod as they battled it out on the mat. When you have had a career like Royler, there isn't anything that can tarnish his legacy at this point. As a martial artist at 48 years old, the man has done it all. He is a living legend of the sport and his effort on Saturday night is something that him and his students can still be proud of. For the 43-year-old Eddie Bravo, this match clearly shuts up the naysayers and critics of his style of jiu-jitsu. Eddie not only proved that his jiu-jitsu is truly world class but to me showed that this second match against Royler was even more impressive than his first one despite it being officially ruled a draw.
There were many other impressive performances from competitors like Dean Lister and Renato "Babalu" Sobral who had a fun match and proved that big guys can be technical and exciting to watch. Keenan Cornelius kept up with his winning ways and was able to submit and a game Kevin Casey who took the match on 30 minute notice due to Vinny Magalhaes having to drop out last minute due to a staph infection. Rafa Mendes and Clark Gracie had a very technical match. Mendes showed a sophisticated and aggressive style of jiu-jitsu but the heavier Gracie was able to defend and contain the dangerous Mendes to gain a draw in their match. The other half of the Mendes brothers "Gui" showed that same attacking brand of jiu-jitsu and earned a submission win over the technical Samir Chantre proving why the Mendes brothers are considered some of the best pound for pound best grapplers on the planet. Sean Roberts and Zak Maxwell kicked off the night with a highly entertaining match that saw Roberts get off to a great start in the first 10 minutes and Maxwell finishing very strong in the last 10.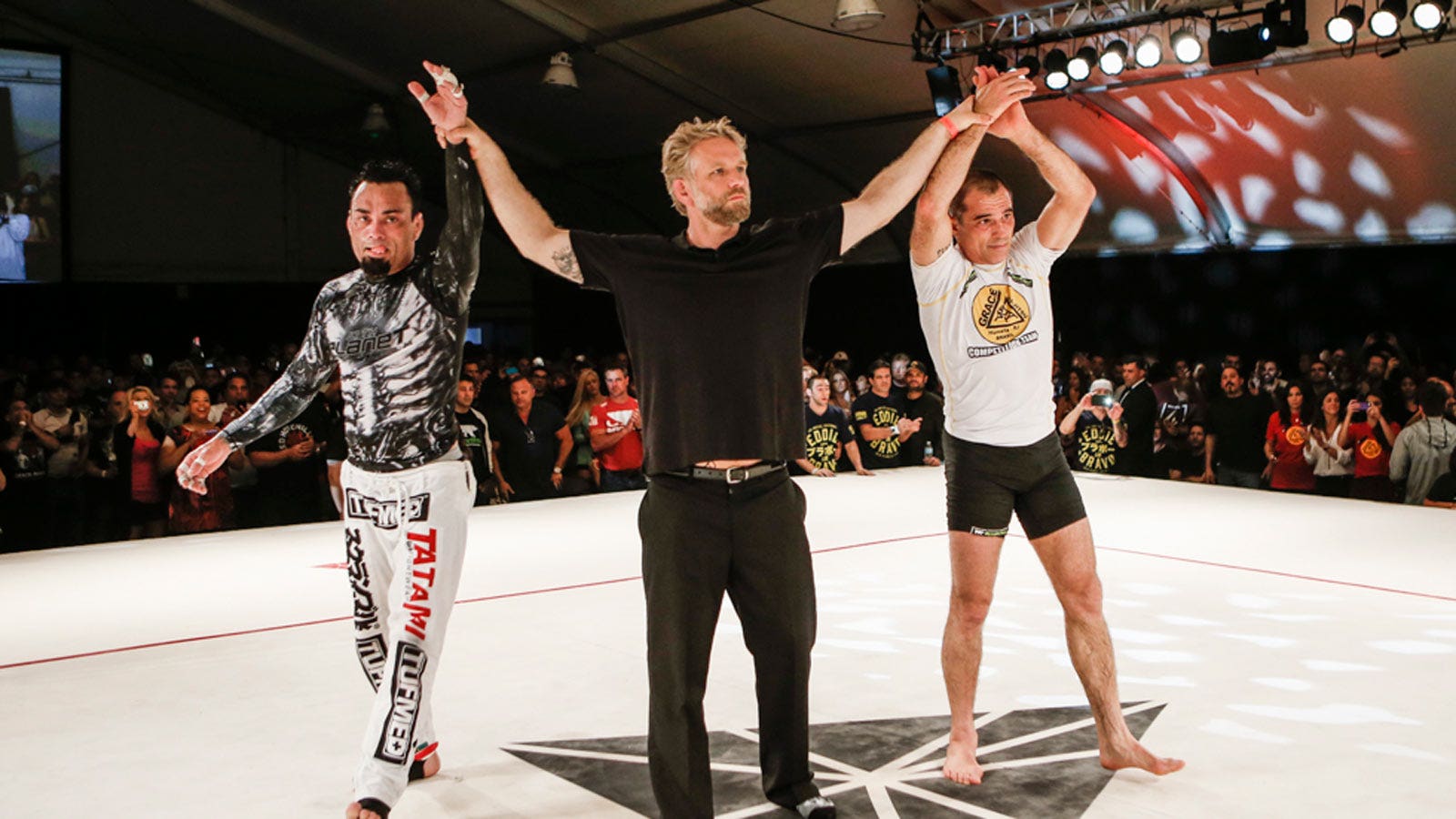 This Metamoris 3 event was a great success that showcased some of the best jiu-jitsu athletes in the world. It delivered an amazing main event and inspired fans and practitioners of the art what elite jiu-jitsu is all about.