What went wrong for Ronda Rousey and where does she go from here?
The sight of Ronda Rousey crashing to the floor, her body bouncing off the canvas following a vicious left high kick courtesy of Holly Holm is still fresh in our minds less than 48 hours after the most dominant athlete in the UFC fell to defeat for the first time in her MMA career.
Rousey was trumped by a picture-perfect strategy executed by Holm after her coaches looked at a minimal amount of tape available on the former Olympic bronze medalist and put together a game plan to dismantle her.
There's no doubt that Rousey was defeated because Holm was the better fighter in every way on Saturday night, but it's also undeniable to ignore the multitude of signs that there were issues in the now-former champion's camp leading into this main event battle.
Rousey was booked for the fight with Holm just 20 days after her 34-second knockout victory over Bethe Correia in Brazil. Rousey walked into that fight like a conquering hero after Correia made insensitive comments about suicide while not even bothering to acknowledge just how close that subject hit to home. Rousey's father took his own life when she was still a child so Correia's remark only served as bulletin-board material as she prepared to take out her vengeance when they met in the Octagon.
Everyone from Chris Pratt to LeBron James to Nick Jonas tossed out words of support for Rousey when she walked into enemy territory and walked back out again less than a minute later with her hand held high and the taste of revenge still dripping from her lips.
Fast forward barely three months later and the momentum that Rousey built on goodwill coming from the Correia fight had nearly disappeared. She was still the most talked about fighter on the planet, but not for the reasons Rousey wanted as her personal life exploded into the media really for the first time since she reached superstar status when joining the UFC.
First came the revelation that Rousey was dating fellow fighter Travis Browne after he outed their relationship in the middle of his own interview while proclaiming "She's my woman, I'm her man." The news forced Rousey to release her own statement on the matter while also asking once again that her personal life stayed private.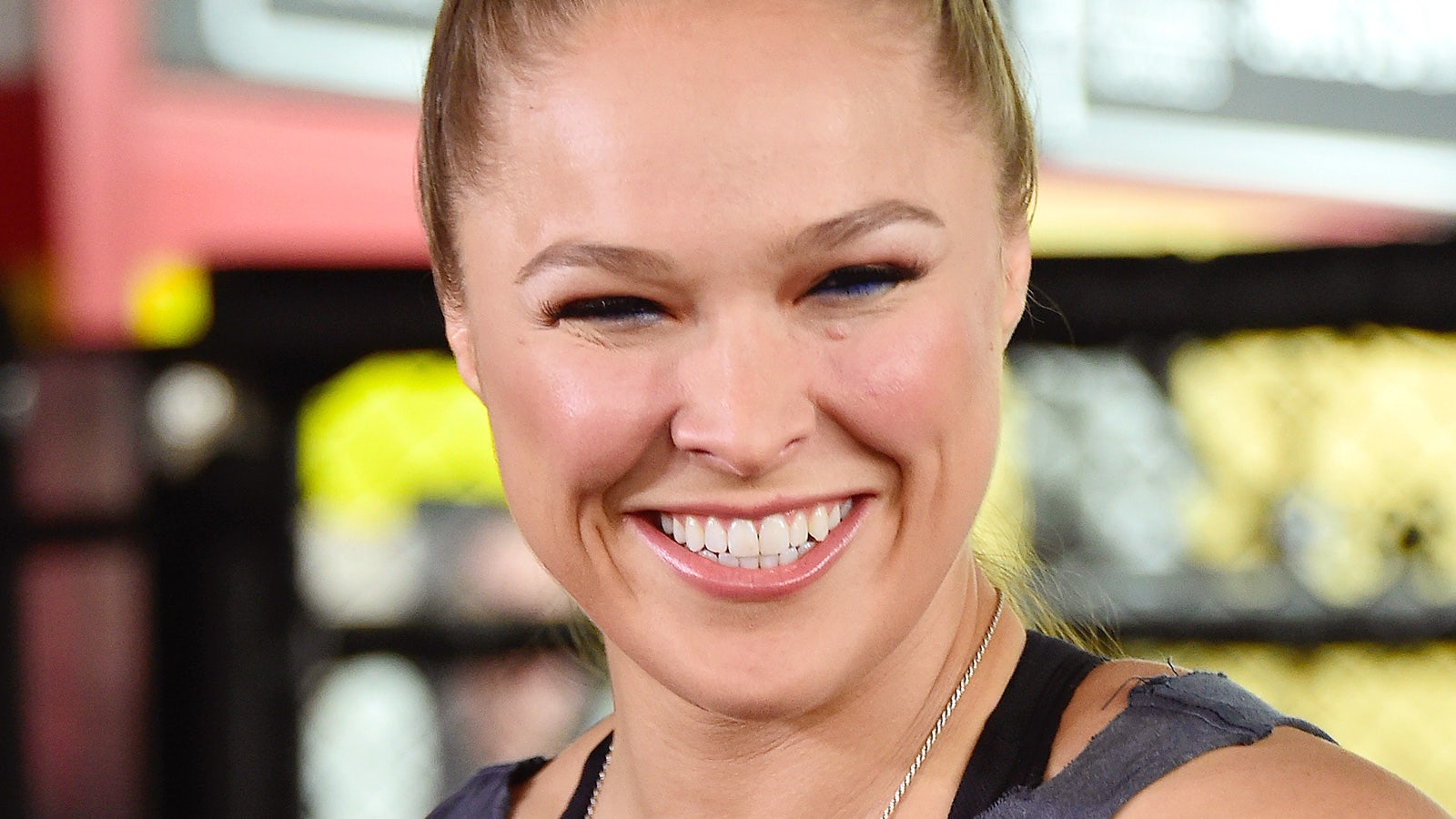 Unfortunately that single piece of news ended up in the headlines for days and weeks after Browne first spoke about it, in large part because he revealed the news shortly after he was reinstated to the UFC following allegations of domestic violence against his ex-wife. Browne was never charged by authorities and an investigation done by a law firm hired by the UFC exonerated the heavyweight fighter, allowing him to be re-added to the roster but the timing of everything couldn't have been worse for Rousey.
Then came the news that Rousey's mother AnnMaria De Mars had a big problem with her daughter's head coach, Edmond Tarverdyan, as she launched into a tirade that ended with her desire to run him over with her car — if only that were legal.
Rousey once again was forced to (somewhat) address this issue when she stated that any conversation she would have about the matter would happen with her mother behind closed doors and not in the media.
There was a chilly hush in the air when Rousey spoke about the incident, but her run-in with those kinds of questions wasn't done yet.
Days after a media session where Rousey faced questions about her mother and the relationship she shared with her coach, she was then asked about Browne revealing that they were together and whether that was planned or if she was taken off guard by the news? Rather than offer a standard 'no comment' or virtually any other answer available, Rousey left the call and then weeks later offered the lame excuse that her phone died and she was unable to rejoin reporters to answer more questions.
Unlike her last camp where Rousey was celebrated like America's sweetheart, this time she watched her personal life because public information over and over again. Rousey's demeanor became slightly stand-offish but the positive going into the fight with Holm was that unlike her last opponent, this time she was facing someone extremely respectful towards her.
But even that facade faded away after Rousey inexplicably stormed across the stage at the UFC 193 weigh-ins and got into Holm's face, resulting in a near melee with UFC president Dana White stepping in between the two women to stop them from throwing down just a day before the fight. Rousey erupted by pointing her finger at Holm and calling her "fake" before posting a similar tirade on her Instagram account as well.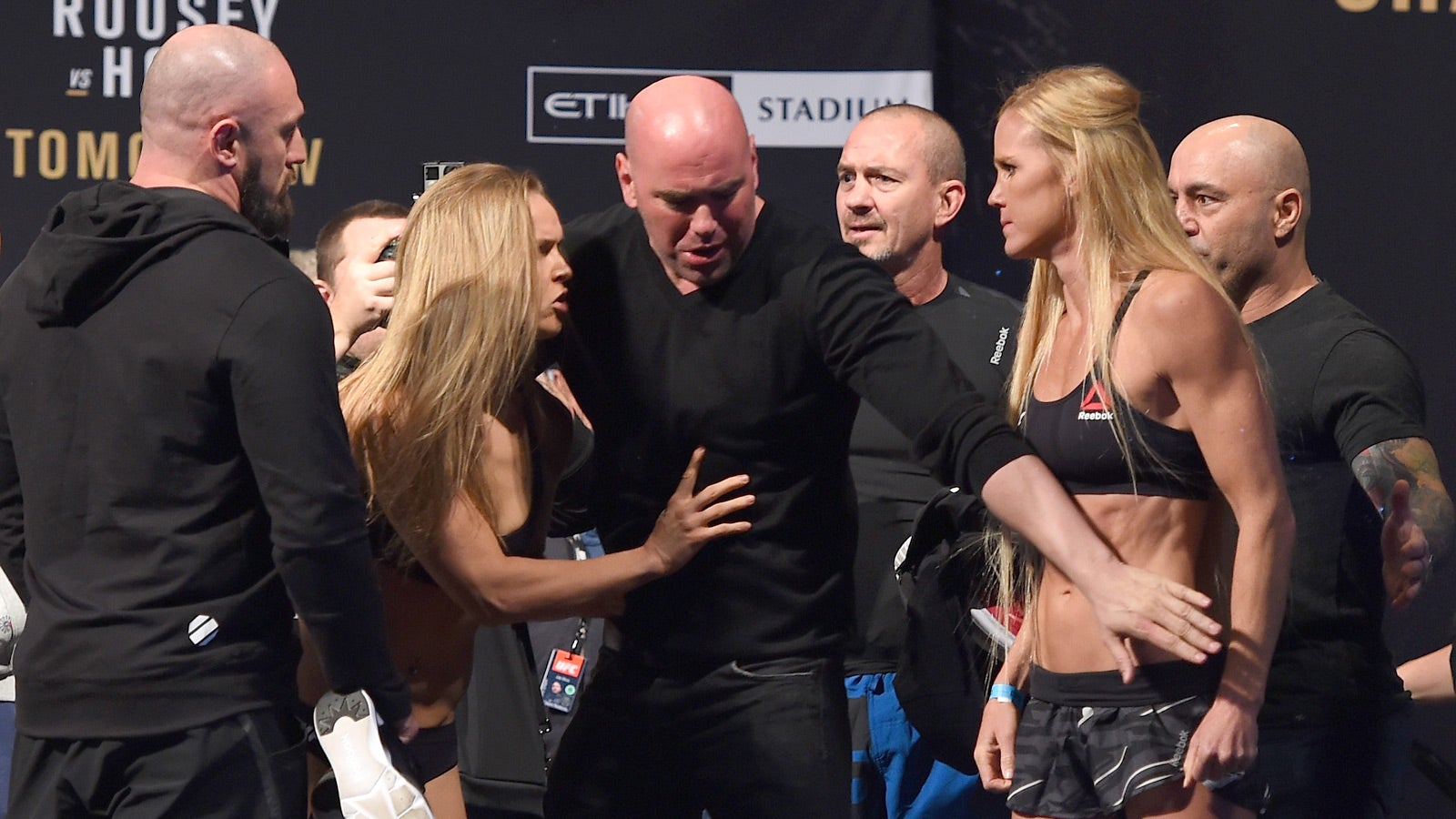 Maybe Rousey felt like she needed to be angry or feel hatred toward her opponent, but that over-aggressive, attacking style helped lead to her downfall in the fight as she continuously pressed forward even when Holm began picking her apart in the first round.
Rousey saw her lip busted open and her nosed bloodied, which outside of a rear naked choke attempt from Liz Carmouche in her UFC debut, was by far the most damage she had ever taken in any MMA fight in her career. Rousey walked back to her corner looking a little defeated, her eyes glazed over with a confounded expression on her face wondering what just happened.
"Champ, beautiful work!" Tarverdyan shouted as Rousey sat down on the stool in the corner.
Rousey listened attentively, but rather than offer any kind of brutal truth about what just went wrong or how to approach the second round differently, Tarverdyan downplayed what Holm was doing well and what to look out for in the second round.
"Listen to me, all she wants to do is catch you with that left hand and come on top with that hook," Tarverdyan said.
Fifty-nine seconds later, Rousey was blasted with a left high-kick, and the mystique she built for the past few years as the most dominant fighter to step inside the UFC Octagon was gone.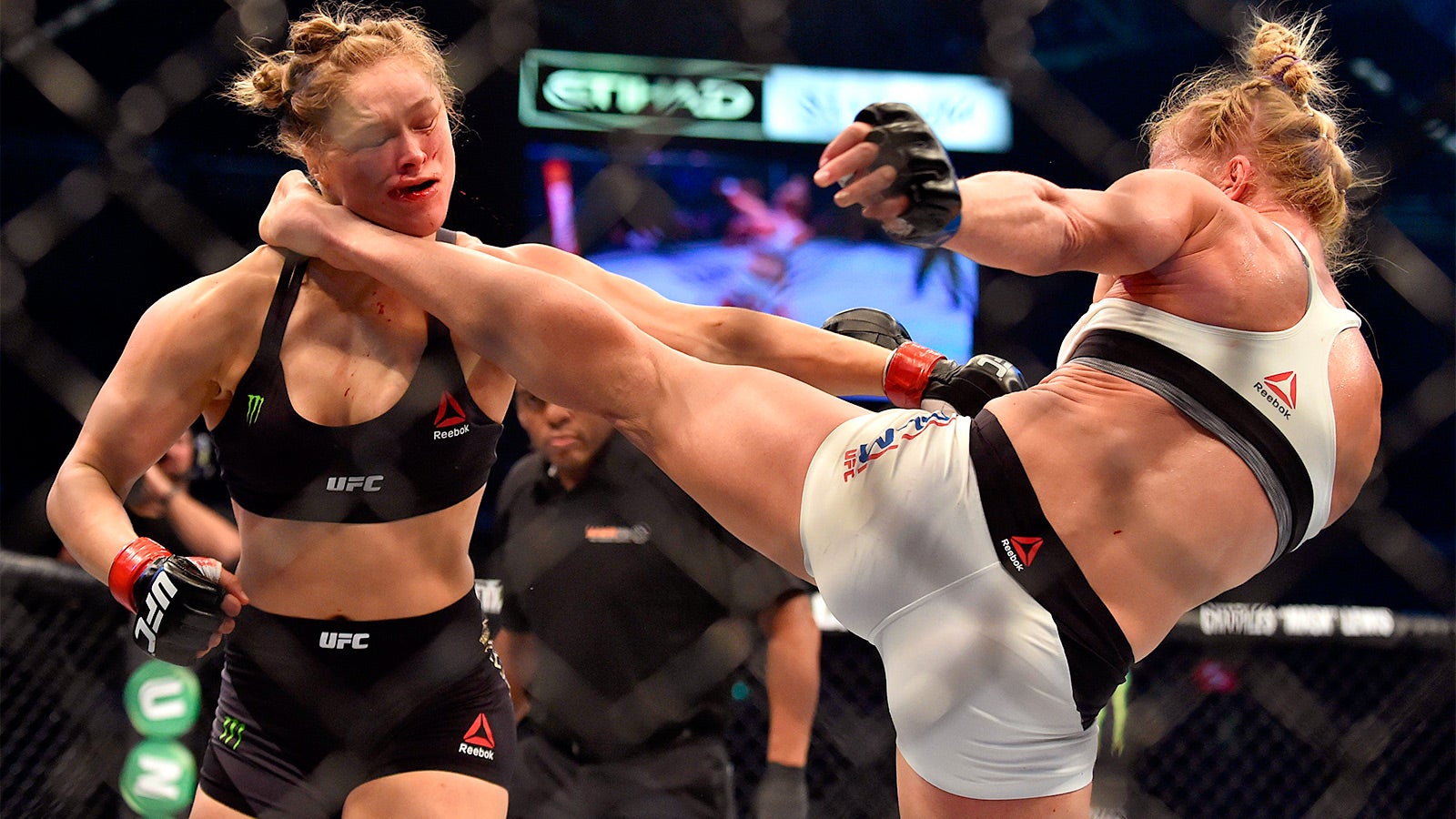 After the fight, Rousey looked sad and despondent as anybody would after suffering such a crushing defeat, but now that she's faced the worst possible scenario for her first loss in the UFC: Where does she go from here?
The first thing Rousey will do is take some much needed time off.
She ran roughshod through Cat Zingano and Bethe Correia in a combined 48 seconds for her first two fights in 2015, but the relative ease with which she won against both women somehow made it seem like a third fight this year was a good idea. What no one sees when adding up those numbers and thinking that two fights totaling 48 seconds should mean Rousey could probably fight five or six times a year isn't factoring in the work she did to train and then promote those bouts.
Rousey also had two big film roles this year with "Furious 7" and the "Entourage" movie coming out plus she is likely the most heavily requested athlete on the UFC roster for public relations commitments. She routinely appears on "The Tonight Show", "The Conan O'Brien Show" not to mention a slew of other interviews with everyone ranging from Howard Stern to Ellen DeGeneres.
Maybe it all got to be too much as she prepared for the showdown with Holm?
Who knows for sure but what we do recognize is that Rousey has earned the right to take a much-needed vacation while she prepares to film her next role alongside Mark Wahlberg in "Mile 22." Rousey won't likely have to deal with many press commitments during that shoot considering it takes place in Indonesia, far away from the prying paparazzi eyes that follow her everywhere she goes these days.
As far as her fight career goes, Rousey already planned on a sabbatical after this fight regardless of a win or a loss but how she comes back from this will truly define what she's made of as a competitor. Winning isn't easy, but it's definitely a lot more fun than a loss.
Will Rousey consider a change in camps ahead of her next fight?
Well for as much as everyone wants to blame everything that went wrong in the Holm fight on Tarverdyan, it's not all his fault but he certainly takes a hit for the strategy he helped put together and then couldn't adjust once Rousey clearly lost the first round. Tarverdyan is primarily a boxing trainer but Rousey's striking was woefully outmatched by Holm, who is a championship level pugilist with a ton of titles to back up her record.
Unfortunately for Tarverdyan, his work with other UFC fighters outside of Rousey hasn't yielded much in the way of positive results either so this latest loss won't put many people in his corner for another try.
Rousey is fiercely loyal to the coach but that doesn't mean she couldn't potentially add another mind to the mix. Considering she trains in Southern California, which is a hub for high-level mixed martial arts, there are undoubtedly scores of coaches and trainers who would give up a great deal of their time just to have the chance to work with Rousey before her next fight.
All signs are pointing towards an automatic rematch with Rousey getting a second shot at Holm and despite the fact that she got snuffed out in the second round in a fight that wasn't really close, she's earned the right to get another chance, assuming she wants it. Rousey was a six-time defending champion — if that doesn't warrant a rematch then nothing does.
That said, Rousey might best be served by telling the UFC to move on without her for the time being and allow the division to flourish while she's gone if for no other reason than to allow her the space to get her house in order. If Holm faces someone like Miesha Tate, who actually deserved the title fight at UFC 193 based on her current resume, it allows the division to move forward and it could still easily set up the winner to face Rousey upon her return.
No matter whom she faces when she comes back, Rousey's return fight will definitely be the biggest ticket in town and either scenario — Holm or Tate — comes with a story to tell. Rousey just needs to come back on her own time and not allow that to be determined by anyone else.
Rousey didn't get to the top of the sport by accident so anyone tearing her down right now clearly doesn't understand what it takes to get to that level. In less than three years, Rousey rewrote the book on a fighter from the UFC becoming a household name and she did it all after White promised women would never actually compete in the Octagon.
Olympic gold medalist Wilma Rudolph once said, "Winning is great, sure, but if you are really going to do something in life, the secret is learning how to lose, nobody goes undefeated all the time."
Rousey found that out the hard way Saturday night, but the second half of that same quote finishes with this reminder — "If you can pick up after a crushing defeat, and go on to win again, you are going to be a champion someday." Now starts the journey to find out if Rousey has what it takes to be a champion again someday.