Miesha Tate: I am Holly Holm's kryptonite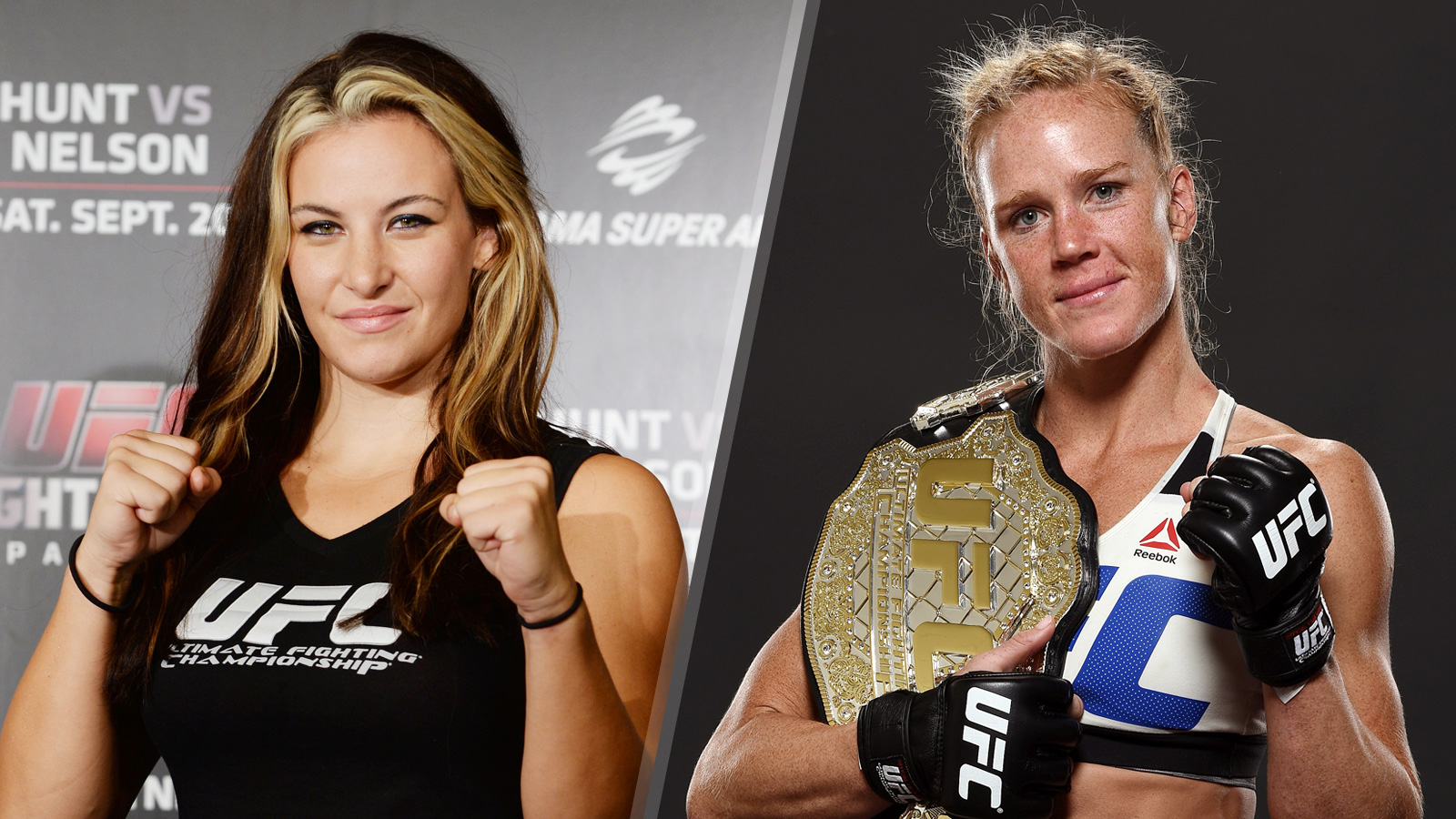 For all the praise that was heaped upon Holly Holm following her victory over Ronda Rousey at UFC 196, Miesha Tate knows that the UFC women's bantamweight champion has never faced anyone like her before.
Tate began campaigning for a shot at Holm almost immediately after her win over Rousey last November and now she'll get her chance on Saturday night.
Tate knows better than anybody that styles make fights, and she believes her skill set is the ultimate trump card to what Holm does inside the Octagon.
"I really think that I'm Holly Holm's kryptonite," Tate told FOX Sports. "I am the worst matchup that Holly could ask for. I have more ring experience. I have a wrestling background, which is a threat there and it's a completely different style of takedowns. She has never fought a girl even close to my style in MMA."
I really think that I'm Holly Holm's kryptonite. I am the worst matchup that Holly could ask for.
— Miesha Tate
When asked for specifics, Tate drills down the ways that she believes she's superior to Holm going into their matchup.
For all the ways Holm was better than Rousey when they faced off last year, Tate knows that she brings a lot of weapons to the table that the new champion has never dealt with before.
"I've looked at all the opponents she fought, none of them have put the kind of pressure on her that I'm going to put on her. The right kind of pressure," Tate explained. "It's not the kind of pressure that's reckless abandon, its not going to be desperation. It's going to be an 'oh (expletive)' type of pressure.
"I think stylistically this is the perfect matchup for me and for Holly I know she wants to test herself and she wants to prove she's the champion. And I have the most respect for her as an athlete for wanting to take on such a big challenge, but at the same time it's like you're going to get what you ask for and I don't know if you're going to like that."
As much as Tate sees weaknesses in Holm's game that she can exploit, the former Strikeforce champion is confident that she's faced similar competition in the past and come away victorious.
Obviously, Holm is a new matchup but Tate is no stranger to fighting long, rangy strikers with knockout power and she's more than happy to add one more to her resume.
"I know I've never fought Holly, but I feel like I've fought a lot of women similar to her," Tate said. "Marloes Coenen, when I won the title, a very long, lanky striker. She gave (Cris) "Cyborg" the toughest fight she's ever had and she's just a bad-ass woman and at that time, she was the best in the world. I fought her with a bum knee and it just goes to show mind over matter."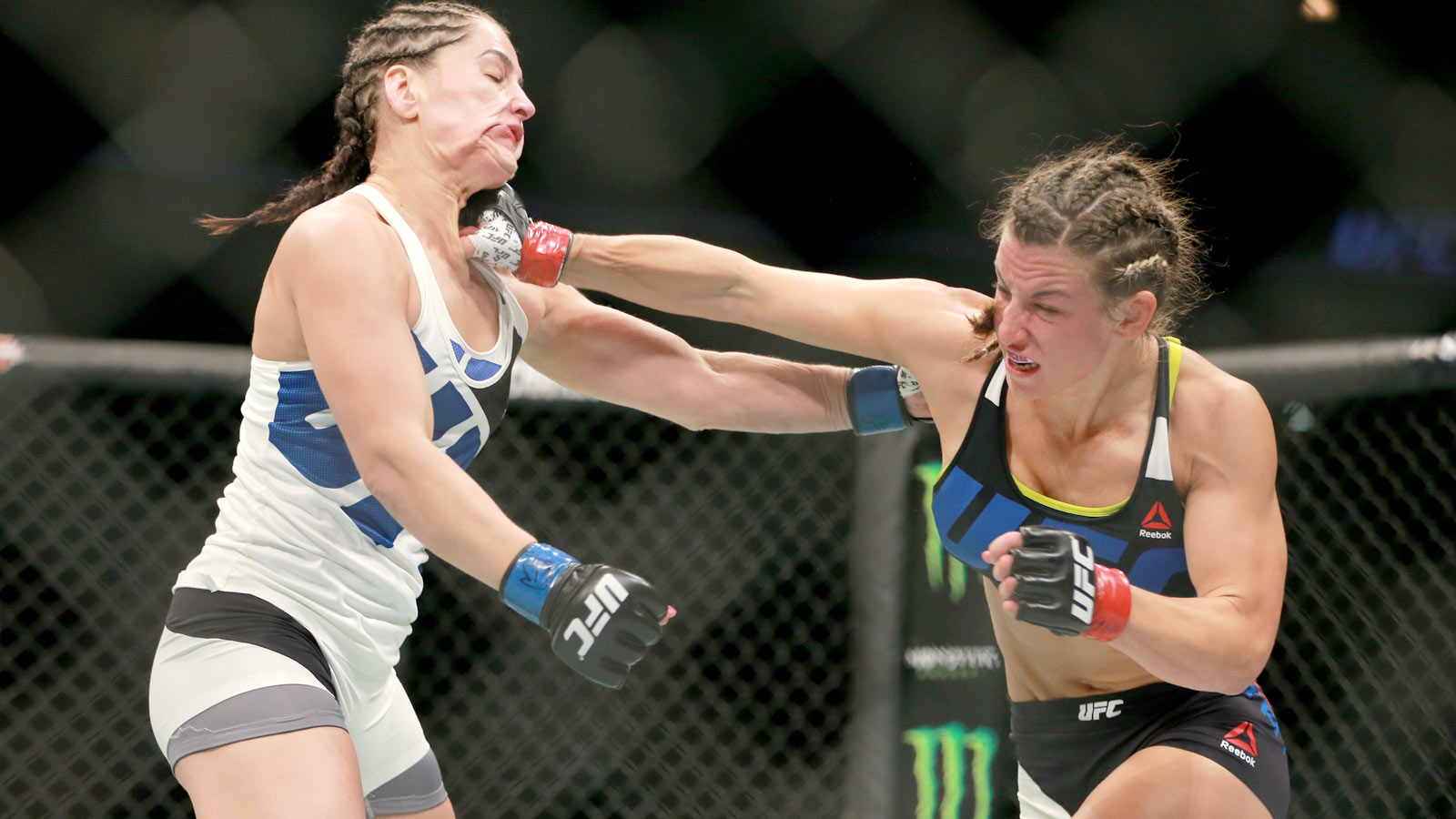 Tate even sees a way she beats Holm on the feet if the two fighters engage in a striking battle.
"I think I have potential to put anyone away, anywhere," Tate said. "People are like 'you better not stand and box with Holly.' Well she better not think because she's a world champion kickboxer and world champion boxer that I can't hurt her there because I can. I can hurt anybody there.
"She might be a little more technically sound than me, fair enough, but don't discount the power in my hands. I can put anybody away with that. If my right hand finds a home, it can hurt anybody in this division. It can put anybody away."
Ahead of the fight this weekend, of course, Tate has heard time after time that Holm knocked Rousey out after she fell to her on two previous occasions.
As much as Tate would love to avenge her losses to Rousey at some point down the road, the fact that Holm beat her has absolutely no bearing on the way her fight will play out with the champion on Saturday night.
"I really could care less that Holly demolished Ronda," Tate said. "I think Ronda went out there and if I was going to rate Ronda's striking in that fight with Holly on a scale of 1-10, I probably would have given her a three. Her ability to close distance in terms of setups, I'd probably give it a three also. She did not look like the world champion that everyone has seen her be before.
"Maybe that was something else going into the fight or maybe it was just a poor game plan. She looked like she had never seen a southpaw before in her life. I don't know, but Ronda really went out there with a poor game plan and didn't adjust and I think that's her coach's fault. I think Ronda's a tremendous athlete and she could beat Holly, but she looked not good in that fight."
Prior to the Rousey win, Holm had been criticized for not putting on those kinds of stellar performances in the Octagon with her two previous fights against Raquel Pennington and Marion Reneau.
Holm's camp claimed that the former boxing world champion wasn't showing all the tools in her arsenal in those fights, but she unleashed and fired on all cylinders when facing Rousey at UFC 193.
Tate isn't buying that excuse, however, because no fighter goes into any bout in the UFC and gives anything less than 100 percent.
"I don't think any fighter fights to just barely win," Tate said. "No fighter goes into the UFC, especially an undefeated fighter, and fights to just barely get a split decision. I'm sure if Holly had an opening to finish the fight she would have but again those styles allowed Holly to just do enough to win.
"She didn't have to expose everything in those fights. She was a little bit more tentative because she was cautious about them trying to take them down. She likes to keep that range and she was more patient in those fights. But the statement that 'oh she didn't show everything' — she didn't show everything but her opponents kind of allowed her to not show everything."
In terms of this matchup, Tate plans on making Holm work for each and everything she gets in the fight — and from the sound of things it won't be much.
Tate is ultra confident in the way she matches up with Holm and believes when UFC 196 is over, she'll be standing tall as the new UFC women's bantamweight champion of the world.
"I love this style matchup," Tate said. "I love that she's a southpaw. I love everything about it. I feel incredibly confident in this fight. I really respect her, I respect her camp, but I think that they're going to regret the decision. Like 'we really wanted to step up, we wanted to prove we're the best in the world' but I'm going to spoil those plans.
"They know this is a huge step up in competition. They know stylistically, I'm a more challenging style for Holly. I present different problems."