Tony Ferguson's unlikely journey from bartender to UFC co-main eventer
When UFC 177 co-main event fighter Tony Ferguson was in high school, he was a triple-threat athlete competing in football, baseball and wrestling. He was actually on a couple of championship football teams, and it appeared as if that sport may trump all the others for his future in athletics.
Actually as it turns out, getting away from school and partying won out over any of the sports.
As the future Ultimate Fighter winner tells it, if not for a chance encounter with an old high school buddy while he was making a living as a bartender, he might not even be fighting this weekend against Danny Castillo.
"I was bartending for a while and a buddy of mine calls me up from high school and he's like 'Hey Tony, how's everything going, how you been?' and I was like, 'I'm bartending, smoking cigars, just being fat and doing nothing.' After high school I didn't even wrestle because I wasn't sure what I wanted to do. I was just chilling out and figuring out what I wanted to do," Ferguson explained to FOX Sports. "Then I was going to go wrestle but I didn't like the coach and I was like, 'You know what, maybe wrestling's done.'"
Opportunity sometimes comes once in a lifetime. I always knew and my parents always knew I was destined for greatness
— Tony Ferguson
When Ferguson passed on wrestling in college, he opted for the life many young adults dream about — serving drinks, hanging with hot girls and just living the party life 24 hours a day, seven days a week. The only problem is that life eventually catches up with you, and Ferguson realized pretty quickly that he was only going to be this young once.
So after his friend called and offered Ferguson a chance to help another wrestler on his college team get ready for a big meet, fate intervened and he ended up falling in love with the sport all over again.
"So I started bartending and partying, kind of living the life of a bartender, and they called me up and it was just perfect timing because I was burned out on spending my money on stupid s–t and spending my time doing stupid things and I needed some kind of direction," Ferguson said.
"So when he called me up, they had a guy at Grand Valley State and he was preparing for his second or third national title and they were wondering if I could come in and help him out. I wasn't sure how good my conditioning was going to be but I knew I was going to be there. I went there the next day and I did really good. I did really, really good. The guy didn't score any points and I worked it. After that match, I just ran to the puke bucket and went everywhere and then I came back and wrestled another match."
While motivation may have hampered Ferguson after high school, his work ethic never failed him. When he was a kid growing up in Michigan, his father used to put him to work on the family's yard, which stretched out over 40 acres, any time he slipped up and got into trouble. When the grass wasn't growing in the thick of winter, Ferguson was chopping wood to keep the family warm because inside the house the only thing that fought off the bitter cold was a fireplace.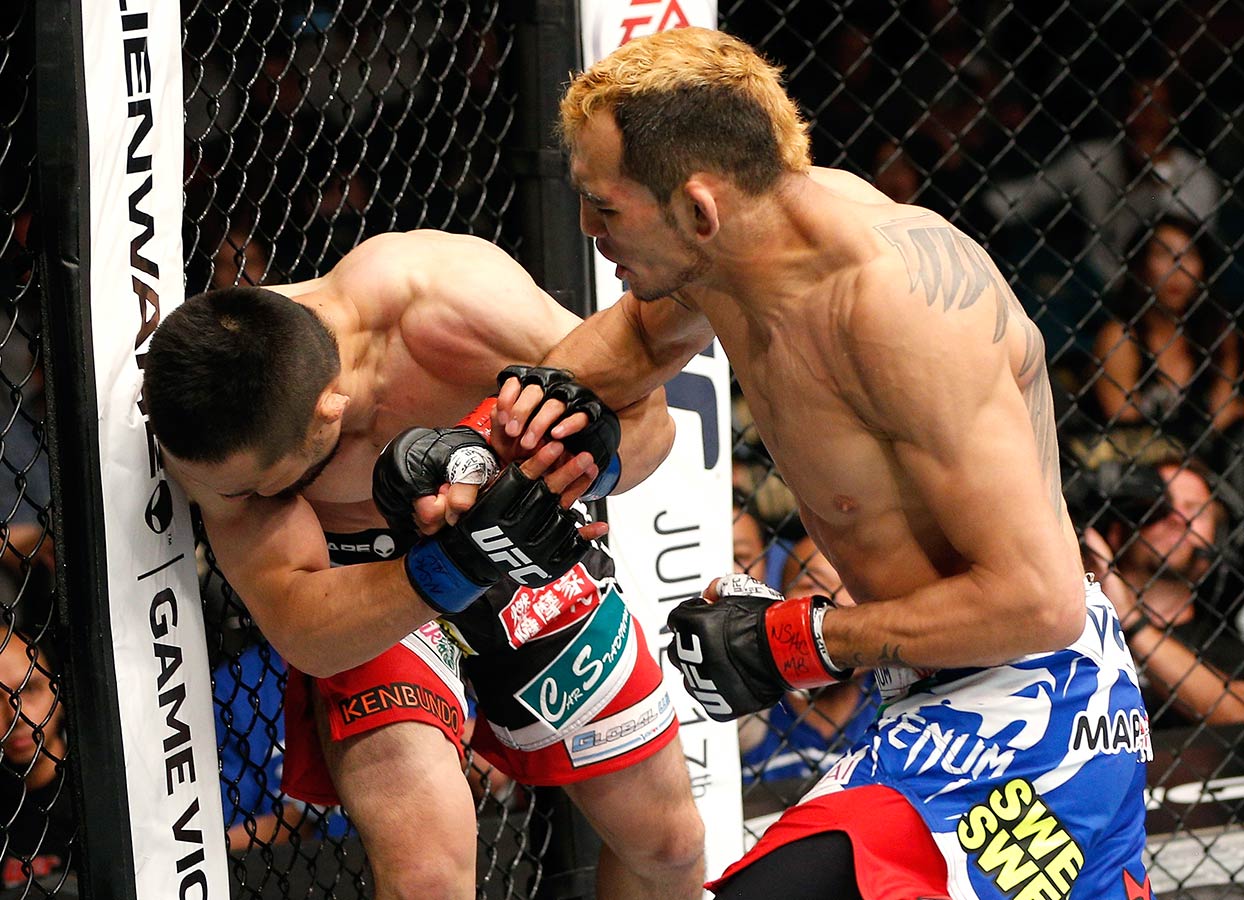 It was those Midwestern, blue-collar roots that Ferguson carried with him into wrestling. His transition to fighting was also aided by his father, who used to compete in local Michigan Toughman competitions for fun. So when he walked into that wrestling room at Grand Valley State, Ferguson knew he might not have been the most talented guy or the most gifted athlete, but he was positive he could outwork anybody on the mat, and nobody was going to get him to quit.
His first day at the gym went so well, the coach from the college team called him that same night and offered him a roster spot and a chance to re-enroll in school.
"I went home and the coach got my information and he called me later that night and he gave me the option to be able to go back to school and figure out what I wanted to do. He gave me that opportunity and that was the best thing he could have done," Ferguson said.
"It was amazing. It made me feel when you hit rock bottom and opportunity calls, you better take those reins and run with it. Opportunity sometimes comes once in a lifetime. I always knew and my parents always knew I was destined for greatness. I didn't know what sport it was going to be in. I played football, baseball and wrestling. I grew up around really tough-nosed guys so that's all I know. When I got into this sport, it just made sense."
From his days in Michigan to the bright sun of California, Ferguson has kept that message in his mind for every fight he has in the Octagon — 'I was destined for greatness'. When the opportunity came up to co-main event UFC 177 in Sacramento, the words ran through his mind once again — 'I was destined for greatness'.
"This is where I belong," Ferguson said. "Any of my previous fights before the UFC and the Ultimate Fighter were all main events and co-main events. This is exactly where I belong. I go out there and I put on a show."