Dominick Cruz looks to continue downing Team Alpha Male against Cody Garbrandt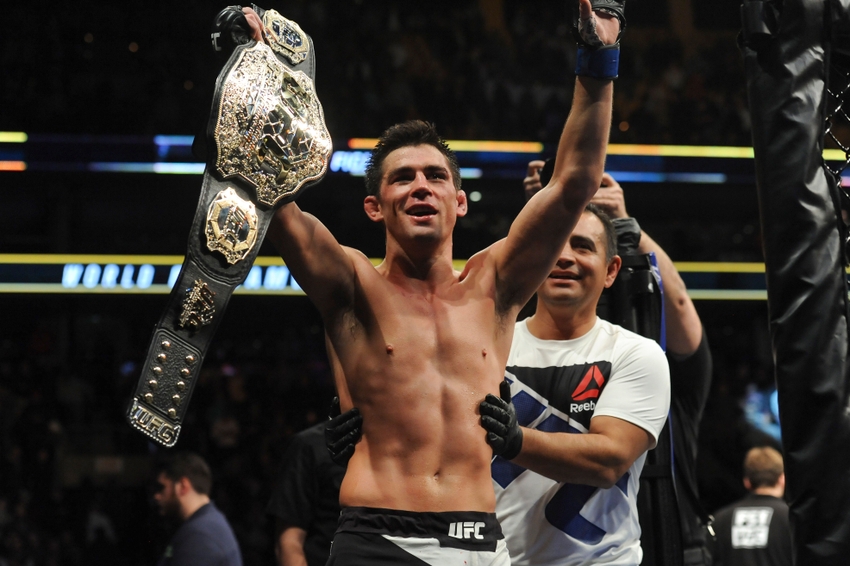 Dominick Cruz doesn't care about the UFC rankings and believes that his fight with Cody Garbrandt is the 'money fight' to make right now.
Dominick Cruz is not only the most dominant bantamweight champion in the history of mixed martial arts (MMA), but he is also one of the most dominant champions of all time in one of the most unforgiving sports to ever see the light of day. Cruz has been dominating the UFC's young 135-pound weight class since winning the promotion's inaugural title with his unanimous decision win over Scott Jorgensen in 2010.
Cruz has only lost one fight in his entire MMA career, coming in the form of his first round submission loss to longtime rival Urijah Faber in Cruz's WEC debut at featherweight. "The Dominator" has since avenged that loss twice with two unanimous decisions under the UFC banner against "The California Kid," including his most recent Octagon appearance to where he handily defended his title against Faber in the co-main event of UFC 199 in June.
Next up to challenge Cruz for the bantamweight throne is the heavy-handed team Alpha Male member Cody Garbrandt, teammate of Cruz's longtime rival Faber, who is undefeated in his MMA career and is riding a massive 10-fight win streak topped off by a slew of knockouts.
Many could argue that the title nod should have gone to former champ T.J. Dillashaw instead, who Cruz defeated via split decision in January to regain the title he was forced to vacate after taking time off due to injury, who is coming off of a decisive unanimous decision win over Rafael Assuncao at UFC 200 in July.
Cruz recently spoke to MMA Fighting to discuss his upcoming meeting with Garbrandt, stating that he simply doesn't care if people think "No Love" deserves the title opportunity or not:
"What the difference is, is that he comes from a storyline of guys that I've been beating down for 10-plus years from a camp called Alpha Fail and his biggest coach is a guy that I've been smashing for 10-plus years," Cruz said. "It's just there. It's all there for the taking. It's all there for everybody on their entire squad that's going to be sad and crying again after I smash their boy. So it's perfect for me. I love it."
With fighters such as the brash Irishman Conor McGregor making waves in UFC sales by utilizing his unique ability to hype fights by trash-talking his opponents, Cruz has taken away a valuable lesson from this.
Fans are attracted to drama and that comes with verbal warfare before the real show starts inside the cage, something that helps when it comes to ticket sales and putting more money in the pockets of fighters:
"I didn't think talking would mean anything," Cruz said. "I thought it was just talk. But it's not. It's actually not. Because the fans grasp ahold of talking and that's what matters, is the fans. Not the UFC. The UFC thinks what the fans think. That's what the UFC thinks, because they're smart. They don't care what the fighters think, they don't care what the media thinks, they care what the fans think. And when you care what the fans think, you get sales."
If Garbrandt is able to down the longtime 135-pound champ Cruz in their title meeting, he will have accomplished a feat that nobody except his mentor, Urijah Faber, has been able to accomplish in nearly a decade.
Cruz, however, is looking to extend his current eyebrow raising win streak to 13, and making the sixth successful title defense of his UFC career.
Cruz and Garbrandt will meet in the co-main event of UFC 207 live on pay-per-view (PPV) for the bantamweight title, from the T-Mobile Arena in Las Vegas, Nevada on Dec. 30, 2016.
More from FanSided
This article originally appeared on