Brock Lesnar undecided about his fighting future after UFC 200
On the day last year when Brock Lesnar announced that he was officiailly retiring from mixed martial arts and instead signing a new long term contract with the WWE, he almost immediately regretted that decision
It wasn't any ill will towards the WWE or his life as a professional wrestler, but instead Lesnar's own fighting spirit just wouldn't allow him to walk away from the sport where he was champion a few years ago.
A crippling bout of diverticulitis robbed Lesnar of a huge part of his fighting career so when the opportunity came up to fight in the UFC again, he jumped at the chance and immediately signed on to fight Mark Hunt at UFC 200.
While the fight is being billed as a "one off" by his employers at WWE, Lesnar has shown so much enthusiasm about fighting again that many wonder if UFC 200 will just be a temptation for him to return to the Octagon on a semi-permanent basis while still fulfilling his contractual obligations with the professional wrestling outlet.
"I don't know. I feel really good," Lesnar told FOX Sports last week about his future with the UFC. "Training camp is going great. I'm happy. I'm happy with my life. I'm happy with everything. Yes, since I left the Octagon after I got beat by (Alistair) Overeem and kind of forced out of the cage because of my illness, it haunted me for a long time. Here I am and before it's too late, I want to get back in the cage and have some fun with it. This is all about having fun.
I'm not looking past this fight. I'm just taking one day at a time. One training session at a time. Looking forward to July 9. I'm grateful that Mark Hunt took the fight, it was short notice for me and him so we'll see what happens on the 9th.
— Brock Lesnar
According to Lesnar, his negotiations with the UFC and WWE to return to fight again all happened at the last minute and it didn't allow him much time to prepare for the showdown with Hunt next Saturday night.
Lesnar says the original conversation was aimed at his return later in the year, but when UFC 200 became a real possibility, he jumped at the chance even if it meant he wouldn't have as much time to get back into fighting shape.
"Not very long. I wasn't sure if it was even going to happen so I don't remember the date, but I've been training four or five weeks," Lesnar said. "Before my call to Dana (White), I wasn't even sure this thing was going to happen at UFC 200.
"We had talked and thought maybe we could put something together by November for New York. But hell, I'll fight whenever the money's right and we took it to the eleventh hour and that's where we're at. So it is what it is."
Lesnar knows he has a tough test ahead of him after sitting out for the past five years. While he's been body slamming opponents in the WWE, fighters like Hunt have been tearing through the best fighters in the world in the heavyweight division.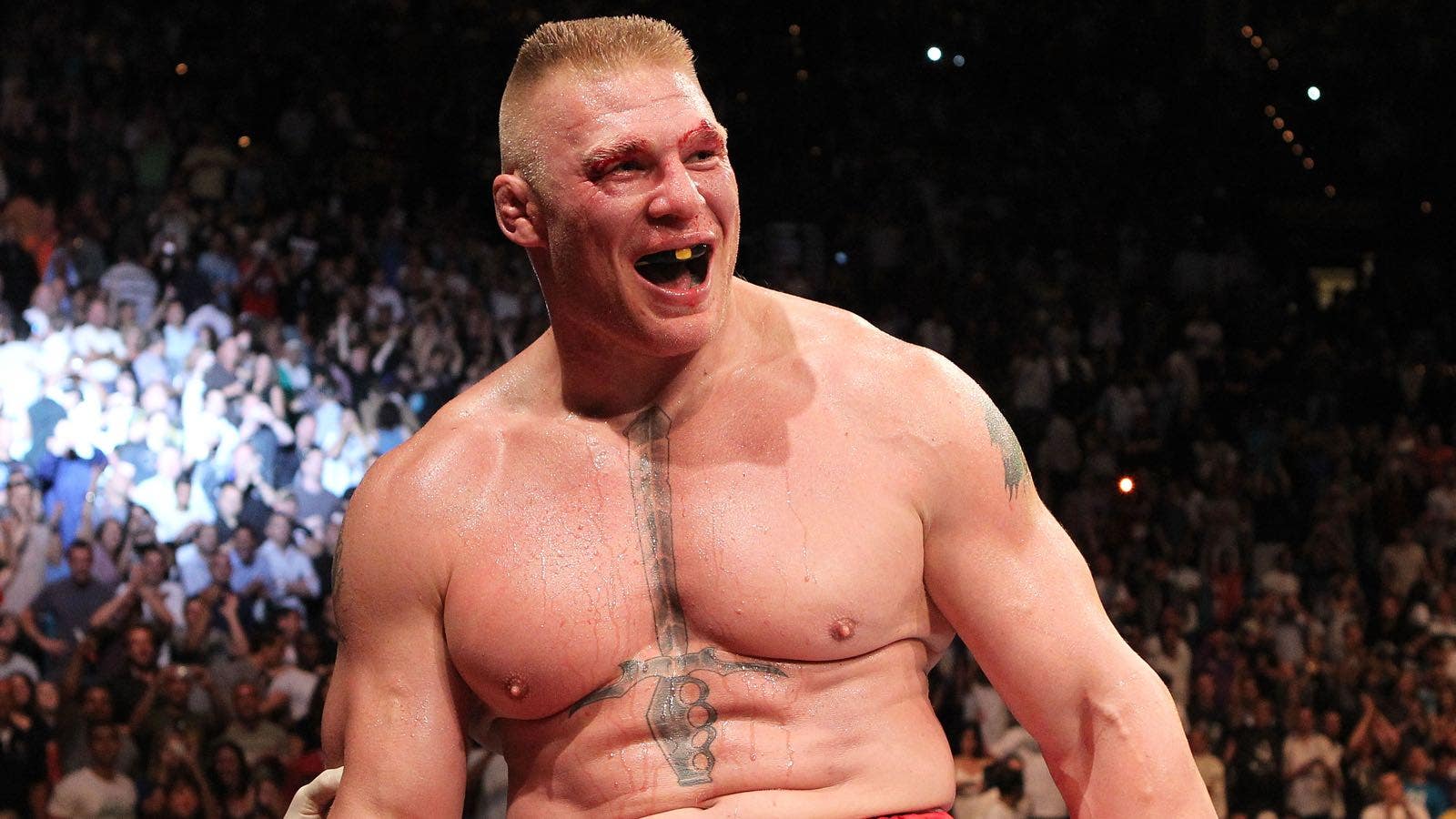 Lesnar isn't foolish enough to believe that he's just going to maul Hunt without any resistance from the veteran heavyweight, but he's also confident now that he's healthy, he can face and defeat anybody in the world again.
"He's a heavy hitter. I'm preparing to not take one of those shots. To answer that and to win this fight. Is he better than I am at stand up? Of course he is. Is he a better wrestler than me? Hell no," Lesnar said. "He'll probably tell you that, too. That's why we're fighting. We're going to see who the best man is with their disciplines on the night."
Lesnar has said numerous times since inking the deal to return to the UFC that he's had a smile plastered across his face as the happiness washes over him everyday he prepares for his upcoming fight.
Lesnar is still a huge star for WWE and while he's obligated to return to professional wrestling after UFC 200, he doesn't sound like a man who will be satisfied with just one more fight and then calling it a career again.
"I believe I was meant to be a fighter, an entertainer and absolutely it's one of those things for me, I want to get back in," Lesnar said. "It's no mystery that I was forced out of this competition because of an illness I had. I tried to be the competitor I wanted to be, but it's kind of hard to do when you have a disease and you fight back from it.
"I'm in a whole different spot mentally and physically in my life right now. Before I became a 40 year old man, I want to get back in the cage."