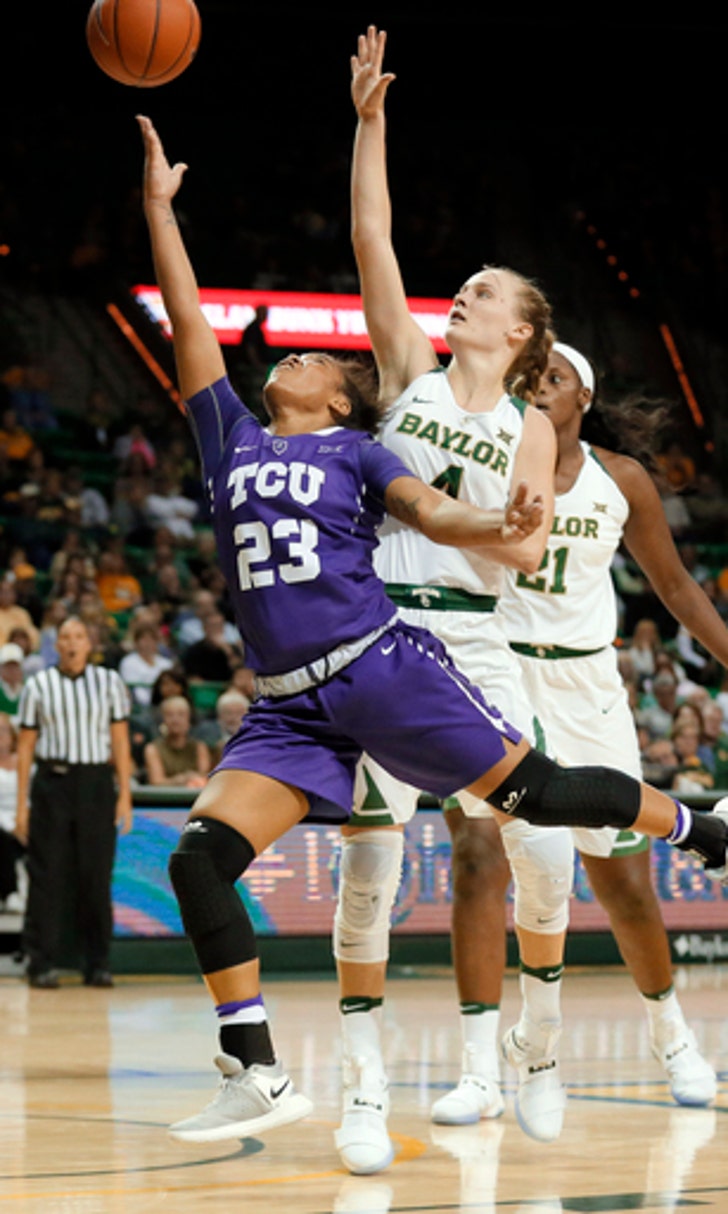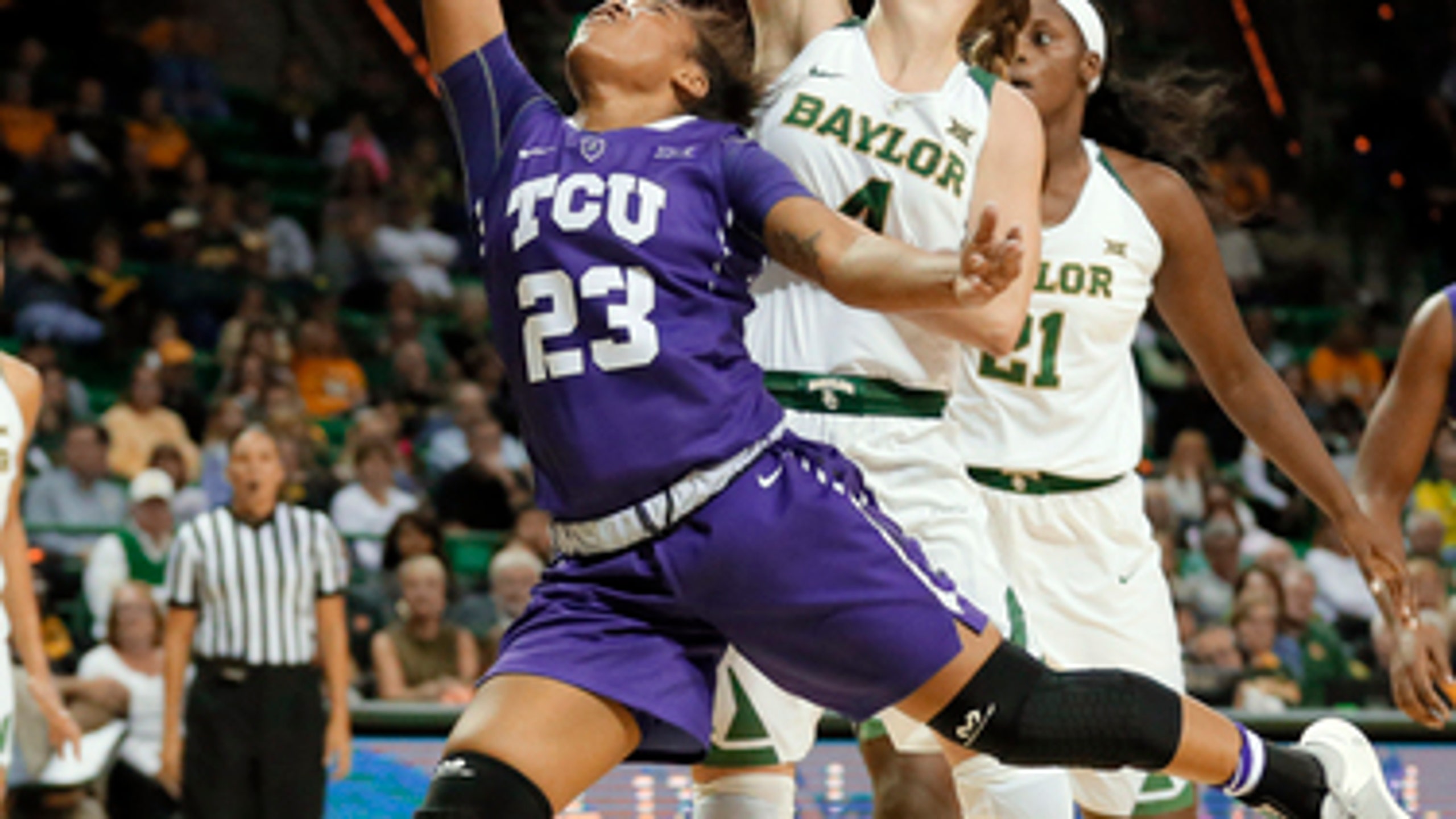 No. 2 Baylor women 77-54 over TCU to stay perfect in Big 12 (Jan 11, 2017)
BY AP • January 11, 2017
WACO, Texas (AP) Baylor freshman Lauren Cox didn't even hear Baylor coach Kim Mulkey tell her to shoot the ball. Cox didn't have to be told.
The 6-foot-4 forward made her first seven shots on way to 19 points in only 22 minutes and the second-ranked Lady Bears beat TCU 77-54 on Wednesday night for their 51st consecutive win at home.
''My shots were definitely falling tonight. I just flashed when I could to the open spot, and my teammates got me the ball,'' said Cox, who finished 8-of-9 shooting.
While it was the closest margin of victory for the Lady Bears (16-1, 5-0 Big 12) so far in conference play, and they surprisingly got matched on rebounds, they trailed for only a 12-second span after TCU's 3-pointer for its first basket of the game.
''So how much you think we should have won by? Guys, we're human,'' coach Kim Mulkey said, when asked about the margin. ''They were physical. I thought they made sure we didn't dominate the boards, they packed in the zone to make us take perimeter shots. And we won by 23. I'll take that any day.''
Alexis Jones added 14 points and Alexis Prince 10 for the Lady Bears, though the two veterans were a combined 10-of-36 shooting.
AJ Alix had 17 points while Jada Butts had 15 for the young Frogs (8-8, 0-5), who have five freshmen and three sophomores on the roster. TCU has lost 21 in a row since 1991 against Baylor, including all nine in the five seasons since joining the Big 12.
''I think this is one of their better teams, but I'm really proud of our team's fight,'' TCU coach Raegan Pebley said. ''I feel like we've really grown, and I was proud of our team and how we competed, and really just stuck to a game plan.''
BIG PICTURE
TCU: The opening Big 12 stretch in Pebley's third season has been a difficult stretch. Baylor was the fourth Top 25 team the Frogs have played in their first five conference games.
Baylor: The Lady Bears had won their first four Big 12 games by an average margin of 37 points, the most dominating start to league play in school history. They sure seem to be on track for a seventh straight Big 12 title.
BOARDING SURPRISE
Baylor had outrebounded its first four Big 12 opponents 59-30. But TCU, which entered as the league's worst rebounding team, matched the Lady Bears 48-48. ''Yeah, growth,'' Pebley said. ''We had lapses, we had some mistakes, but for the most part, I think we were consistent in executing that game plan.''
KEEP SHOOTING
Jones made three 3-pointers in the a span of just more than 2 minutes midway through the first quarter, but finished only 3-of-13 on long-range shots and 5-of-20 overall. The senior guard also had eight rebounds and eight assists. ''You didn't have a bad game. You won by 23, you had eight rebounds, keep shooting,'' Mulkey told Jones.
POLL IMPLICATIONS
As long as No. 1 UConn keeps winning, the Lady Bears are ranked as high as they can be. Baylor has won 14 in row since its Nov. 17 loss to the Huskies, who are Saturday can break their own NCAA record with their 91st consecutive victory at SMU, in Dallas only about 100 miles from the Baylor campus.
UP NEXT
TCU: The Frogs are headed home to finally play one of the teams that is also in the lower half of the conference standings with them. TCU hosts Iowa State on Sunday, the first of three home games in a four-game span.
Baylor: The Lady Bears are in their most condensed stretch of Big 12 home games with three of four, and four of six, at the Ferrell Center. After starting that stretch against the Frogs, Baylor plays at Kansas on Sunday.
---
More AP college basketball coverage: www.collegebasketball.ap.org and http://www.twitter.com/AP-Top25
---
---