Syracuse Orange
Syracuse Orange
Ionescu helps No. 3 Oregon women top No. 18 Syracuse 75-73
Published
Nov. 10, 2018 8:47 p.m. ET
EUGENE, Ore. (AP) — Down by six points with two minutes to play, Oregon coach Kelly Graves chose "to let the flow go" rather than call a timeout.
It worked.
Sabrina Ionescu had 26 points and 10 rebounds and Erin Boley made a go-ahead 3-pointer with 51 seconds left, helping the third-ranked Ducks top No. 18 Syracuse 75-73 on Saturday.
"That's why Sabrina is Sabrina," Graves said. "I told her, 'You played like an All-American tonight,' and that's what she's supposed to do."
Ionescu, a preseason All-America guard coming off her 11th career triple-double, hit back-to-back 3-pointers to spark an 11-0 run after the Orange had scored 10 straight points to take a 67-61 lead.
"I just did everything I could to not lose that game," Ionescu said. "They had left me open and I knew it was time that I had to hit some big-time shots, and my teammates got me the ball.
"As soon as I released it, I knew they were going in, just with the adrenaline and that desire to not lose."
Boley's 3 from the corner put Oregon ahead to stay at 70-67. It capped a rough 5-for-19 shooting night for the redshirt sophomore transfer from Notre Dame, including 3 for 12 from beyond the arc.
"I wanted to contribute in any way that I can," said Boley, who sat out last season. "Not every night are you going to be able to shoot the lights out."
"Erin hit the really big one when it mattered," Ionescu added. "I thought down the stretch we executed well."
Maite Cazorla hit four free throws in the final 30 seconds and finished with 14 points for the Ducks (2-0). Boley had 13 and Ruthy Hebard added 11 points and 14 rebounds.
Tiana Mangakahia led Syracuse (1-1) with 15 points and eight assists. Gabrielle Cooper and Amaya Finklea-Guity added 11 points each.
Cooper's 3-pointer gave the Orange their first lead at 62-61, but Syracuse was just 5 for 28 (17.9 percent) from beyond the arc. Oregon countered with 5 of 9 in the fourth quarter from long range and 11 of 31 overall (35.5 percent).
The Orange won the rebound battle 45-36 and outscored the Ducks in each of the final three quarters after getting off to a tough start. Syracuse shot 40.3 percent (31 for 77) from the floor, compared to 35.5 percent (23 for 63) for Oregon.
"We didn't make shots, so we couldn't get into our pressure (defense) at all in the first half," Syracuse coach Quentin Hillsman said. "It was horrible for us.
"Give our kids a lot of credit against the No. 3 team in the country on the road. There were a lot of opportunities where they could have laid down and folded, and they didn't. They kept fighting and gave us a chance to win."
BIG PICTURE
Syracuse traveled to the West Coast looking for a challenge and nearly escaped with a win despite shooting poorly in the first half. The Orange also face Texas A&M, Kansas State, DePaul and Minnesota in preparation for Atlantic Coast Conference play.
Oregon fought off the upset by finding a way to score over Syracuse's 2-3 zone before a home crowd of 6,789. The Pac-12 champions have another heavyweight challenge in five weeks when No. 6 Mississippi State visits Eugene.
POLL IMPLICATIONS
Oregon is likely to hold its spot at No. 3, though it may lose some votes after the close call at home. Syracuse could get some bounce from its comeback, if it can take care of business against No. 20 Texas A&M.
STAT OF THE NIGHT
Oregon missed all six of its 3-pointers in the second quarter but made 8 of 20 in the second half.
"We're one of the best shooting teams in the country and we just didn't shoot it all that well tonight," Graves said.
UP NEXT
Syracuse faces another ranked opponent, No. 20 Texas A&M, on Wednesday night at the Westchester County Center in White Plains, New York.
Oregon plays at Utah State on Wednesday night in the second of six road games on its 12-game nonconference schedule.
---
---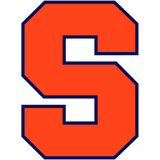 Get more from Syracuse Orange
Follow your favorites to get information about games, news and more
---