Vitor Belfort walks back retirement plans: 'I've got some years left in me'
BY Damon Martin • June 1, 2017
Following a loss to Kelvin Gastelum earlier this year, Vitor Belfort announced that his next fight would be the last of his career and he wanted to compete in his home country of Brazil as a way to say goodbye to the sport.

Belfort will meet Nate Marquardt at UFC 212 this weekend, but just days away from the fight, the former light heavyweight champion has walked back his talk about retiring and now says he believes he has years left in the sport.

"Something stirred me in this camp. I went to Canada with Tri-Star and I feel like I've got some years left in me. So let's do it again. Let's make another journey," Belfort told "UFC Tonight" on Wednesday.

Belfort traveled to Montreal for his training camp where he worked with head coach Firas Zahabi and it seemed to reinvigorate the 40-year old veteran.

While there were rumors that Belfort's next fight was also the last on his current contract with the UFC, Combate in Brazil reported this week that he actually still has another bout left on his deal after facing Marquardt this weekend.

Regardless of his contract, Belfort says he only wants to compete in the UFC because that's there the best fighters in the world are right now.

"UFC. That's the place to be," Belfort said. "I'm very thankful to help to build the sport and we're in a phase now that I think the sport has become not just entertaining but it's become a sport. I'm very pleased to see that. We're not just entertainers, we're athletes as well so I think I can help the organization."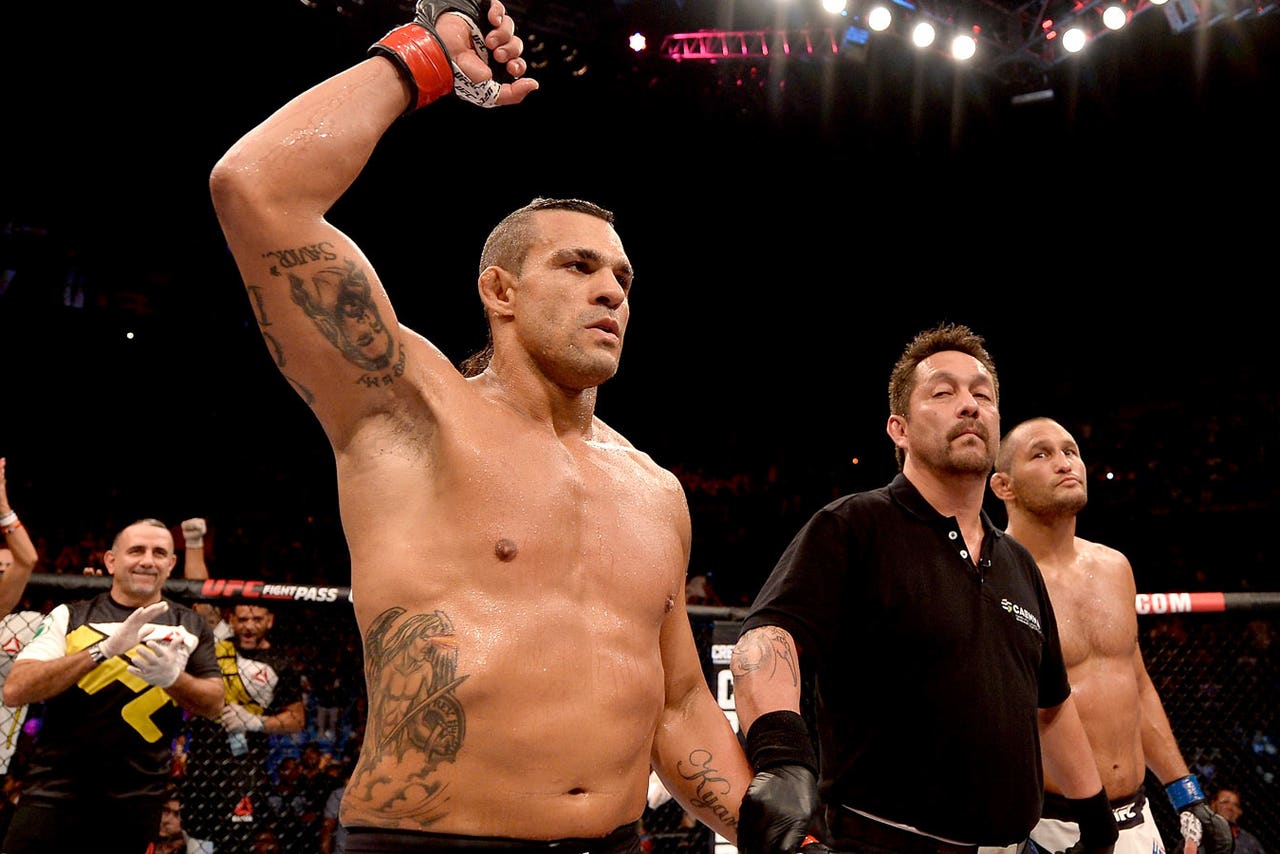 While Belfort said he felt like he had years left to compete, he also stated that he's taking everything in his career with one fight at a time before committing to anything in the future.

"I just want to take one fight at a time. I'm at a stage in my life that fighting for me is a pleasure," Belfort said. "I have lots of business outside of the Octagon and I'm looking to have fun. If I feel like I don't have the passion, the flame, I really want to help the organization outside. I did a lot for the sport, for the organization as well here in Brazil and all over the world. I really believe that I still have a lot of me in fighting.

"So I'm taking every fight as the last. Any fight that I have can be the last or it can be the beginning."

One thing that Belfort has said repeatedly even before his last fight against Gastelum was that he would love if the UFC would introduce some sort of division for the "legends" of the sport, who are a little older and could compete against each other rather than the younger generation of fighters.

It seems Belfort is still holding out hope for the UFC to institute a legends division as he looks to continue his career past 40.

"I still believe in the legend league," Belfort said. "Creating something, I can see that happening in the future. Fighters can fight into their 50s. Why not?"


---
---