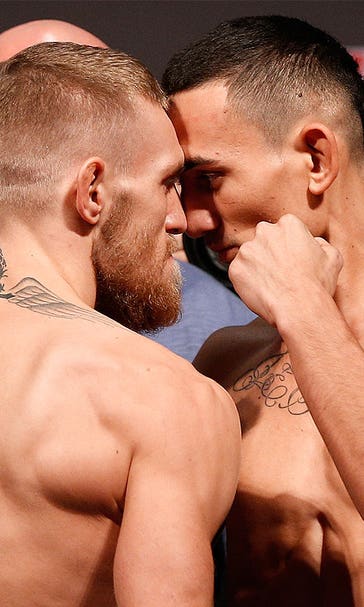 Max Holloway to Conor McGregor: Don't go running from the division just yet
BY Damon Martin • September 4, 2015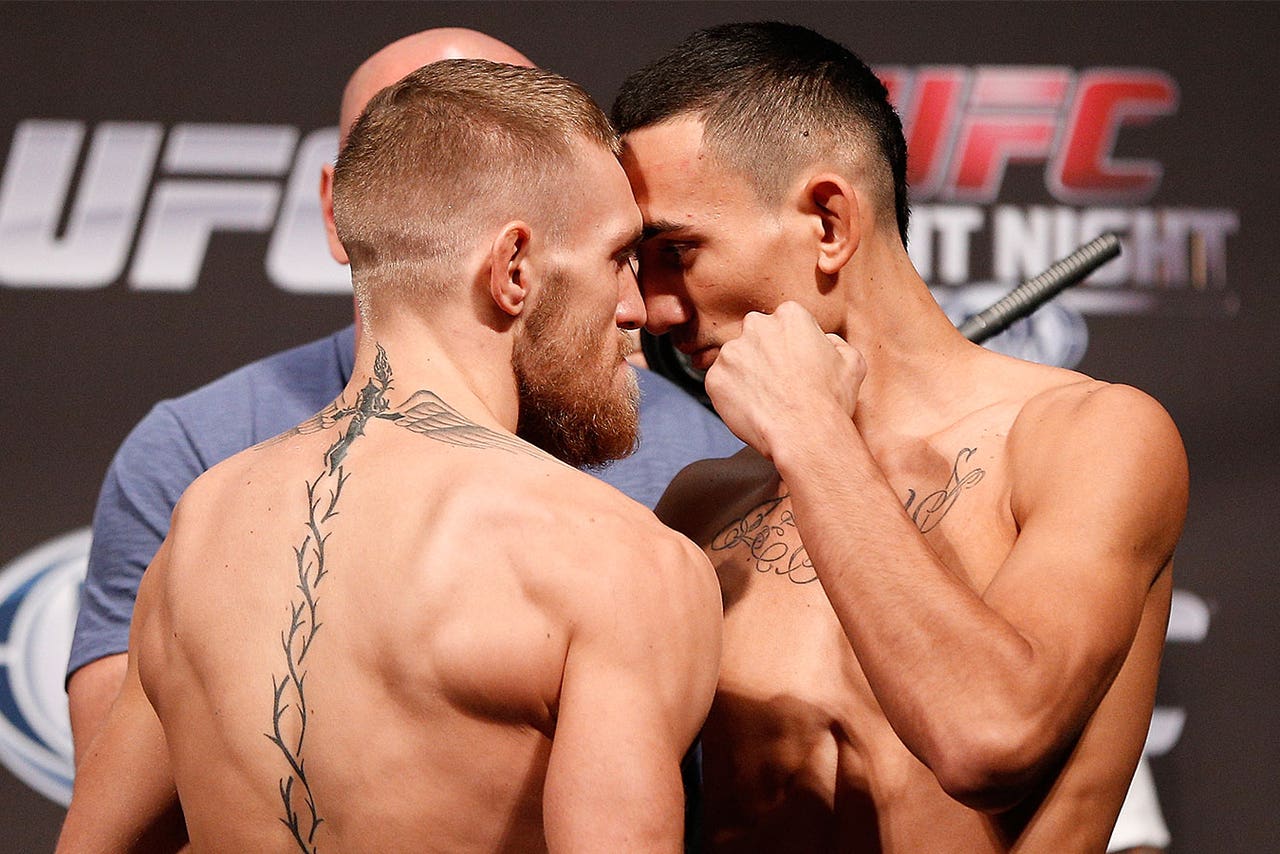 UFC interim featherweight champion Conor McGregor has plans to unify the titles at UFC 194 in December and then he's contemplating a move up to lightweight to continue his career.
Recently at a media luncheon in Los Angeles, McGregor stated that he was interested in disposing of current featherweight king Jose Aldo in December and then targeting the best fighters in the world at 155 pounds.
Before he fought in the UFC, McGregor was a champion in Europe while competing at both lightweight and featherweight and it seems he has those same aspirations in the UFC.
"I'm going to unify the belts and destroy the division and then I'm going to go up and take the lightweight division, as well," McGregor said. "So that's where I'm headed right now."
If McGregor goes jetting off to 155 pounds, an old foe hopes to settle the score with the outspoken Irishman before his days at featherweight are finally finished. Max Holloway, who is tied with Aldo for the longest winning streak in the division at seven straight, wants to fight McGregor again before he leaves featherweight because he's still itching for revenge from their first fight.
"Our last fight, I got no excuses, but everybody saying he fought me on one leg and that's why he didn't finish me. Well, let's run it back. Most people didn't know I got injured in the first 30 seconds and he got injured in the last couple of seconds in the second round and the last time I checked he's been finishing everybody in under two rounds. So what's his excuse for not being able to do that to me?" Holloway told FOX Sports on Thursday.
"It must drive him crazy that I'm the guy he couldn't finish. Let's run it back and let's do it. I'm down for that fight."
The injuries Holloway referenced include a torn ACL for McGregor, which put him out of action for several months after he had surgery and then rehabilitation on his knee. Holloway didn't escape unscathed either after suffering a high ankle sprain early in the first round, which hampered his ability to strike or stop takedowns for the rest of the fight.
Since that night in 2013, Holloway has been undefeated. So it stands to reason why McGregor is such a thorn in his side.
But as much as Holloway wants his revenge, he's still not sure why McGregor is trying to exit the featherweight division even with a win at UFC 194. Beating Aldo would unify the featherweight title, but McGregor still has a lot of potential matchups awaiting while hopefully defending the title at least a few times before vacating the belt to move up a division.
"There's a lot of fights that make sense for him and there's a lot of things he still has to do at 145. He just won the belt! And I like to think Jose is the champion. I wouldn't call myself the champion until I beat the champion," Holloway remarked.
"It kind of makes no sense, there are a lot of fights for him down here. The only reason he would want to leave the division is he's a big boy and the weight cut is getting to him. At the end of the day there are a lot of great matchups. He wants to talk about money, he wants to talk numbers -- Holloway vs. McGregor 2, I think that would make a lot of numbers."
For all of McGregor's talk about cleaning out the division with dominant wins over the likes of Chad Mendes and Dustin Poirier, he doesn't mention Holloway's name on too many occasions. Holloway believes it's because McGregor knows that was his toughest fight and the Hawaiian still stands as the only UFC fighter to take him to decision thus far.
Holloway believes there is still a lot more to gain from a rematch and he hopes McGregor mans up and accepts his challenge after UFC 194 is over. Holloway is also fighting on the same card against Jeremy Stephens, but the fighter and his manager Brian Butler agree that if Aldo gets hurt again, he's more than willing to step in and face him on Dec. 12. 
"All I'm going to say is Conor goes around and he talks a lot and he talks about everybody in the division except for one guy and that's Max Holloway.  You can go ask Conor how he thinks the fight would turn out. The fight would be 100 percent more entertaining than the last one. We both had injuries so let's see what happens this time," Holloway said.
"I respect Conor but at the end of the day he talks about his left hand cracking people and they fall down. When you look at our fight, I remember one guy falling down and it wasn't me. We'll see what happens. I think that eats him up that he didn't get the finish. I do recall him saying at the post-fight press conference saying that he felt he lost the fight with the way he performed so why wouldn't he want to avenge a loss? Let's do it."
Holloway also knows that McGregor is driven by the biggest paycheck possible and he's been gunning for a chance to do a huge fight in a stadium. Well, Holloway knows the perfect location and he's just waiting for McGregor to finally address his challenge.
"This guy wants to fill a stadium -- well I've got a stadium in mind. It's called  the Aloha Stadium in Hawaii. So let's do it. 60,000 plus people and we can fill it up," Holloway said.
"He still has to get past Jose first so one step at a time. But all I'm saying is don't go running from the division yet. You've got a lot of unfinished business. We've got unfinished business."
---
---