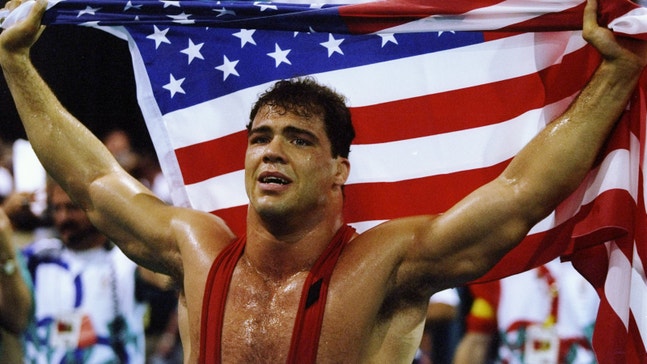 Kurt Angle offers Chris Weidman help with his neck injury
Published
May. 18, 2016 6:45 p.m. ET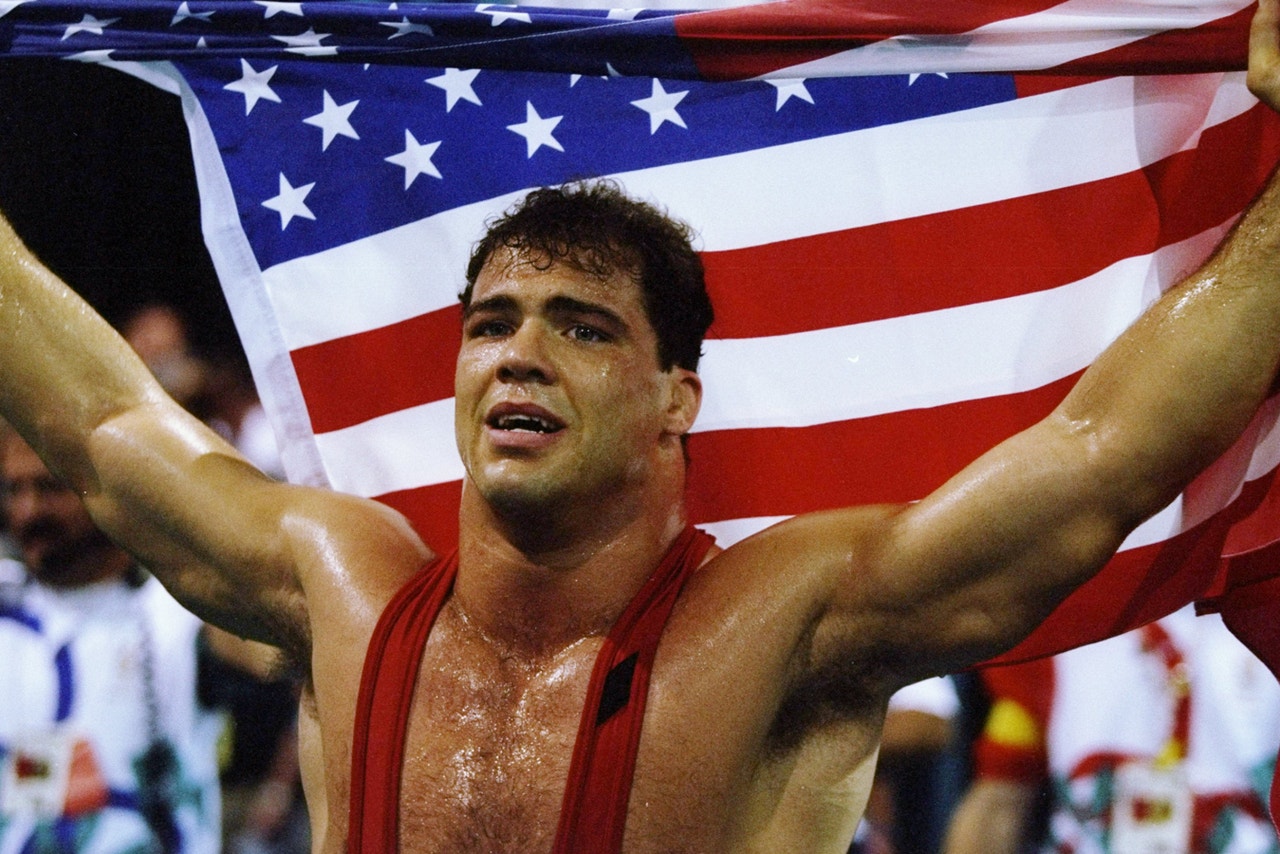 There are few athletes who can relate to what Chris Weidman is suffering through right now with a neck injury more than 1996 Olympic gold medalist and professional wrestler Kurt Angle.
Weidman was forced to pull out of his fight with Luke Rockhold at UFC 199 after he was diagnosed with a bulging disc in his neck that could require surgery.
Just after Weidman released details of his injury on Wednesday, Angle took to Twitter to offer his assistance to the former middleweight champion as he prepares to undergo neck surgery in the near future. 
@ChrisWeidmanUFC Chris, give me a follow. I can help you at with the neck situation. Prayers are with You

— Kurt Angle (@RealKurtAngle) May 18, 2016
It's not likely Weidman is dealing with anything nearly as severe as what Angle dealt with ahead of his run to Olympic gold in 1996.
During his run in the U.S. Olympic trials, Angle landed on his head during one match and broke four vertebrae in his neck.
Doctors told him that wrestling on a broken neck was impossible until Angle found one physician willing to clear him, but it required some serious pain medication to get him through the final matches.
Weidman said he tried a similar treatment to allow him to work through the pain in his neck, but the epidural injection to alleviate some of the pressure didn't work and he was forced to make the tough decision to pull out of the fight.
"After finally getting the epidural, nothing changed. During this time I couldn't sleep or get through any regular-day activity with the pain I was experiencing. I actually felt my best when I was working out but I couldn't survive throughout the day and night without painkillers and other medication to try to block nerve pain," Weidman said on Wednesday.
"I had another epidural scheduled for this Thursday but the doctors said again that it most likely wouldn't make a difference."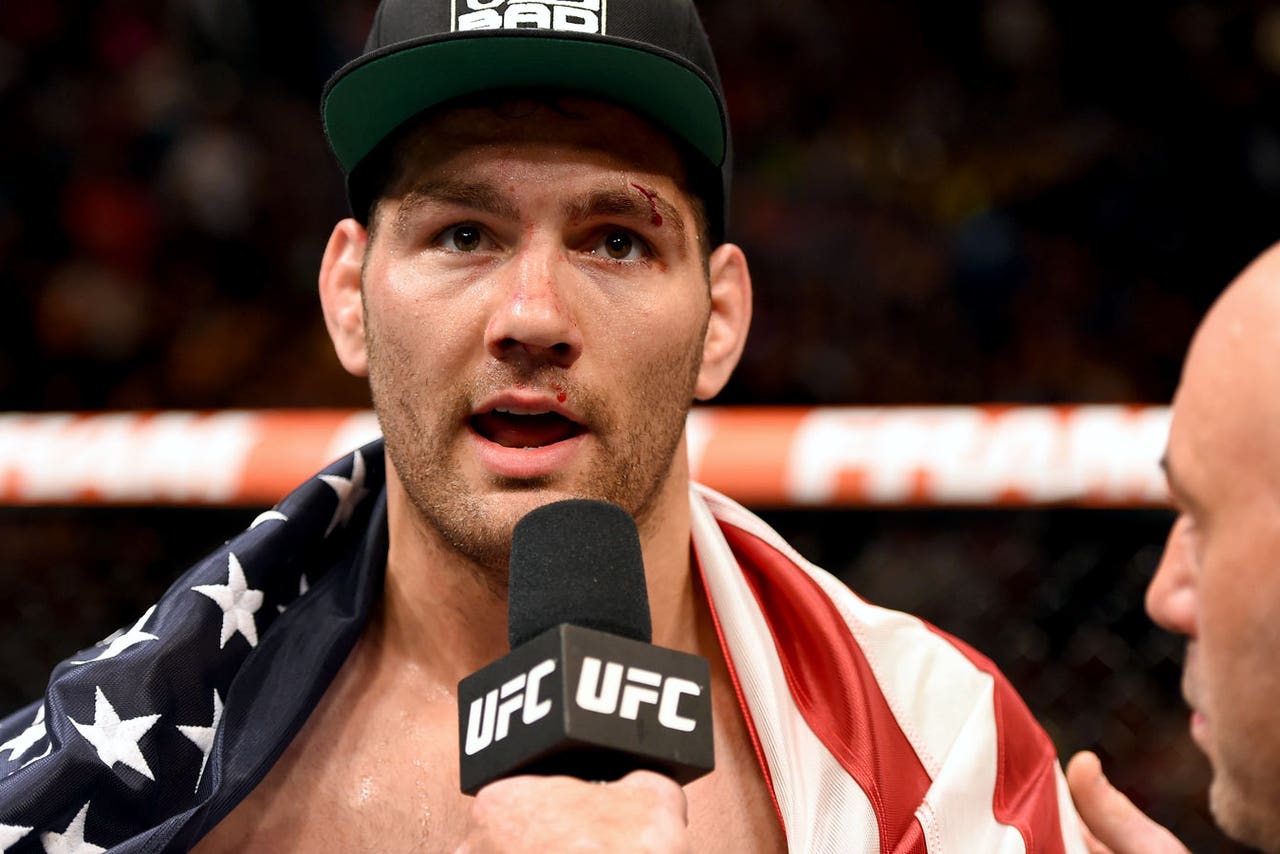 Since his original injury, Angle said in an interview in 2011 that he's broken his neck a total of five times. Angle suffered several neck injuries during his career with WWE, including one that required surgery in 2003 and another injury that kept him out of action in 2004.
There was even a time when Angle considered crossing over to do mixed martial arts after his run in the Olympics in 1996, but the money with WWE was too good to pass up.
"Right after the Olympics, I had the chance," Angle said in 2011. "Was I going to go into pro wrestling or the UFC? I talked to the UFC, but at the time they were only paying their top fighters 15 grand to fight, and here WWE throws this big contract at me. It's kind of like, let me see, do I struggle and go in the UFC or do I go here and make a bunch of money? Obviously, the decision was very easy.
"Then when the UFC started to become popular, I started to say 'oh boy, I really should have done that. I don't know why I didn't do that. That's more my cup of tea,' and then when I was getting ready to make the switch in 2003, I broke my neck."
Now at 47 years of age, Angle has entered semi-retirement from wrestling although he still performs from time to time.
Considering how much he's dealt with neck injuries over the years and his ability to bounce back, it could be just the words of encouragement Weidman needs as he prepares for surgery in the near future. 
---
---