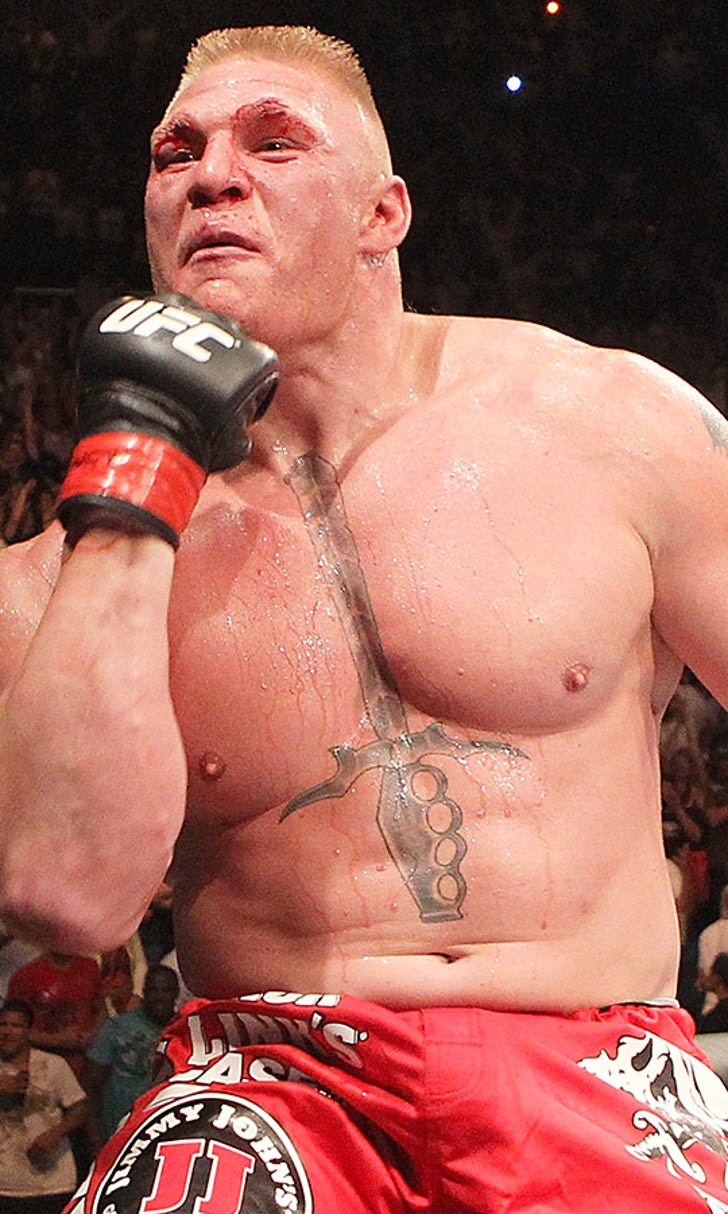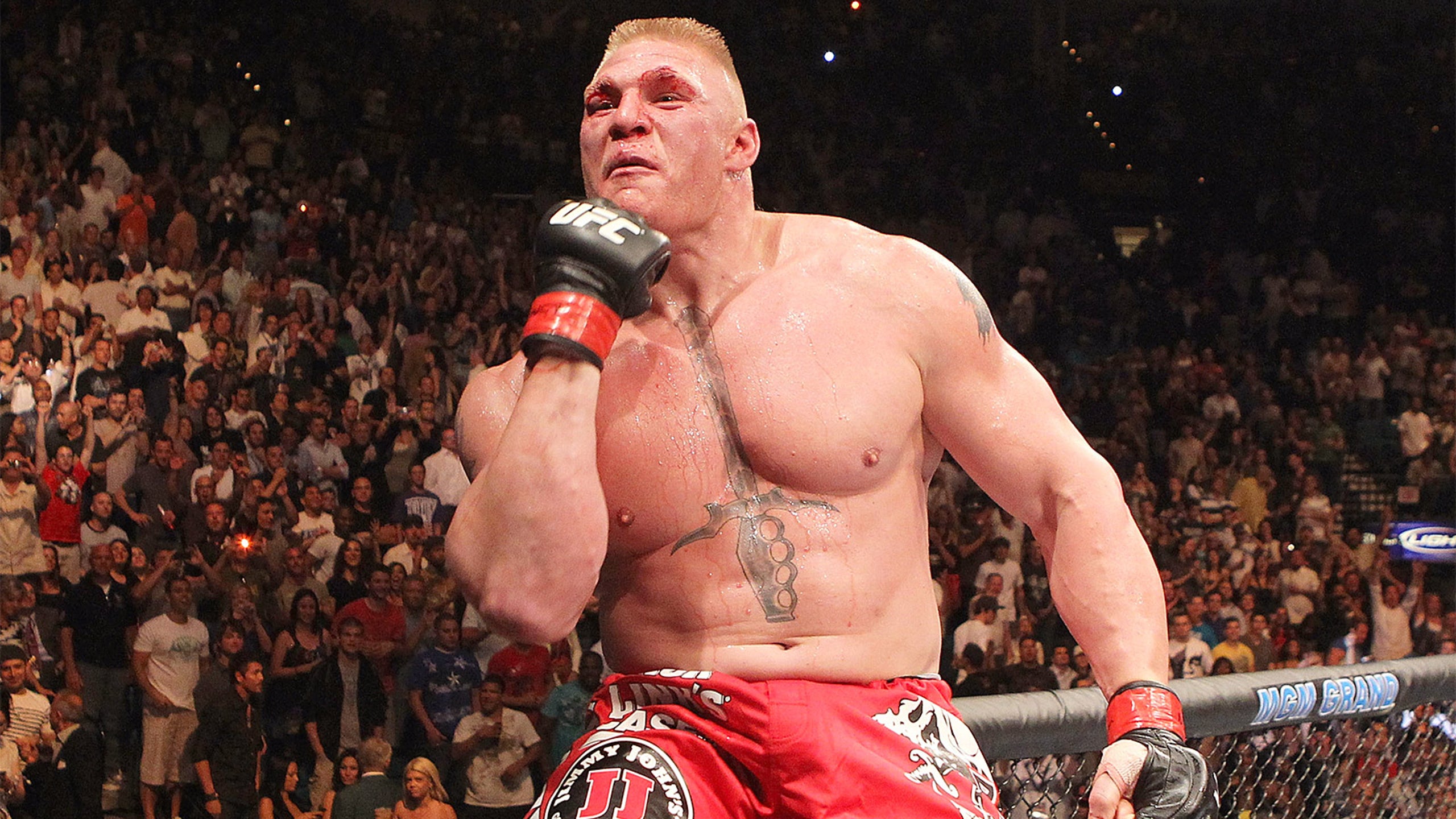 Dana White: Brock Lesnar 'interested in fighting again'
BY Damon Martin • November 17, 2014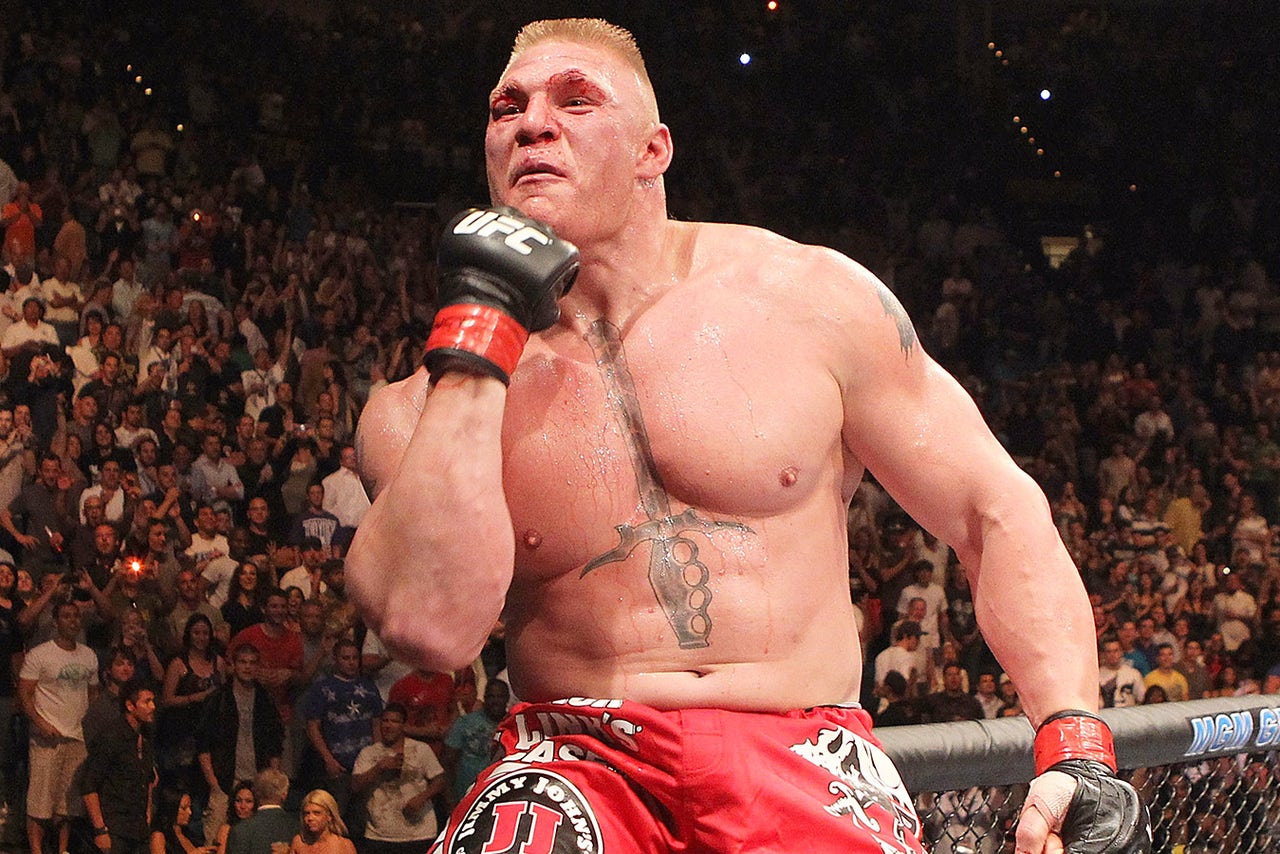 Former heavyweight champion Brock Lesnar hasn't fought in the UFC since losing to Alistair Overeem in December 2011, but there have been strong rumors that he has considered a return to his former stomping grounds.
Lesnar is currently locked up through part of 2015 in a deal with World Wrestling Entertainment, but the contract only runs through the end of March, shortly after the promotion's annual WrestleMania event.
At that point, according to several sources, Lesnar will become a free agent once again and he can decide whether he wants to return to wrestling for another few years or make one more run at mixed martial arts. Lesnar will turn 38 in 2015, so the time for him to return might be now or never.
The latest news about Lesnar comes from UFC president Dana White, who was asked about the former heavyweight champion during a press conference in Las Vegas. White has always left the door open for Lesnar to return, but this latest statement is the strongest indicator yet that it might actually happen.
"Brock Lesnar's under contract with the WWE. We have a great relationship with him. He's healthy and he has said that he's interested in fighting again," White stated. "We'll see what happens."
Lesnar rose to prominence faster than almost any champion in UFC history, winning the heavyweight title in only his fourth professional bout. He would go on to win his next two fights in a row before suffering back-to-back defeats to Overeem and current UFC heavyweight champion Cain Velasquez.
During his previous run with the UFC, Lesnar was plagued by a disease called diverticulitis that put him on the sidelines for huge stretches of time. He lost massive amounts of weight, went through several surgeries and missed almost two years of total time between fights during his brief MMA career.
Since leaving the UFC to go back to professional wrestling, Lesnar has finally returned to full health while he's working a limited schedule with travel and performances for the WWE. 
Back in August, Lesnar's close friend and WWE advocate Paul Heyman spoke to FOX Sports about the long road back to health for the former UFC champion.  Now that his body is back to 100 percent, Heyman believes Lesnar could return to the UFC and reclaim the glory he lost while performing at well less than full strength.
"He's healthy. His body is not spending so much energy fighting off diverticulitis. He's healthy for the first time in years and I think his potential is limitless," Heyman said. "He's a once-in-a-lifetime athlete. This is Jim Thorpe, Michael Jordan, Wilt Chamberlain, Gordie Howe, Wayne Gretzky, this is a once-in-a-lifetime athlete.
"If Brock Lesnar ever fought healthy in the UFC, I don't see any fighter that could have touched him."
Whether Lesnar returns now or not remains to be seen. WWE has undergone some financial restructuring lately that could leave Lesnar with less money when it comes time for him to renegotiate his deal. There's little doubt the UFC would happily pony up the cash to get Lesnar back on the roster.
During his previous stint with the promotion, Lesnar was arguably the biggest draw in the sport and he would probably take back the top spot on the first day he returned as well. Lesnar is the only one that knows his future plans for certain, but the door is cracked, and it wouldn't take much for him to burst through and announce his presence with authority. 
---
---