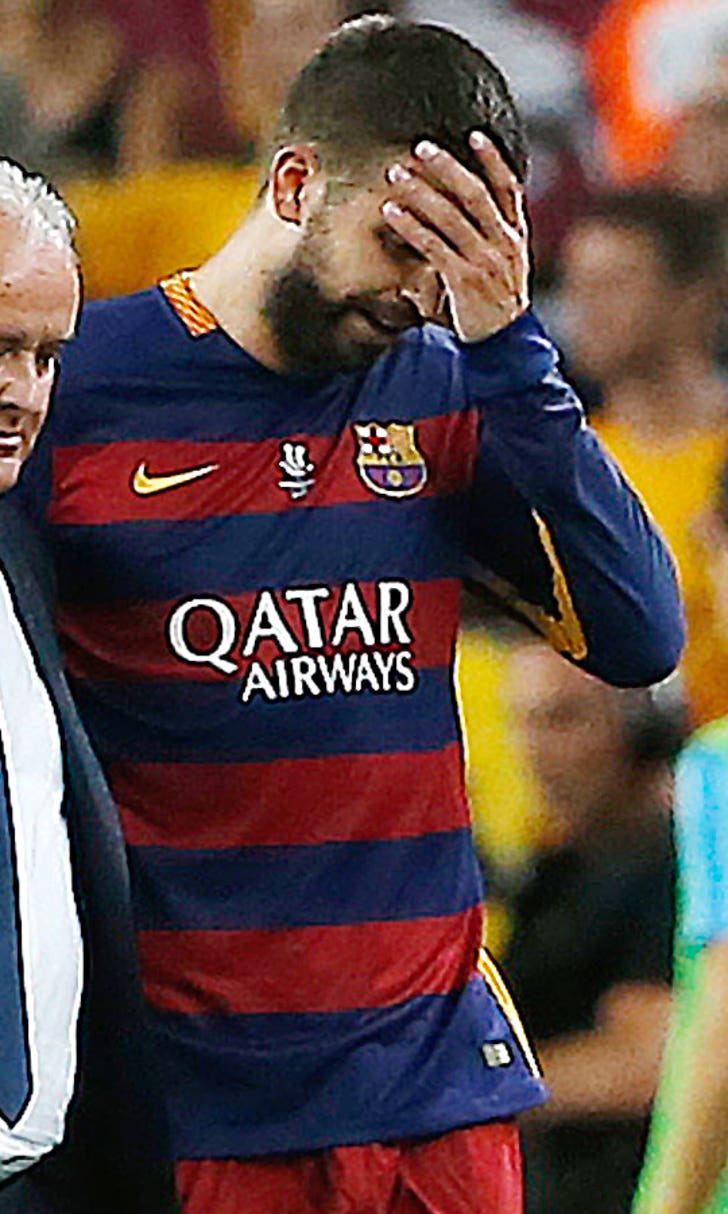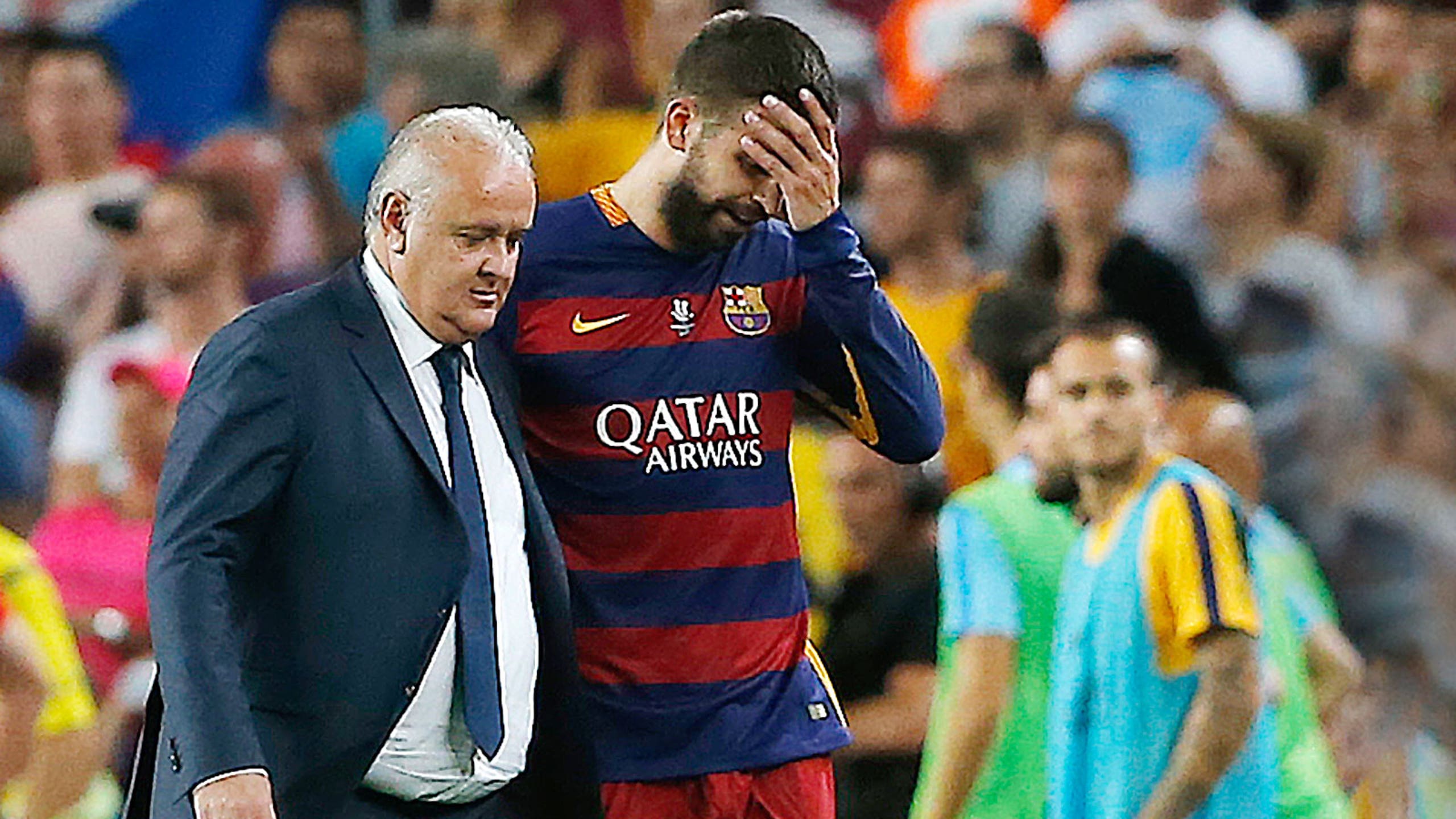 Athletic Bilbao upset Barcelona for historic Spanish Super Cup win
BY Jamie Trecker • August 17, 2015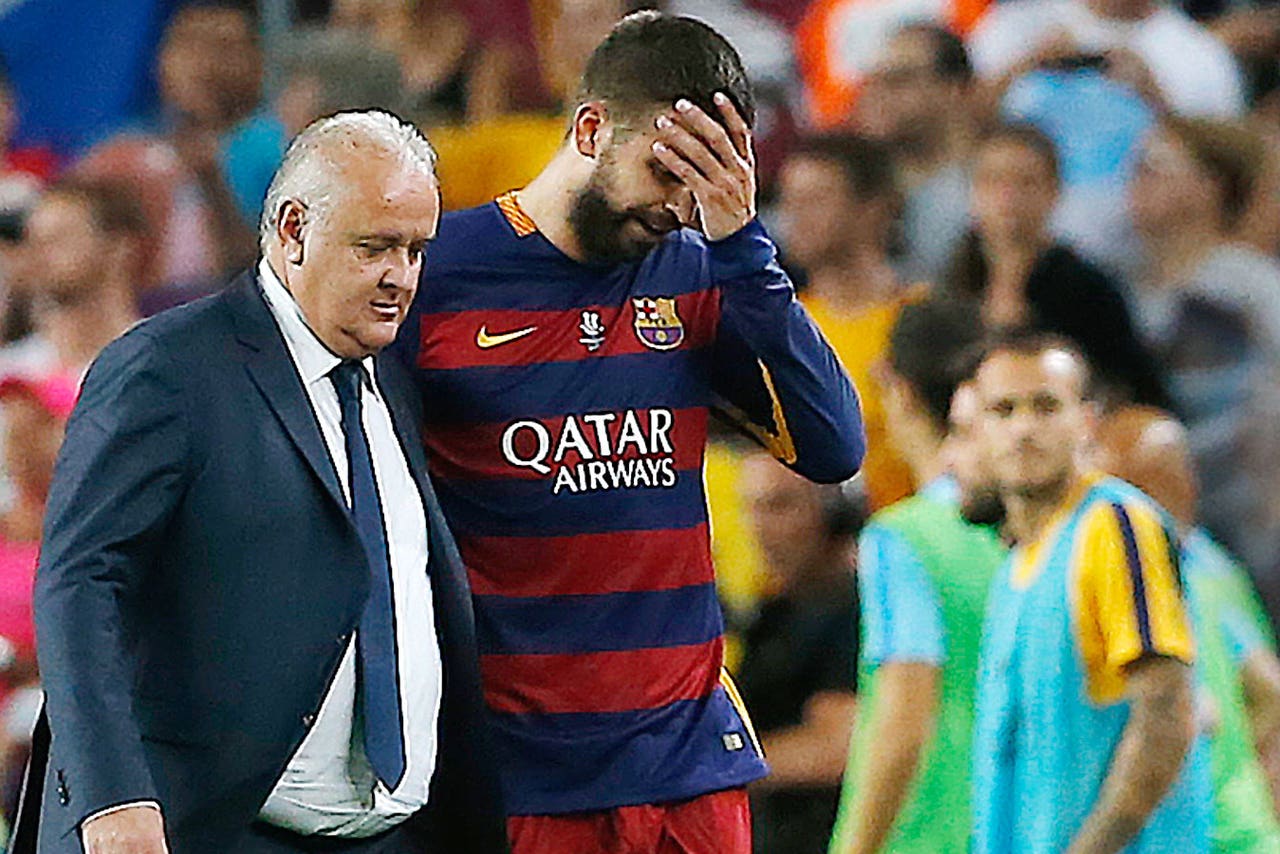 Athletic Bilbao completed a shock upset of Barcelona on Monday night to hoist the Spanish Super Cup 5-1 on aggregate for their first trophy since 1984. Lionel Messi and Aritz Aduriz traded goals for a 1-1 draw, but Barcelona could not overcome a truly disastrous first leg last week in which the reigning Spanish champions conceded four goals.
''We have been waiting for this for a long time,'' Bilbao coach Ernesto Valverde said. ''Generations of players have passed through Athletic since those league and cup titles of the 1980s. We knew it would arrive eventually.''
Both teams were forced to finish the night with only ten men. Gerard Pique was ejected in the 55th minute for dissent after confronting the linesman over an offside call; substitute Kike Sola was sent off only six minutes after entering the match, shown a straight red in the 86th for a studs-up foul on Javier Mascherano.
''I saw a very good Bilbao side, and we were seeing a very good final until Gerard (Pique) was sent off,'' Luis Enrique said.
Athletic Bilbao, which had not won a major trophy in 31 years, came into the match carrying a huge cushion, courtesy of a stunning opening leg that saw Aduriz net a hat trick. Luis Enrique, who had hoped he could get by while resting his key players after a 5-4 UEFA Super Cup win over Sevilla, instead watched his fringe players implode last week.
Barca scrubs Sergi Roberto, Marc Batra and Thomas Vermaelen were unable to cope with Athletic's ferocious pace and pressing game. After Marc-Andre ter Stegen gave up a horrible early goal to Mikel San Jose from 40 yards, the tone was set for what will be remembered as one of the great collapses in this tournament. Messi and Luis Suarez had little impact on that match, with Messi in particular turning in a Houdini act by vanishing in plain sight.
Enrique did not repeat his mistake Monday and fielded his first team from the start, benching ter Stegen and tossing Pedro, Messi and Suarez out in the now-familiar trident. And, from the whistle, Barcelona threw everything they had at Bilbao, with Pedro first to come close, seeing his effort deflected just wide in the 6th minute. On the ensuing corner, Pique came even closer, crashing a volley off the crossbar.
The early flurry was almost all Barcelona had to offer, though. Athletic, playing a high line and then collapsing around the ball whenever Barcelona entered the final third, kept the champs from really testing keeper Gorka Iraizoz. And the Lions had their chances: Pedro coughed up the ball in the 37th minute, allowing Javier Eraso a clean sight of Claudio Bravo's goal, only to force his shot into the side netting.
It wasn't until the 42nd minute that Barcelona found their shooting touch, with Messi scoring the opener off a ball chested down by Suarez. For once, Athletic could not collapse around Ivan Rakitic, and he was able to flip the ball over to Suarez for a clean set up that found Messi with only the keeper to beat. Incredibly, that was the first Barcelona shot on target in the game. It would end up being their only goal.
After the break, Barcelona's frustrations grew. Messi and Iniesta were both guilty of conceding possession cheaply, and Pedro and Suarez could not make a dent in what at times looked a red and white striped wall. Pressure boiled over just ahead of the hour mark after Aduriz streaked in on Bravo's goal, firing a low shot that the keeper well-held.
But, in the aftermath, Pique confronted the linesman, complaining that Aduriz was offside. Carlos Velasco Carballo immediately went to his back pocket and Pique was sent packing.
Odd as it may seem, Barcelona came a bit more to life after that, with Pedro and Rakitic coming close immediately. As tempers continued to flare, Aduriz and Bravo got into a heated confrontation and had to be separated before Enrique finally threw in the towel and yanked Pedro and Rakitic from the game with 20 minutes remaining.
Aduriz leveled the score with 15 minutes to play as Athletic exploited the space left by Pique's absence, pouncing on a ball coughed up by Jeremy Mathieu. While Bravo was able to stifle Aduriz' first shot, he could not keep out the rebound. As the crowd at the Camp Nou hissed, Athletic Bilbao celebrated furiously, knowing the job was done.
''This makes up for those finals we lost to Barca,'' said Valverde. ''It isn't a league or a cup, but this has an enormous value for us. There will no better place than Bilbao for a party tonight.''
The match is likely to be Pedro's last as he has been heavily linked with Manchester United. (Several reports said that United's chief executive and negotiator Ed Woodward was at the game to sign off on a final deal.) The result will also leave Enrique with some troubling statistics to mull over. Barcelona have now conceded nine goals in their last three games and look very jaded.
However, if there is a silver lining for the Catalans it is this: Barcelona will get an almost-immediate chance at revenge. They open their La Liga campaign at San Mames against the Lions. Pique and Kike Sola, of course, will be suspended.
Information from AP was used in this report.
---
---