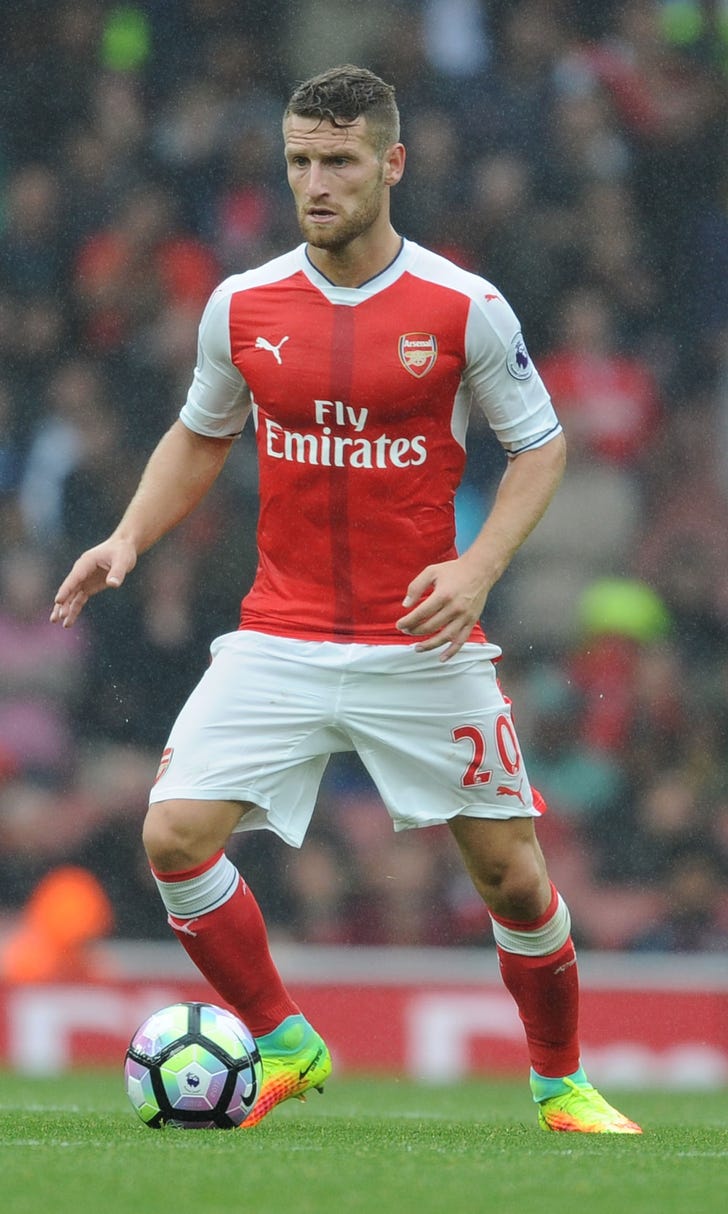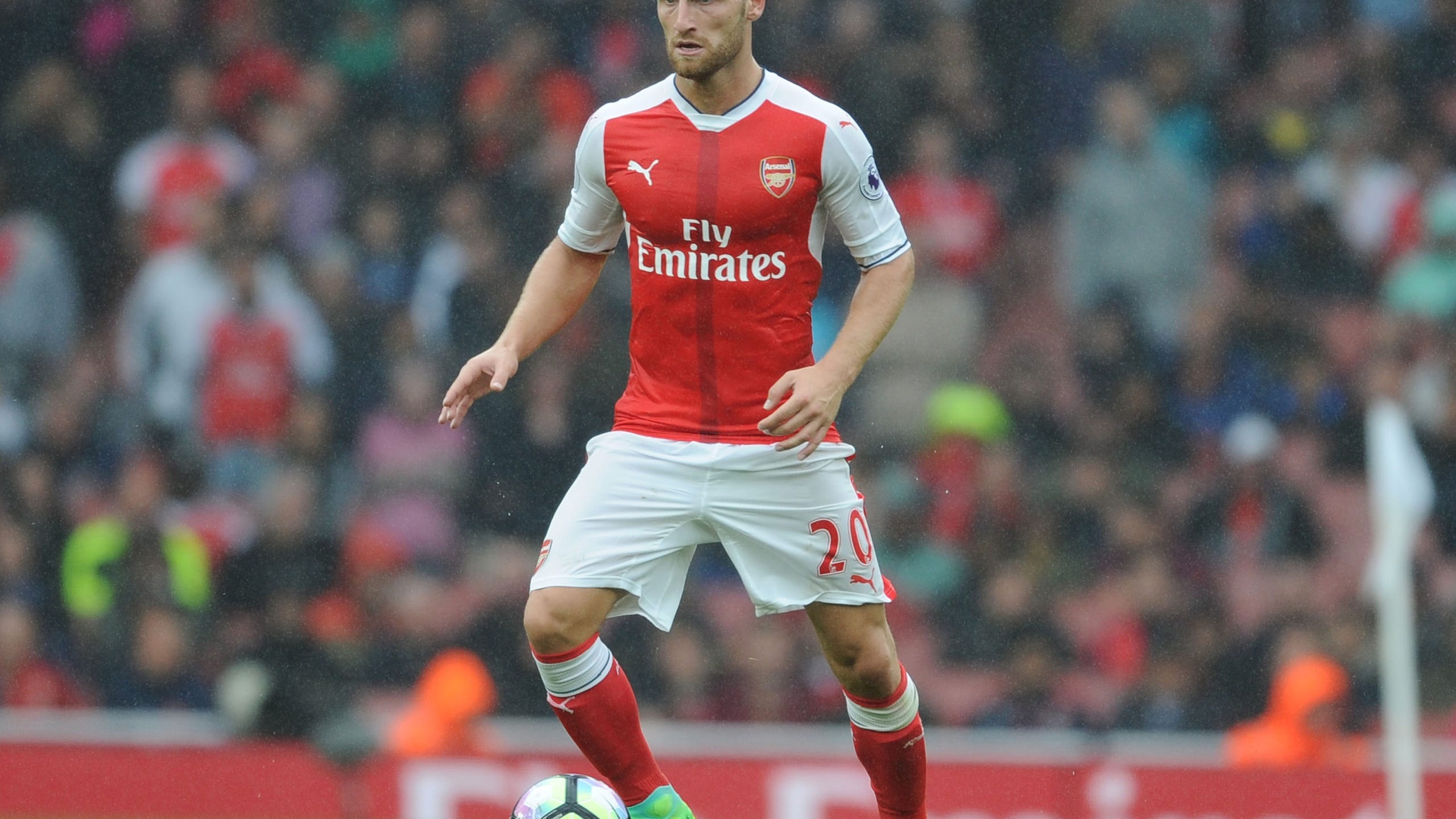 Arsenal 2 - 1 Southampton: Player Ratings
BY foxsports • June 30, 2017
LONDON, ENGLAND – SEPTEMBER 10: Shkodran Mustafi of Arsenal during the Premier League match between Arsenal and Southampton at Emirates Stadium on September 10, 2016 in London, England. (Photo by Stuart MacFarlane/Arsenal FC via Getty Images)
Arsenal underperformed in Saturday's 2-1 win over Southampton but got the all important three points. Here are how the players rated.
Arsenal hosted Southampton on a wet Saturday afternoon in London. The match finished with Arsenal 2-1 winners after a late penalty was converted by Santi Cazorla.
Birthday boy Laurent Koscielny scored the pick of the goals with a bicycle kick midway through the first half. He took studs to the face late on during a corner kick – happy birthday Laurent!
The play that followed the aforementioned corner ended with a ball that fell near Olivier Giroud and Virgil Van Dijk. Van Dijk and Giroud were holding one another, but Giroud fell first. Referee Bobby Madley decided it was a foul by Van Dijk.
Cazorla slotted away the penalty. His performance earned an opportunity to score the winning goal: he was the engine to the Gunners' play going forward. Mesut Ozil gave an anonymous performance and Cazorla absolved his workload.
Here are the player ratings.
Petr Cech
GK, Arsenal FC
7.1Cech was unlucky with his first save of the game, which came from a Dusan Tadic free kick. He prodded it onto the crossbar but it bounced downward and hit his back, before bouncing into the goal. After the Tadic goal he was confident in net and made some claims in tight situations that were smart. Not a poor performance even though he let in that first goal. Next: Defense
LONDON, ENGLAND – SEPTEMBER 10: Laurent Koscielny of Arsenal scores his sides first goal during the Premier League match between Arsenal and Southampton at Emirates Stadium on September 10, 2016 in London, England. (Photo by Paul Gilham/Getty Images)
Defense
Hector Bellerin
RB, Arsenal FC
7.2Bellerin played some great balls into the box that were often lacking recipients. He's playing it into the right areas and making solid runs off the ball, but no assists to his name just yet. He was high up the pitch for a lot of the game. Not so much defensive work, but won back the ball well a few times in important spots.

Shkodran Mustafi
CB, Arsenal FC
6.8The Gunners' new center back adjusted to the style of the premier league within those 90 minutes. First touch of the match was poor, and by the end he was in control. Made some great passes out of defense and definitely helped Koscielny out. This looks like a great partnership in the making.

Laurent Koscielny
CB, Arsenal FC
7.9Scored a brilliant bicycle kick goal off a corner to give Arsenal their equalizer. Made some crucial tackles and interceptions throughout the game, and a goal to his name completed a good performance.

Nacho Monreal
LB, Arsenal FC
6.9Solid defensively, but gave away the free kick that led to the Southampton goal. Doesn't look fast anymore and that has a negative impact on his performance as he got outpaced by opposition players. Gibbs will need to rotate in this season, Monreal probably won't make 40 appearances. Next: Midfield
LONDON, ENGLAND – SEPTEMBER 10: Santi Cazorla of Arsenal celebrates scoring his sides second goal with team mates during the Premier League match between Arsenal and Southampton at Emirates Stadium on September 10, 2016 in London, England. (Photo by Clive Rose/Getty Images)
Midfield
Francis Coquelin
MID, Arsenal FC
7.3Won the ball back a handful of times high up the pitch and recycled well. Got a bit too far up the pitch for comfort on a few occasions. He needs to improve technically if he wants to get further forward. The Frenchman isn't playing badly, but the way he rampages around isn't super controlled. With more experience more positive things will come. Hopefully.

Santi Cazorla
MID, Arsenal FC
8.9(MAN OF THE MATCH) On set pieces Cazorla played in some very good balls, as well as getting himself a goal to win the match.
What doesn't appear on the match facts was his influence on the game, which was massive. He dictated the play with his passing and tackled players in crucial situations. For a playmaker, he went box to box doing important things.
Mesut Ozil
MID, Arsenal FC
6.3Southampton's midfield closed Ozil down well, but he was discouraged easily and was a shadow of his regular self. His passing wasn't expert, and his first touch was awful compared to what it has been on other days. His consistency is a question again after this performance. Hopefully against PSG the tables will turn.Next: Attack
LONDON, ENGLAND – SEPTEMBER 10: Lucas Perez of Arsenal in action during the Premier League match between Arsenal and Southampton at Emirates Stadium on September 10, 2016 in London, England. (Photo by Clive Rose/Getty Images)
Attack
Theo Walcott
MID, Arsenal FC
7.1Theo Walcott failed to get on the scoresheet today, but he still made a contribution to Arsenal's offense. A good cross in to set up Arsenal's second goal and plenty of important runs. He shouldn't be going for those silly chips, though.

Alex Oxlade-Chamberlain
MID, Arsenal FC
6.4Alex Oxlade-Chamberlain was extremely unreliable with his end product again. His fitness is not a concern at all, and his dribbling will get better. However, he simply doesn't possess enough of an attacking threat as an inside forward. Alexis Sanchez, when fit, is far better in that position. Lucas Perez could potentially play the left wing too. What would be interesting is Oxlade-Chamberlain on the right side with someone like Alexis on the left.

Lucas Perez
ST, Arsenal FC
6.6Perez got into the action and threw himself about in a smart way, but he wasn't ready for the speed of the premier league. His finishing wasn't at the speed that it needed to be – especially against two good central defenders. In the future hopefully he can adapt to the league. His drive is impressive. Next: Substitutes
LONDON, ENGLAND – SEPTEMBER 10: Olivier Giroud of Arsenal during the Premier League match between Arsenal and Southampton at Emirates Stadium on September 10, 2016 in London, England. (Photo by Stuart MacFarlane/Arsenal FC via Getty Images)
Substitutes
Alexis Sanchez
SUB, Arsenal FC
5.0Alexis was definitely not 100% fit for this match, so it's understandable he was fatigued even when he came on. Didn't do a whole lot after coming on, but he participated in Arsenal's pressure late on and it led to a goal. Next stop, PSG.

Olivier Giroud
SUB, Arsenal FC
6.6Olivier Giroud ended up making the crucial move and drawing a penalty in the 91st minute. He was struggling to find openings and nearly volleyed in a rebound goal in the 79th minute. This last piece of body work was his lasting impact on the match, though. Assist for the winner sounds like a good substitution, albeit a predictable one. Next: Top 10 Prospects Of 2017
Alex Iwobi
SUB, Arsenal FC
4.8Didn't see a whole lot from Iwobi in the late going, but his stamina looked good and he looks ready to start more games. Play this boy, Arsene!
More from Pain in the Arsenal
This article originally appeared on
---
---