National Hockey League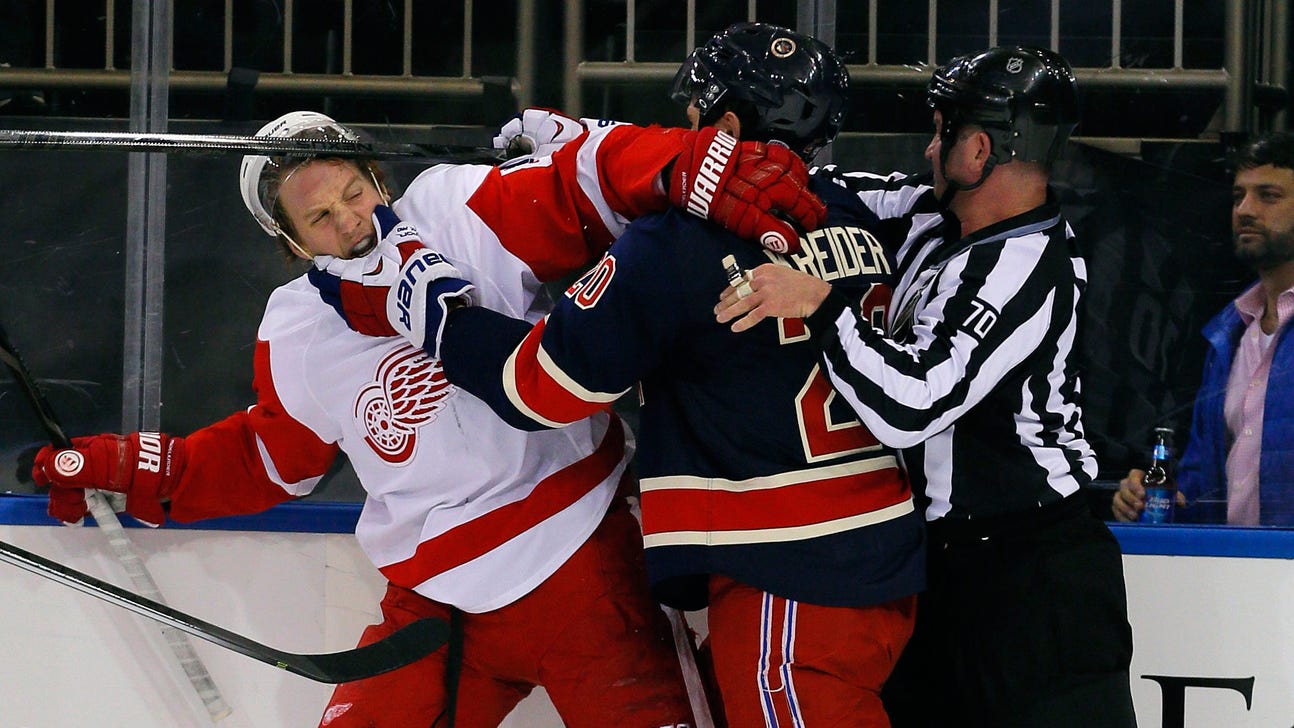 National Hockey League
Wings have storied fighting history but concussions have changed things
Published
Oct. 24, 2014 10:59 a.m. ET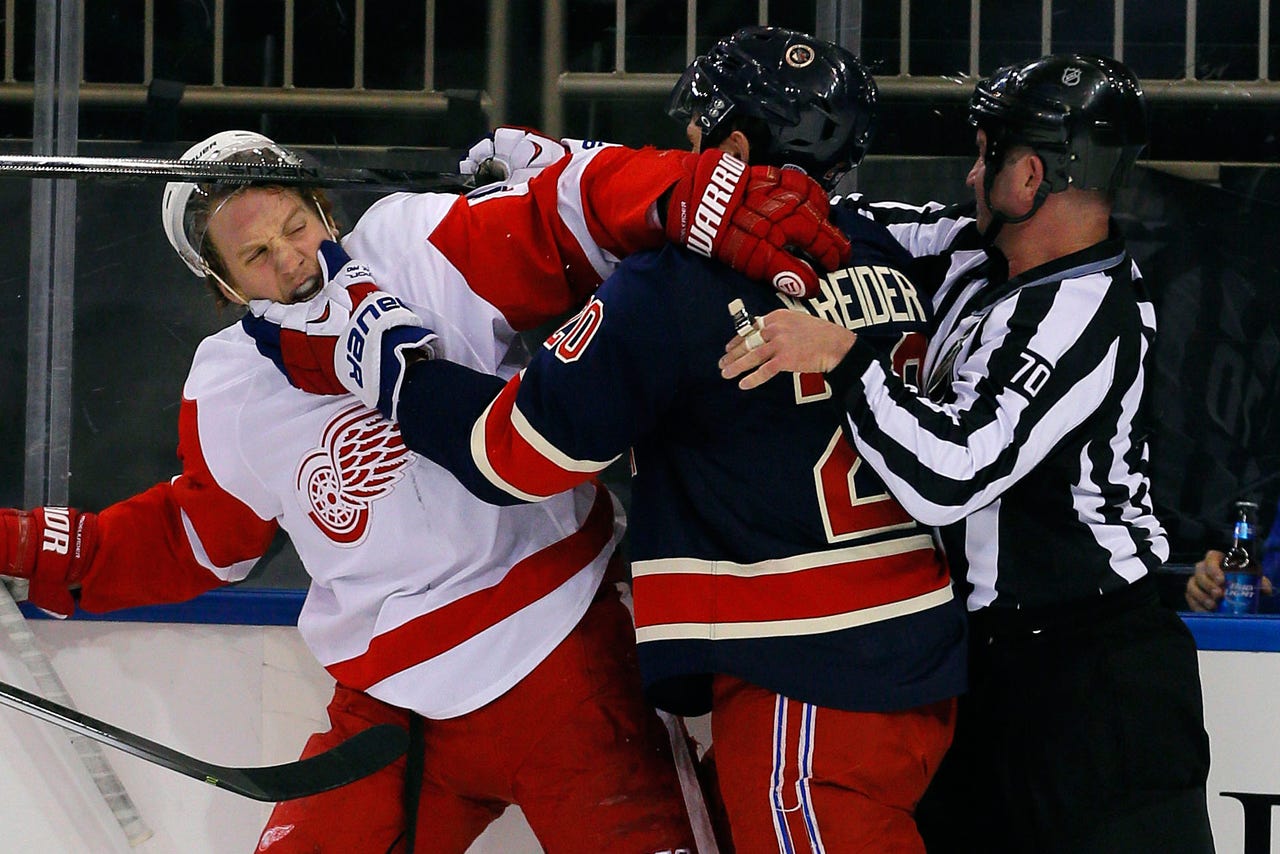 DETROIT -- The night of March 26, 1997, is a night that Red Wings fans will never forget.
On that night, the Wings played their bitter rival, the Colorado Avalanche. 
Fans probably don't remember the details of the game as much as they remember the fight that ensued between Darren McCarty and Claude Lemieux, plus other assorted Wings and Avs.
McCarty finally exorcised demons from a previous playoff run in which Lemieux had brutally injured Kris Draper, McCarty's teammate and close friend.
Many pointed to that night as a turning point when the Wings went on to win the Stanley Cup that season.
But times have changed since then.
Former players are suing the league because of concussions they suffered.
In a four-month span of 2011, former NHL enforcers Derek Boogaard, Rick Rypien and Wade Belak, ages 28, 27 and 35, all died.
Boogaard's death was from an accidental drug and alcohol overdose while recovering from a concussion. Rypien's death was ruled a suicide. Belak's death was treated as a suicide but may have been accidental.
All three had suffered depression.
Like many former NFL players, Boogaard's brain showed signs of advanced chronic traumatic encephalopathy (CTE).
Recently on NBC Sports Network, Mike Milbury and Bob McKenzie debated the topic of fighting and its place in the NHL today.
Surprisingly, Milbury, who according to hockeyfights.com had 76 fights in the NHL, came out against fighting, citing all the concussions players have suffered.
"Obviously the science has improved and what we know about CTE and things like that and how it affects people, it's hard to debate that," Wings forward Dan Cleary said. "I couldn't debate his point at all. I think it's a valid point."
As a Michigan native, Justin Abdelkader grew up watching players like Bob Probert and Joe Kocur take on all comers for the Wings, a sight that thrilled fans.
Abdelkader is far from being an enforcer, but probably has more bouts than most of his current teammates. According to hockeyfights.com, Abdelkader has 17 NHL fights.
Yet Abdelkader knows a lot more about concussions than Probert and Kocur ever did when they were playing and fighting.
"How concussions are viewed in this day and age, it's different," Abdelkader said. "Things are different. You want to protect players, not only for the game but for their future, that's the most important. Everyone enjoys it, all fans get excited for fighting, but at the same time, we're normal people and we want to live healthy lives after hockey. 
"You see a lot of fighters that have had issues, Probie and Boogaard and Rick Rypien that I think you can tie fighting and concussions into some of what's happened. I think good players understand and realize that it has been a part of the game for so long but it's something that players are more cautious about. We know the severity of concussions and the importance of being healthy, too, for the rest of your life. Hockey's just a small part of your life."
The Wings also saw how Andreas Lilja suffered after fighting Nashville's Shea Weber in 2009. 
Lilja missed more than a year because of a severe concussion.
"Guys definitely are aware of it, what can happen in a fight," Abdelkader said. "That's part of the risk, I guess. You gotta be ready for anything. Obviously you don't want to get hurt but at the same time, sometimes emotions run high in a game or something needs to happen."
Despite everything, none of the Wings were willing to go as far as Milbury and say that all fighting should be eliminated from the NHL.
"I don't think you can take out fighting but what I don't like about it is staged fighting or after you hit someone clean, you feel you have to be challenged to fight," Cleary said. "Or when someone sends out a guy who's kind of tough or been messing around, they send out their tough guy. I feel teams should be penalized more for that. You can never throw out that impulse, that battle in front that just creates a scrum and a fight breaks out. That's pretty hard."
The role of the enforcer was usually to protect the skilled players from being physically harassed.
Although that role is not as prevalent, it can be comforting for skilled scorers like Gustav Nyquist, a player who has never had a fight in his career.
"I think it keeps the game at a good level," Nyquist said. "I think it protects the players. Obviously the guys that do fight a lot have to take a lot of hits and punches but at the same time, they're protecting other players so the game doesn't get out of hand. I can see both sides of it, for sure. But I think I have a hard time seeing hockey without it."
Riley Sheahan is a bigger guy who doesn't need any protection but he feels that the choice to fight belongs to the individual.
"I think obviously with the increase in concussions and guys' health off the ice, dealing with all those symptoms, it's an unfortunate thing so obviously nobody wants to deal with that," Sheahan said. "It does kind of contribute to those things but if a guy is willing to go out there and do it, then I think it should be up to him."
Jonathan Ericsson, who has 10 NHL fights, feels the game has evolved since the days when every team had an enforcer.
"Nowadays players have to be so good because specialty teams are so important too and it feels like the game is just getting faster every year," Ericsson said. "Usually those guys that are doing the fighting are not as good of a hockey players. You can't afford having a bad player out there. So I think right now in the league there's only good players and it's a tough competition to be in the game."
As more research comes out about the effects of concussions, the league could take the decision out of players' hands.
In junior hockey, they have changed the rule so that in addition to five minutes for fighting, a player also receives a 10-minute misconduct.
"I think it's important to stress more of the skill game, more of the guys developing rather than going out and fighting and players getting hurt," Abdelkader said. 
"I can see both sides of it. It's gonna be something that's talked about for good among GMs, owners, players, everyone kind of needs to get together and see if it still has a place in the game."
---
---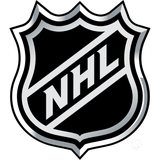 Get more from National Hockey League
Follow your favorites to get information about games, news and more
---