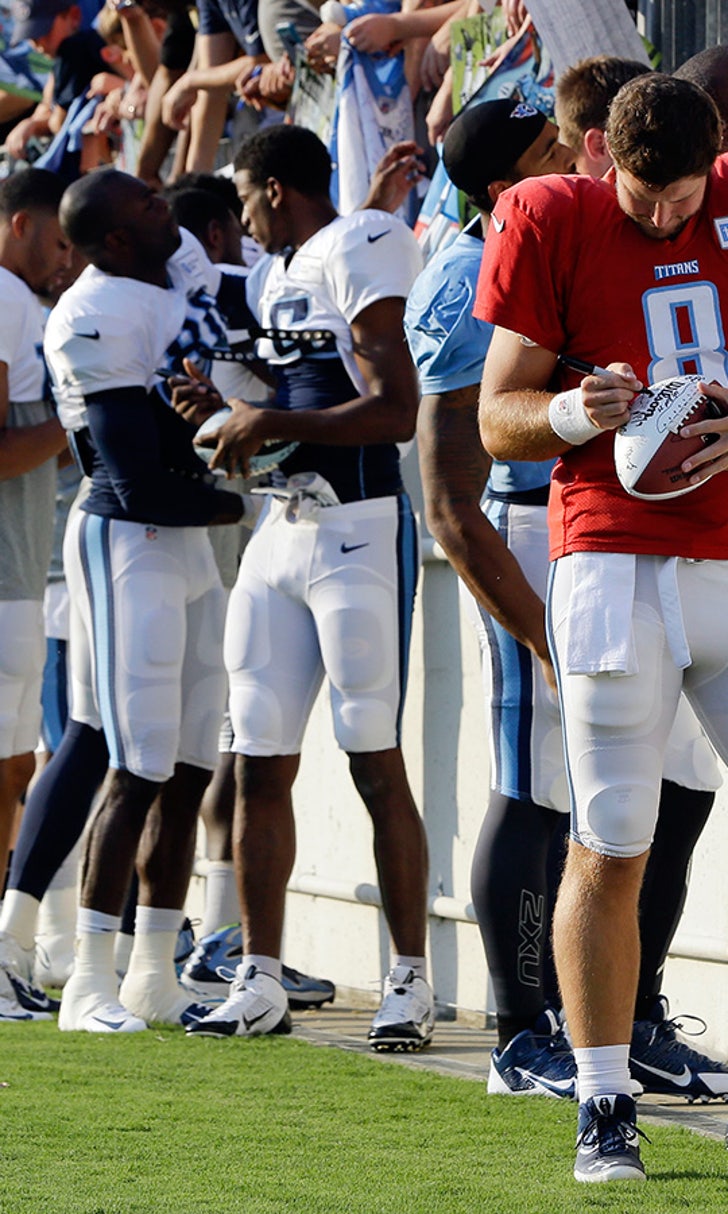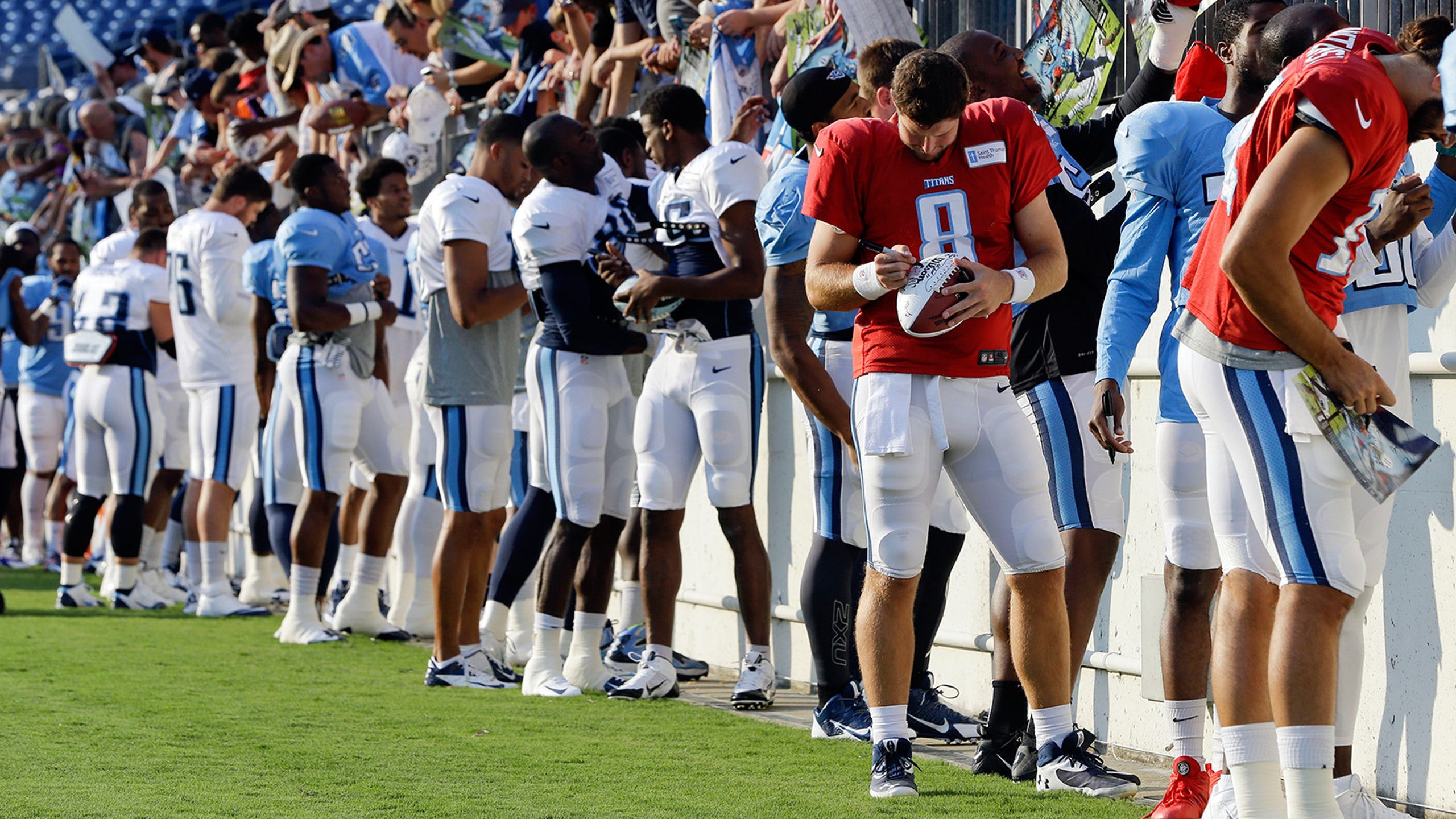 Whisenhunt favors veterans on first Titans depth chart
BY foxsports • August 6, 2014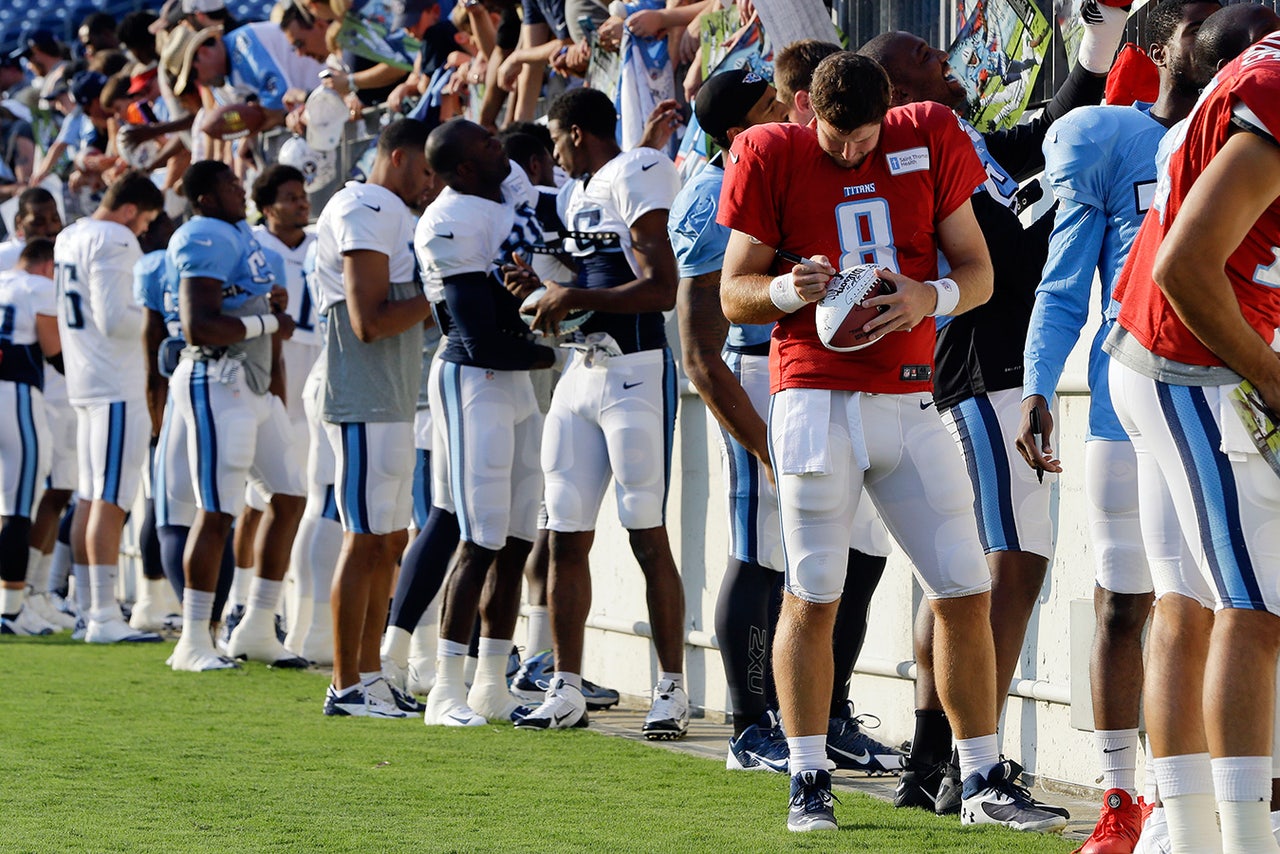 NASHVILLE, Tenn. -- Two days after practicing against the Falcons and three days before the preseason opener against the Packers, the Titans finally released a depth chart. Although it carrying the unofficial tag, it was the first depth chart of the Ken Whisenhunt era nonetheless. And it revealed several noteworthy placements at various position battles.
"They made me," Whisenhunt said of formulating his first depth chart before Saturday's visit by Green Bay at LP Field.
Last week, Whisenhunt tried to put together a depth chart, but said there were too many illegible scratches, notations and multiple players listed at nearly every position.
"They wouldn't let me put that one out," Whisenhunt said. "I wish I could have put that one out because (the media) would have no idea. They needed it up for you guys. ... If the players don't know now where they are in the rotation, they're probably not going to make the team then."
One quarterback no longer on the roster is Tyler Wilson, who was released on Wednesday. Wilson, a former college standout at Arkansas, was battling sixth-round draft pick Zach Mettenberger for the No. 3 slot behind starter Jake Locker and backup Charlie Whitehurst.
"It is kind of threefold," Whisenhunt said of releasing Wilson, a fourth-round draft pick of the Raiders in 2013. "We needed an extra spot, so we had to make a move. Then looking at that position, we just felt like we needed to get Zach more work so we can find out."
That leaves Wilson looking to land on a third team in two years.
"We wanted to get Tyler an opportunity to get with another team," Whisenhunt said. "I think he did a good job with us, and he's exhibiting qualities he can play in this league. It's really tough that you go down to the last cut and then you're out there."
The Titans today also signed defensive lineman Lanier Coleman and tight end Chase Coffman, while putting tight end Dorin Dickerson on injured reserve.
NFL teams must cut their current 90-player rosters to 75 by Aug. 26 and to the final 53 by Aug. 30. An eight-man development squad can be signed on Aug. 31.
A notable position battle for the Titans comes at starting cornerback opposite Jason McCourty with the departure of Alterraun Verner via free agency. On the depth chart, third-year Coty Sensabaugh, who played extensively last season at nickel back, is listed ahead of second-year Blidi Wreh-Wilson.
"The corner position is a good example of that," Whisenhunt said of initial roster listings possibly going to players with more experience. "Coty has got a little seniority on Blidi, so Coty was listed on top today. But that's all subject to change. We rotate guys in and out. Certain days, guys get reps with the ones, certain days they don't. It's all about trying to find the right 53."
Another position battle is how many wide receivers the Titans will keep following the top three of Kendall Wright, Nate Washington and Justin Hunter. Second-year Michael Preston has presumably been running fourth, but was listed behind veteran free-agent signees Derek Hagan and Brian Robiskie.
"All I can do is just go out there and work hard and make plays when my number is called," said Hagan, an eight-year NFL veteran who didn't play last season. "That's all I think about. I don't really get into who's No. 1, who's No. 2, who's No. 3, who's No. 4 and 5."
Hagan has 129 career catches with four teams since 2006, including 20 in 14 games with the Raiders in 2012. The 2009 second-round draft pick of the Browns, Robiskie has 43 catches with three different teams.
"They're both veteran players that don't make a lot of mistakes, and that's important," Whisenhunt said of Hagan and Robiskie. "They know what they're doing. They have a feel for the game. They both have good hands. They both can line up in multiple spots. It's going to be a good competition."
Another roster battle on offense is at fullback between special teams standout Jackie Battle, who's new to the position and currently listed as starter, and third-year Titans incumbent Collin Mooney.
"If there are two players you really want to have on your football team -- guys that work hard, that are accountable, that do it right all the time -- it's those two guys," Whisenhunt said of Battle and Mooney. "It's a good competition. A lot of it is going to come down to special teams and how they do in the preseason games."
Veteran Shonn Greene was listed as starting running back, but Whisenhunt has been steadfast that the rotation there will be split between rookie Bishop Sankey and versatile Dexter McCluster.
"We had to list somebody at one," Whisenhunt said of Greene, who struggled through injuries last season with the Titans after consecutive 1,000-yard rushing seasons with the Jets. "We're rotating those guys. He was the senior member. He came back and has worked hard, so that's where we are right now."
Linebacker Shaun Phillips, an 11-year veteran, signed with the Titans as a free agent to challenge at outside linebacker. He was listed today as backup to Titans veteran Derrick Morgan, who is moving from defensive end in the new 3-4 defensive alignment.
"I don't think I have ever looked at a depth chart, period, maybe because I was always starting on the depth chart," said Phillips, who played defensive end last year for the Broncos after playing outside linebacker the previous decade for the Chargers. "It's not about depth charts. It's about football and who can help their team win. It's about building camaraderie through team work -- how I can help them and how they can help me and how each person on the team can help each other."
Veterans Moise Fokou and Collin McCarthy have been starters at middle linebacker in recent seasons for the Titans in their previous 4-3 set, but they were listed second and third, respectively, behind free-agent signee Wesley Woodyard.
---
---