Villar's two-run homer in ninth holds for Brewers win over Dodgers
June 17, 2016

LOS ANGELES -- With one sweet swing, Jonathan Villar ended Milwaukee's recent road misery.
Villar hit a tiebreaking two-run home run in the top of the ninth inning, lifting the Brewers to an 8-6 victory over the Los Angeles Dodgers on Thursday night in the opener of their four-game series.
Villar launched the first pitch he saw from Pedro Baez (0-2) an estimated 420 feet to straightaway center field for his sixth home run and first career game-winner in the ninth.
The decisive blast snapped a four-game road losing streak for the Brewers, who came in 11-19 away from home.
"I was never nervous in that situation," Villar said. "That's the game. Be ready for everything."
Tyler Thornburg (3-1) earned the win with a scoreless eighth inning. Jeremy Jeffress struck out Corey Seager with the bases loaded and two outs in the bottom of the ninth to preserve the win for his 19th save.
Aaron Hill and Chris Carter also homered for the Brewers, who were coming off a three-game sweep at San Francisco.
"We kept fighting and we kept coming back," Brewers manager Craig Counsell said. "It's what we like to see."
Trayce Thompson doubled, homered and drove in three to lead the Dodgers, who erased deficits of 3-0 and 6-3 before ultimately falling.
"The bats are starting to wake up a bit," Thompson said. "Stuff is starting to fall for us, we just gotta bring it tomorrow again and hopefully get a win."
Villar's blast capped a wild back-and-forth affair.
Milwaukee jumped in front 3-0 in the third inning on Jonathan Lucroy's two-run single and Hernan Perez's sacrifice fly, but Thompson hit a three-run homer in the bottom of the third to tie it.
Milwaukee jumped out to another three-run lead in the fifth against reliever Casey Fien. Hill homered to lead off the inning, and two batters later Carter drilled a hard liner the other way that just got over the wall in right-center for a two-run homer to make it 6-3.
Again, the Dodgers erased the deficit, knotting the game with three runs in the sixth. That's where the score remained until the ninth, when Villar gave Milwaukee the lead one last time and Jeffress was able to preserve it.
"I'm happy for the home runs and the team wins every day," Villar said. "I never figured we were in trouble."
Justin Turner and Yasmani Grandal had to be separated in the Dodgers' dugout after the two began arguing after the sixth inning.
At issue was the play that resulted in the tying run for the Dodgers. Trailing 6-5 with one out and runners on the corners, Turner lifted a fly ball caught by left fielder Ryan Braun. As Joc Pederson tagged up from third base, Grandal also tried to tag up from first. Braun's throw went to second instead of home, where a surprised Grandal was tagged out at almost exactly when Pederson crossed home plate with the tying run. The ruling on the field was Pederson scored before Grandal was tagged, and it was held up after video review initiated by a Milwaukee challenge.
Even though the run counted, Turner confronted Grandal in the dugout over his decision to try and tag from first.
"It was just one of those things where (Turner) thought Yaz should've went back to first and not continued and made that play as close as it was," Roberts said. "Yaz would tell you, as the ball goes into second base he's gotta stop.
"Obviously with emotions it can get heated, but we cleaned it up."
Neither starter lasted long. The Dodgers' Scott Kazmir was pulled after four inning and 93 pitches, while the Brewers' Junior Guerra lasted 5 1/3 innings and gave up five runs.
Brewers: LHP Chris Capuano (elbow soreness) will throw a simulated game Friday. He will be evaluated after to determine the next step in his rehab.
Dodgers: Manager Dave Roberts said OF Yaisel Puig (hamstring) is on track to be activated from the disabled list Monday. Puig went 1 for 2 with a stolen base and played seven innings in right field in a rehab game for Class A Rancho Cucamonga on Thursday. . . . RHP Kenta Maeda (leg contusion) played catch in the outfield without issue. He is scheduled to start Sunday against the Brewers. . . . RHP Brandon McCarthy (Tommy John surgery) pitched Thursday for Rancho Cucamonga and LHP Hyun-Jin Ryu (shoulder surgery) will start Friday.
Brewers: RHP Zach Davies (5-3, 3.88) has won four consecutive starts and his last five decisions overall. His last loss came on April 29.
Dodgers: LHP Julio Urias (0-2, 5.82) aims for his first career win after showing improvement his last two starts. The touted 19-year old has a 2.89 ERA and 14 strikeouts in 9 1/3 innings in his previous two outings.
---
---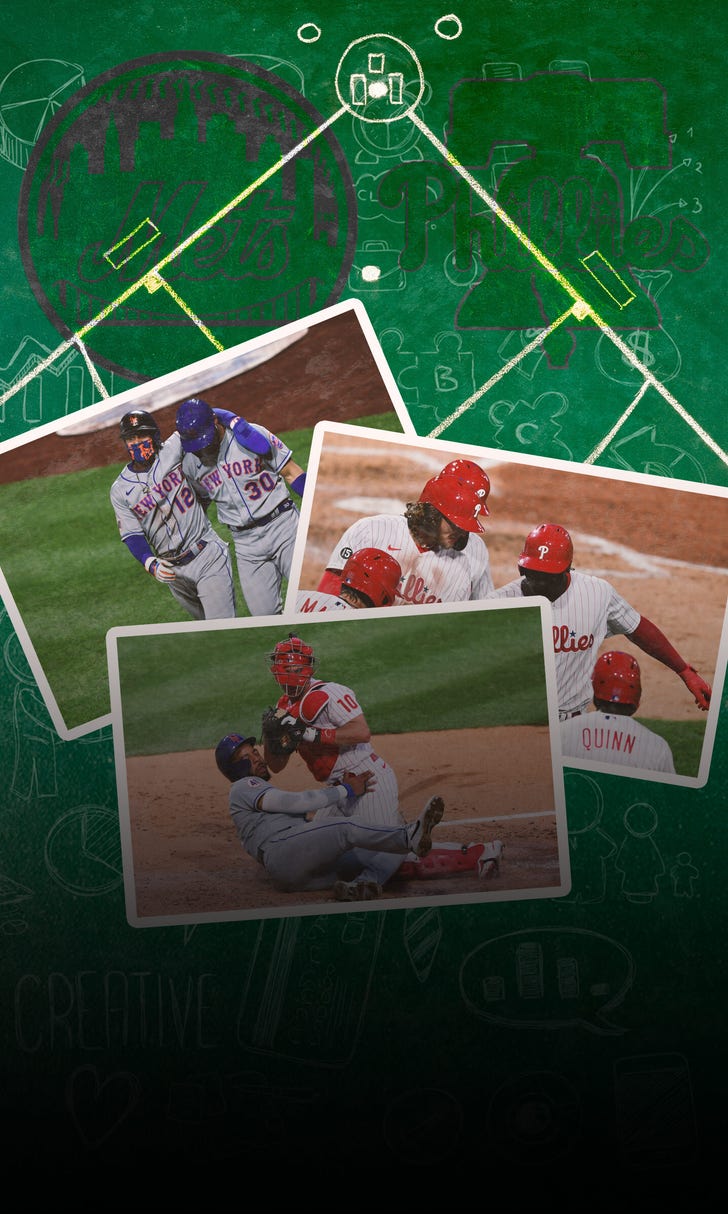 New York Mets barely escape Sunday night thriller vs. Philadelphia Phillies