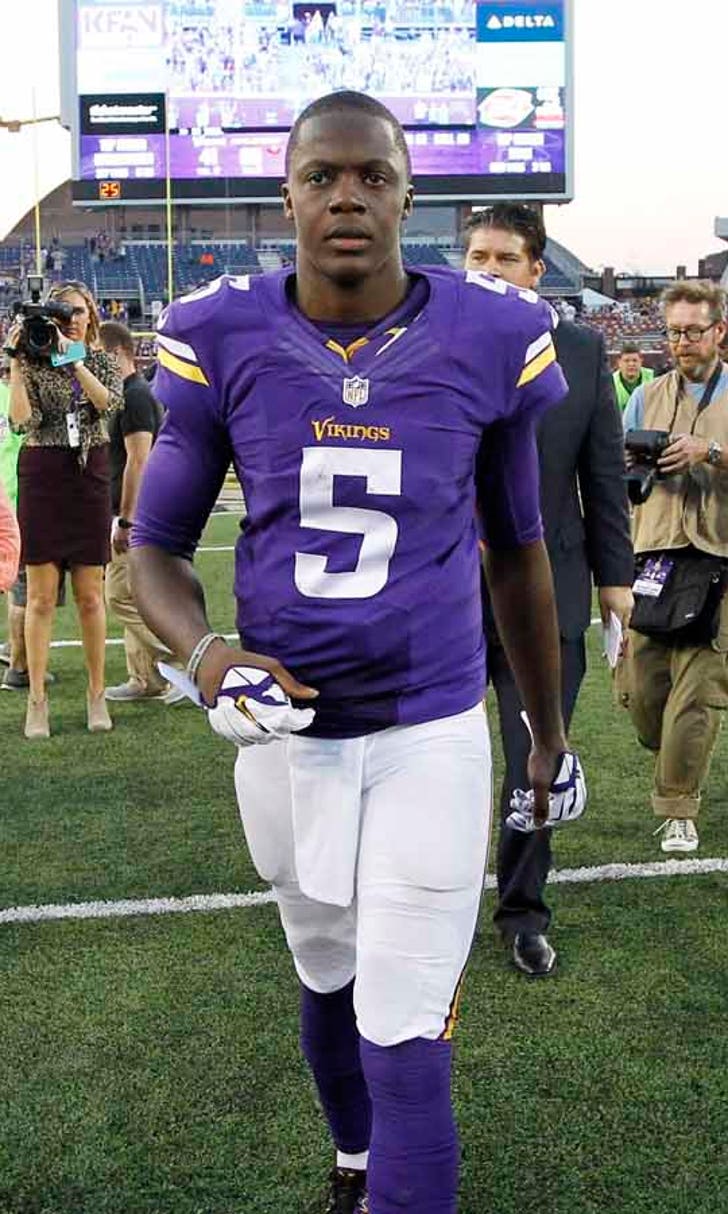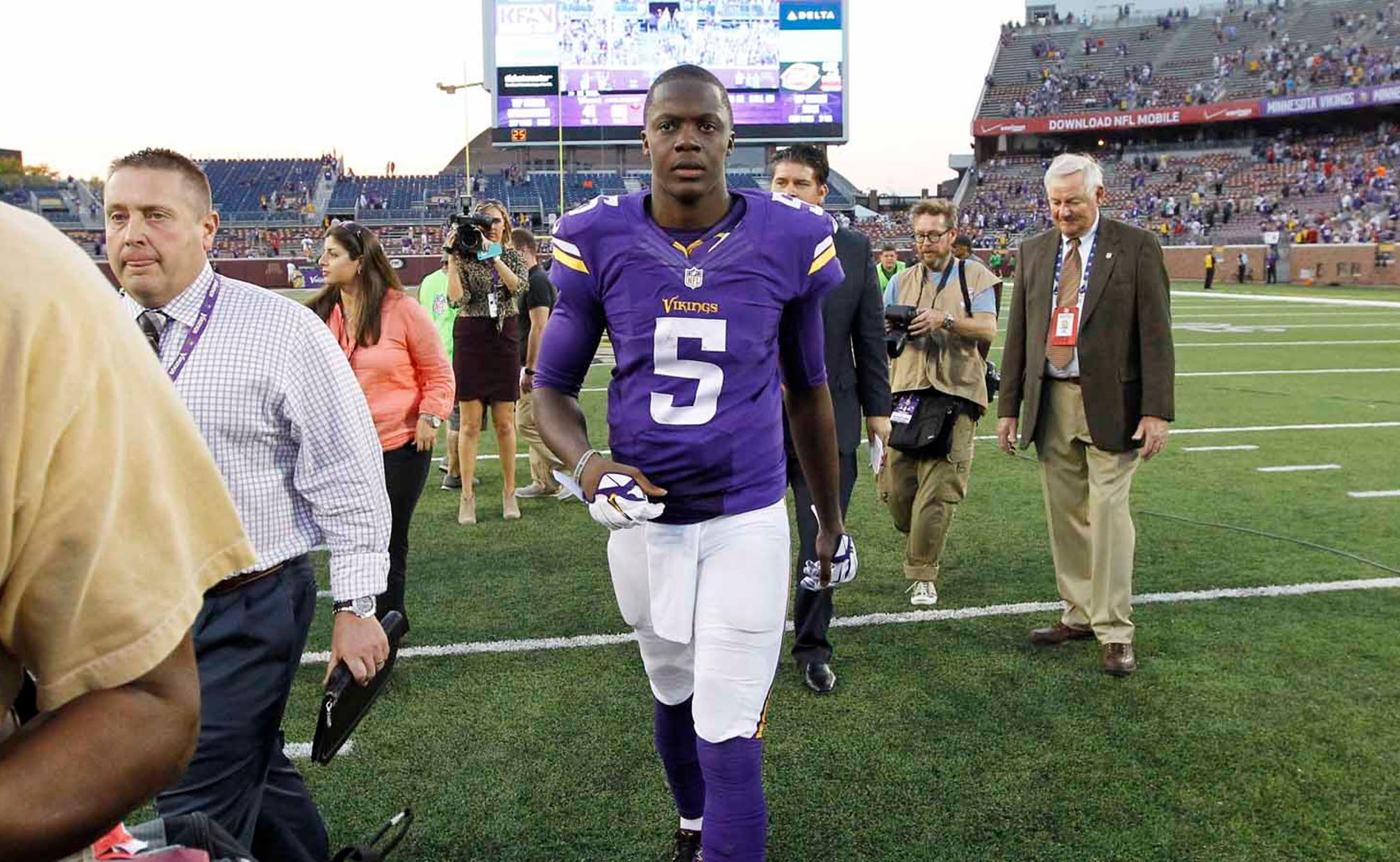 Vikings taking it 'one day at a time' with Bridgewater
BY foxsports • September 30, 2014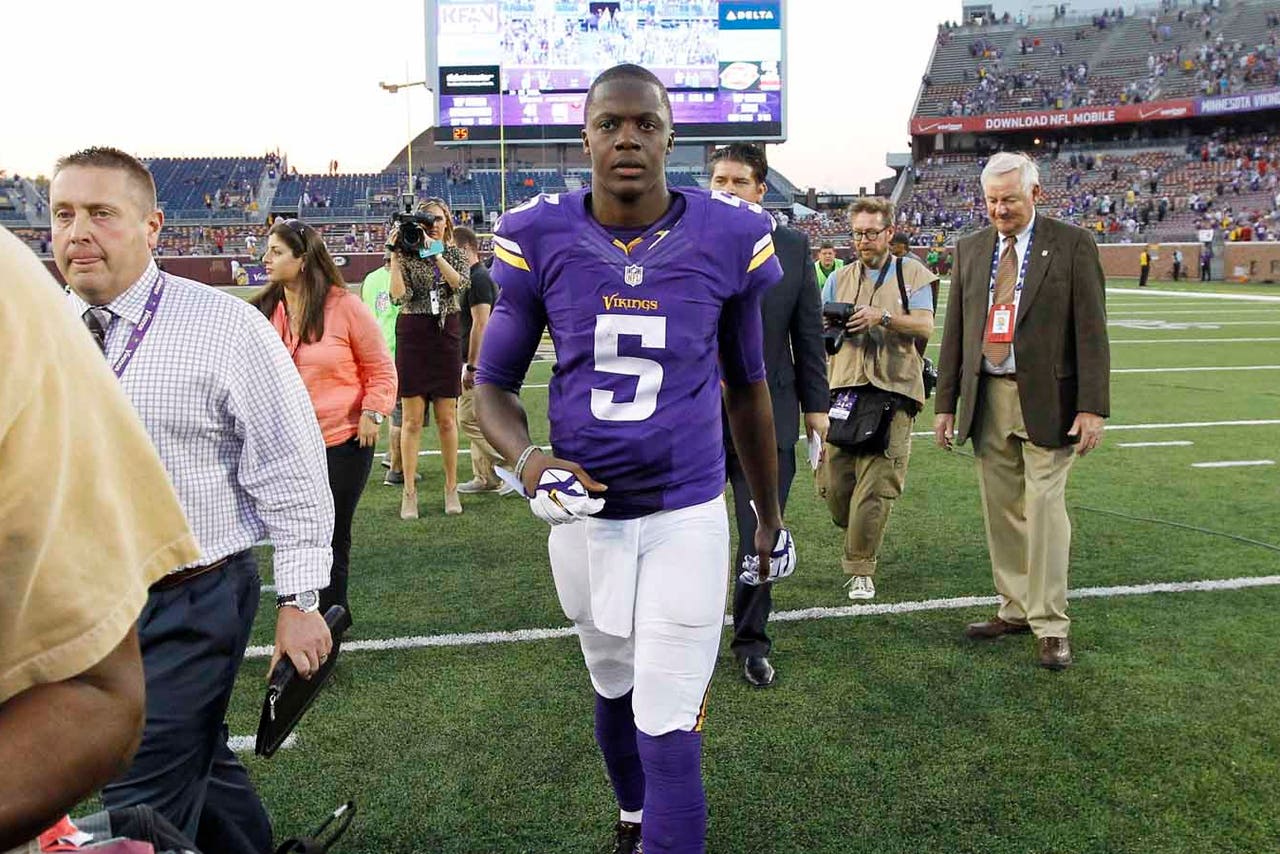 EDEN PRAIRIE, Minn. -- Teddy Bridgewater's journey to the Minnesota Vikings' quarterback job has been marked by strong impressions made on scouts, coaches and players.
Bridgewater is trying to impress Minnesota's athletic training staff this week.
Since suffering a left ankle injury in Sunday's win against Atlanta, Bridgewater's first NFL start, he's been a constant in the trainer's room trying to get back on the field for Thursday night's game at Green Bay.
"Been getting to know (Vikings head athletic trainer) Eric Sugarman and his staff quite a while, quite a bit over the these past couple days and just looking forward to Thursday," Bridgewater said Tuesday.
Despite having just three days of preparation for Thursday's game, the rookie quarterback has been resigned to the training room and hasn't been able to run or throw this week. Bridgewater missed practice for the second straight day Tuesday but was planning to run for the first time since Sunday when he rolled his left ankle and suffered a sprain.
"It feels pretty good," Bridgewater said, walking without a limp to Tuesday's press conference. "Each day making progress, so just going to keep moving, moving forward and try to get ready for Thursday."
Minnesota isn't saying whether its new, and hopeful long-term, starter will be ready for Thursday's game. Tuesday's running will be the first big test. Bridgewater has been left to do rehab and some flexibility exercises.
"I don't have any doubt, with anything really," Zimmer said regarding Bridgewater's status. "We'll just see how he is and we'll go. We just take it one day at a time."
Bridgewater doesn't have history to fall back on. He played his first regular-season game Sept. 21 after Matt Cassel left with a broken foot. In his first start last week, Bridgewater was 19 of 30 for 317 yards against the Atlanta Falcons.
The short week provides a challenge to get Bridgewater healthy enough to play, but it could come with few practice repetitions.
"He's pretty mentally sharp on all this stuff," Zimmer said. "He's out here today in the walkthrough, so he's fine mentally. He's good."
Zimmer said Bridgewater had been taking "mental reps" while Christian Ponder handled the first-team practice snaps.
"I'm preparing to play, but we're hoping for the best with Teddy," Ponder said. "Talk to Teddy, he's doing everything he can to prepare to get ready and play and we'll see what happens."
Minnesota will have a walk-through again Wednesday before traveling to Green Bay, perhaps giving Bridgewater an opportunity to get some practice in.
Bridgewater said Sunday he felt he could have returned to the game, if needed, but Ponder finished out the final 10 offensive snaps in a 41-28 win and didn't attempt a pass.
"I'm much further ahead than I was Sunday," Bridgewater said.
Meanwhile, Ponder is preparing in case Bridgewater can't play.
"It's just like any other week," Ponder said. "I'm trying to prepare just in case. You prepare as if you are the starter, so that if you are throw in there then you're prepared well enough to play well. I'm taking it as if it's any other week as before."
Ponder is 0-2-1 as a starter at Lambeau Field, suffering one of his worst games in a 23-14 loss in 2012. Ponder was 12 of 25 for 119 yards one touchdown and two costly second-half interceptions. He later missed the playoff game at Green Bay in 2012 because of a triceps injury.
Ponder was Minnesota's starter last year in Lambeau Field, going 21 of 30 for 233 yards and one touchdown in a 26-26 tie.
Getting another chance to start for the Vikings, in Green Bay of all places, wouldn't be a sense of proving doubters wrong, according to Ponder.
"I know for myself I want to play well, but I don't think it's really to prove anyone else wrong," Ponder said.
Follow Brian Hall on Twitter
---
---