Three Cuts: Braves prospect John Gant makes surprise rotation push
Published
Mar. 20, 2016 5:42 p.m. EDT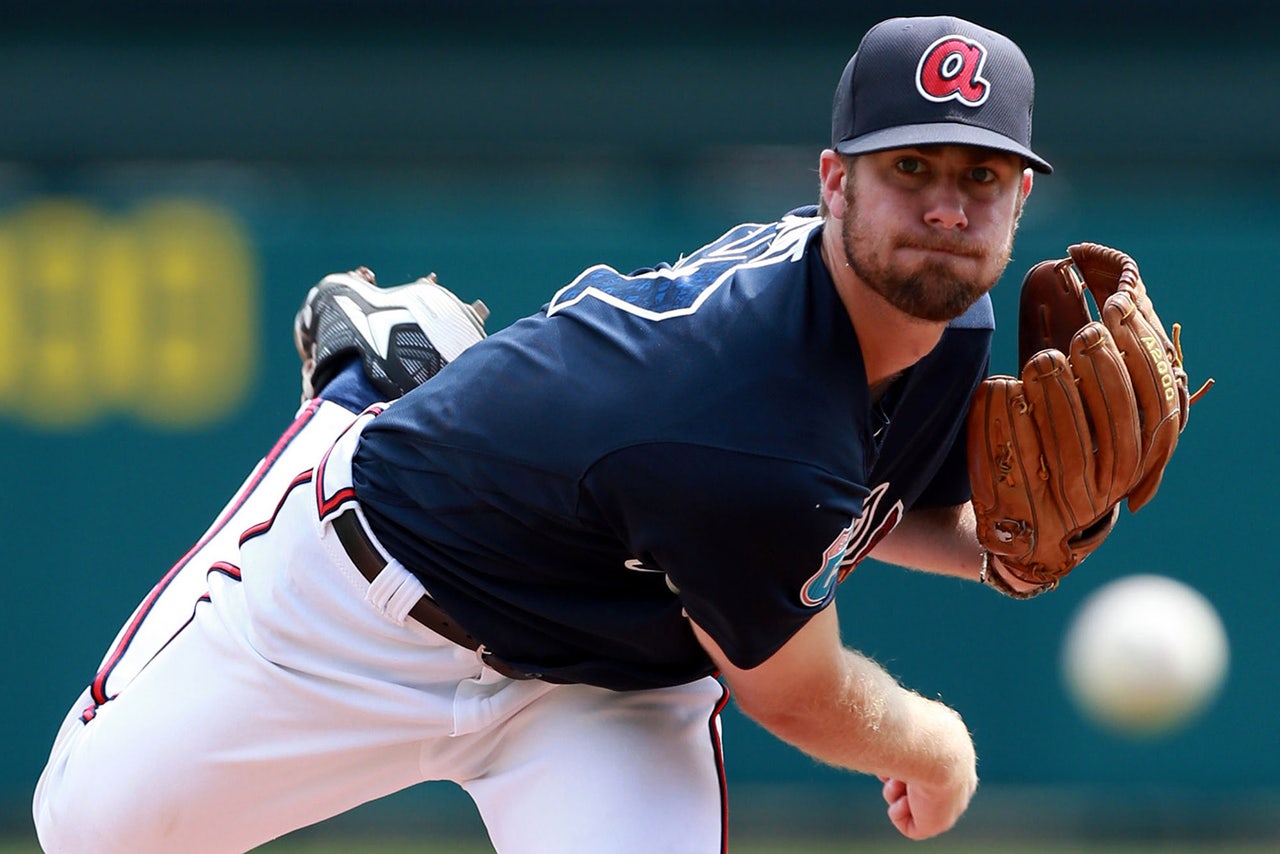 On July 24, the New York Mets set the wheels in motion to securing an offense capable of complementing a World Series-caliber pitching staff.
Mets general manager Sandy Alderson stayed in the division to find the necessary pieces, pulling off an under-the-radar move with the Atlanta Braves to bring in Juan Uribe and Kelly Johnson. One week later, the franchise made the big splash, landing then-Tigers outfielder Yoenis Cespedes, who went on a career-best tear that set the table for New York's deep postseason run. The Mets ranked 28th in runs scored before the All-Star break last season, but only two teams scored more in the campaign's second half.
The Uribe-Johnson trade was a definitive success for New York — both players hit at or above league average in the second half, giving manager Terry Collins more lineup options down the stretch — but eight months later the other end of the deal is starting to show promise for Atlanta. The Mets dealt from a position of strength with pitching prospects John Gant and Rob Whalen ... only adding to Atlanta's top-rated arsenal of arm talent, though not in the way Sean Newcomb or Aaron Blair during the offseason.
But Gant, 23, is turning heads.
The 15th-ranked prospect in FOX Sports South's preseason composite is the last remaining top prospect in the Braves' big-league camp this spring, and given the bleak outlook of the team's Opening Day options at the back end of the rotation he's getting a longer-than-expected look for the 25-man roster.
He's been a genuine surprise in Orlando. The 6-foot-5 righty with the quirky pitching motion was overlooked by practically every outlet (including this one) as top prospects Newcomb, Blair, Tyrell Jenkins and Lucas Sims pushed for MLB time behind the likes of Mike Foltynewicz, Manny Banuelos, Kyle Kendrick, Jhoulys Chacin, Williams Perez and Ryan Weber. The results have been uninspiring, but as Banuelos and Foltynewicz battle back from September surgeries it's opened the door for Gant to make an impression. And he has: He owns a 1.08 ERA in 8 1/3 innings pitched, logging five strikeouts and just one walk this spring. Opposing hitters are slashing just .200/.226/.233 against him.
Gant exemplifies the upside vs. production debate.
He's posted excellent numbers throughout the minors, rebounding from rocky 2011 and 2012 seasons in rookie ball to post three straight seasons of a sub-4.00 FIP (fielding-independent pitching) with, for the most part, even better ERA numbers. At Double-A Mississippi, he posted an excellent 1.99 ERA in 40 2/3 innings pitched. His numbers dwarf those of Jenkins and Sims at the same affiliate last season. He may not have the top-end "stuff" of the aforementioned names, but he's proven in camp that he's at least capable of staring down MLB hitters.
Ever since the Shelby Miller trade, the front office has stated, in no uncertain terms, that Blair was the closest pitching prospect to the majors. And while that may be true of the organization's elite prospects, Gant's production and ongoing presence in camp hints that he might receive an earlier call-up.
There should be less concern about starting the Savannah, Ga., native's arbitration clock given his prospect profile, and with the staff's trivial nature behind Julio Teheran and Matt Wisler, this might be his best opportunity to receive an extended look before the higher-profile names arrive.
The good news for Gant: He's still in the Opening Day conversation — and he's earned it.
The only pressing question remaining about the Braves' leadoff spot is who gets the nod against southpaws. Inciarte, the team's new center fielder, comes with his fair share of baggage against left-handers — as I wrote in my feature on the 25-year-old earlier in camp, his righty-lefty splits last season were essentially the difference between All-Star hitter Ben Zobrist and Phillies pitcher Jeremy Hellickson — and there are still remnants of those issues.
In limited Grapefruit League action, Inciarte has two singles in seven plate appearances against left-handers. Passable considering the comically small sample size, but compared to his .355/.353/.548 slash line against righties (and that's after Sunday's 0 for 4 outing) it's clear where he's still most productive.
He's the everyday leadoff hitter when there's a right-hander taking the ball. He might even be the first option against southpaws to start the season, but if Inciarte's 2015 statistics hold Fredi Gonzalez will need to reevaluate. The problem: The Braves were the third-worst hitting team against left-handers last season, and they haven't added much immediate help in that department.
Among leadoff options, Michael Bourn, Inciarte's presumed backup, posted the highest on-base percentage at .324 — which would require reconfiguring the outfield for every lefty start. Additional options like Jace Peterson, Erick Aybar, Gordon Beckham, Kelly Johnson, Emilio Bonifacio and Nick Markakis each hit below league average in such situations a year ago.
If Inciarte takes even small steps forward with hitting coach Kevin Seitzer, he still might be the team's best, albeit imperfect, solution.
John Coppolella & Co. are making this into a habit. In fact, it's become an outdated punchline concerning the team's transaction history.
And in terms of Jesse Biddle, the Braves' latest pickup off waivers, here's the question: Why not?
The Phillies' first-round pick in 2010, Biddle will spend the 2016 season rehabbing in Orlando, according to MLB.com's Mark Bowman, after undergoing Tommy John surgery in October. The left-hander will be placed on the 60-day disabled list and will not affect the 40-man roster. So while the team faces question marks in the bullpen after eliminating lefty options Evan Rutckyj and Matt Marksberry, Biddle is a long-term investment in the same vein as past acquisitions Max Fried, Chris Withrow, Daniel Winkler and Paco Rodriguez.
Biddle's control issues are well-documented, but the 24-year-old is just a couple seasons removed from posting excellent strikeout numbers in Double-A — striking out 234 batters in 220 innings from 2013 to 2014 — and he'll join Rodriguez as potential bullpen boosts next spring.
High-upside flyers occasionally pan out, especially when it comes to bullpen arms. The Braves are simply stocking up on options for 2017 and beyond.
---
---