Ender Inciarte embracing new home in Braves' outfield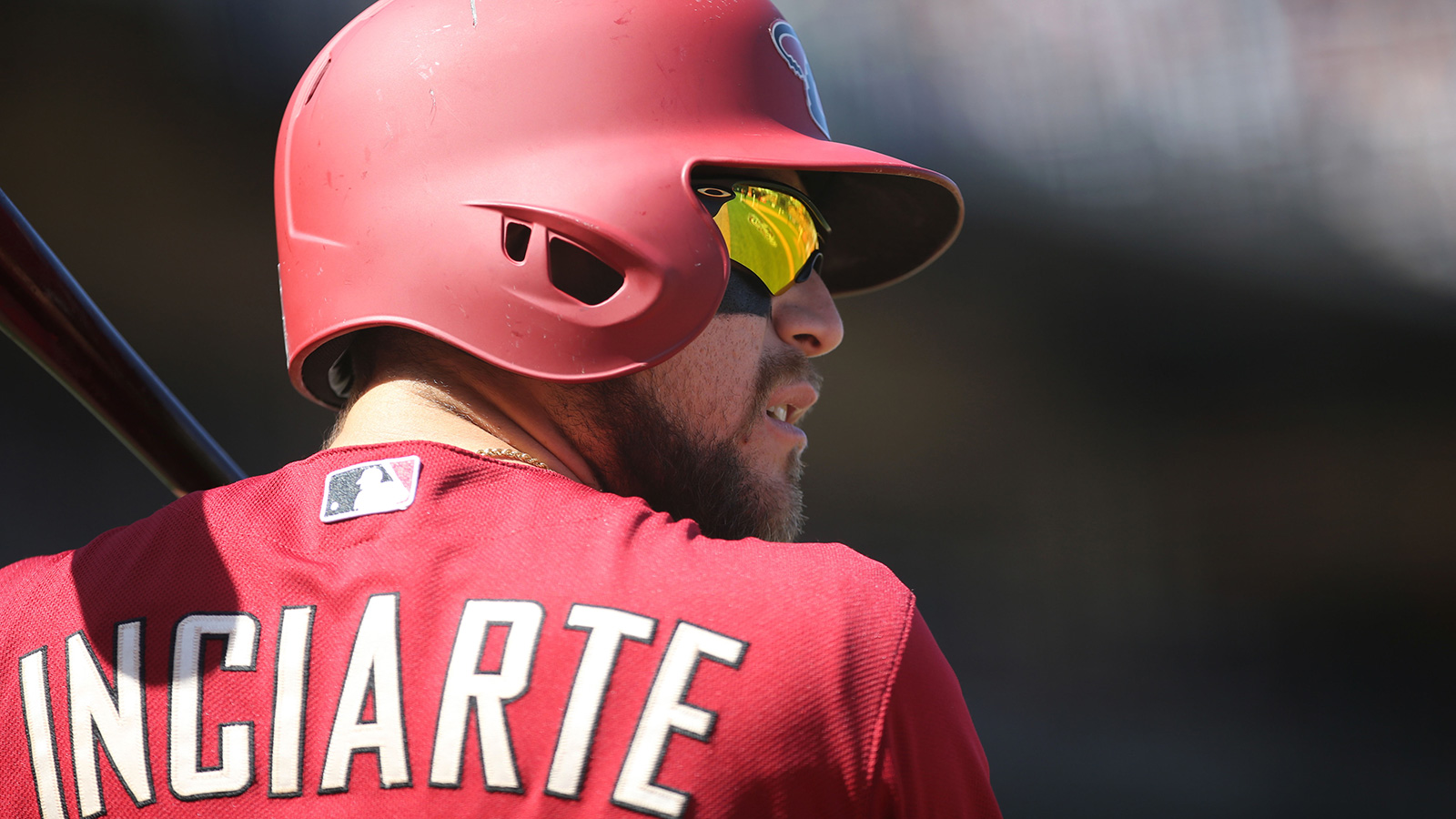 KISSIMMEE, Fla. — Ender Inciarte continues to follow footsteps.
The Atlanta Braves' new center fielder was 11 years old when the Arizona Diamondbacks signed teenage outfielder Carlos Gonzalez out of his hometown of Maracaibo, Venezuela, in 2002. Two years later, childhood friend and future teammate Gerardo Parra, a diminutive defensive standout in the Inciarte mold, inked his own amateur free-agent contract with Arizona. Inciarte carried on the tradition in 2008, extending the Diamondbacks' penchant for landing top talent in one of the international market's hotbeds.
The Venezuelan trio would have formed a formidable MLB outfield in their own right, but the Diamondbacks, who secure and develop young outfielders — and then trade them — with the best of franchises, had other plans.
Gonzalez was sent to Oakland in the Dan Haren deal before Inciarte was even old enough to sign. Then, after the youngest of the bunch climbing up through the minors to join the club in Phoenix, he witnessed Parra's departure firsthand.
"It was different for him, because he was in Arizona for 4-5 years. I remember the day he got traded. He was really sad, you know? For him, it was shocking," said Inciarte, whose impressive rookie debut helped make Parra a tradeable asset for Arizona's front office. "I was in Venezuela (during baseball's 2015 Winter Meetings) and I was kinda waiting for something like this to happen. I knew that the Diamondbacks were looking for a pitcher and the Braves were looking for outfielders, so I saw it coming.
"I was ready for whatever."
The "whatever" in this case turned out to be a blockbuster that indeed landed the Diamondbacks quality starting pitching … at the steepest cost of any offseason league maneuver. Inciarte, 25, was the most experienced piece in the deal after posting 6.1 wins above replacement over the past two seasons, joining high-level prospects Dansby Swanson and Aaron Blair. The presence of possible MVP candidate A.J. Pollock and the development of another Venezuelan product, David Peralta, gave the D-backs a surplus of quality outfielders to choose from in negotiations, which should sound familiar. Not that Inciarte is complaining.
"This opportunity fits better for me," he said. "I'm happy here, because I want to play center field and they're going to give me the chance."
Inciarte provides an immediate upgrade in center for Atlanta. Only one player, Gold Glove center fielder Kevin Kiermaier, posted more defensive runs saved than Inciarte's 29 last season — and he did it while splitting time between all three outfield spots. In center, specifically, he's saved 19 runs in 801 innings over the past two years, positioning him as not only a substantial upgrade over 2015 Braves starter Cameron Maybin, who cost the team 16 runs defensively last season, but also as one of baseball's premier stars in the run-prevention department. Questions surrounding his defensive ability are non-existent at the moment.
His glove, like former Braves defensive wunderkind Andrelton Simmons, is going to be near-impossible to bench.
"He's a fast little (guy)," right fielder Nick Markakis said. "He's a scrappy player. He's a baseball player, a guy you want on your team. Puts good, quality at-bats together, gets on-base. He can run, he can throw, he can player defense. He does it all."
The 25-year-old's bat is more of an unknown. The Braves front office and manager Fredi Gonzalez have been slotting Inciarte at the top of their hypothetical lineups from that first night in Nashville, but the team's brain trust might have to get creative depending on pitching matchups.
Inciarte was a league average hitter in 2015 (100 weighted runs created plus) with a .303/.338/.408 slash line. His offensive contributions were boosted by his work on the basepaths, including 21 steals, but, in terms of simply getting aboard, those numbers were not a huge departure from the Braves' collective .327 on-base percentage at the leadoff spot last season. The positive news here is that he showed marked improvement from Year 1 to Year 2, when many players take a step back after scouting reports start to pinpoint individual weaknesses. Inciarte, a lefty bat, posted the sixth-highest contact rate in the majors and he fits hitting coach Kevin Seitzer's profile with his ability to hit to all fields.
"He puts the ball in play. He's got some speed," Gonzalez said. "He's hitting .300 and I don't exactly what his on-base percentage is off the top of my head, but it seems like playing against him he's always in the middle of something or the start of something."
Added Inciarte: "I've always hit in the No. 1 spot. The minors and everything. That's where I've hit the most. I'm used to it. I've just got to keep learning, because it's not going to be given. It's not like, 'Oh, you're going to be the leadoff hitter no matter what.' I've got to prove that I belong to that spot."
Concerns arise over Inciarte's splits, though, as he struggled mightily against left-handed pitching last season — to the point where he's nearly a non-option at No. 1 against southpaws. The differences were jarring:
Offensively, that's essentially the difference between the 2015 seasons of two-time All-Star hitter Ben Zobrist and new Phillies pitcher Jeremy Hellickson. His rookie season flashed much more balance at the plate, but consistency against left-handers will be a point of emphasis for Seitzer and Inciarte during camp. Still, as Gonzalez said when asked about his leadoff spot, "If you look right at it, there's really not that many options that we have in camp."
Gonzalez also downplayed the issues against left-handers due to the NL East's rotational makeup. The Cole Hamels-Cliff Lee days are gone in Philadelphia. The division features three standout southpaws — Nationals mainstay Gio Gonzalez, Marlins newcomer Wei-Yin Chen and top Mets prospect Steven Matz — spread over three teams. There's a good chance no NL East team, including the Braves, carries multiple lefty starters into 2016. If Inciarte's extreme splits continue, that should at least help keep him at the top of the order as one of the Braves most valuable players.
The proverbial footsteps Inciarte followed from Arizona to a new franchise, of course, kept walking. Carlos Gonzalez lasted 11 months in Oakland's system before being traded to Colorado, where he became one of the game's most productive players before running into injury issues. Parra lasted exactly one year with the Brewers before being shipped to Baltimore last season; he signed a free-agent contract to join Cargo in Coors Field this offseason.
Inciarte does not have to follow the same path.
He's under club control for five more seasons, well within the projected timeframe the rebuilding Braves plan to start contending, and, if his bat continues to produce at an acceptable level, his ability to play all three outfield positions makes him a versatile asset regardless of who fights his way up through Atlanta's pipeline. General manager John Coppolella has made it clear that practically every player is available for the right price, but for now, the team seems to have found its first young, long-term solution in the outfield. And, in turn, Inciarte has found a home.
"It feels normal," Inciarte said. "It feels like I've been here for a long time."