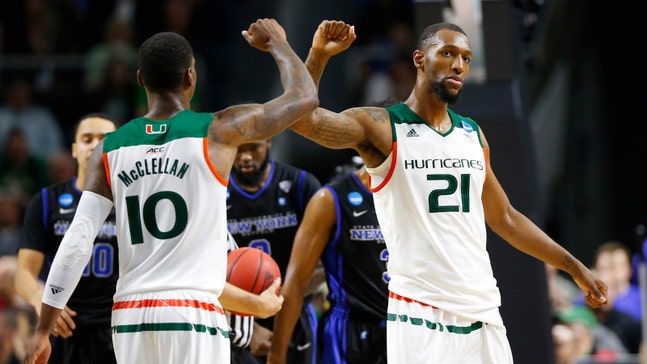 Third-seeded Miami survives first-round matchup with Buffalo
Published
Mar. 17, 2016 9:27 p.m. ET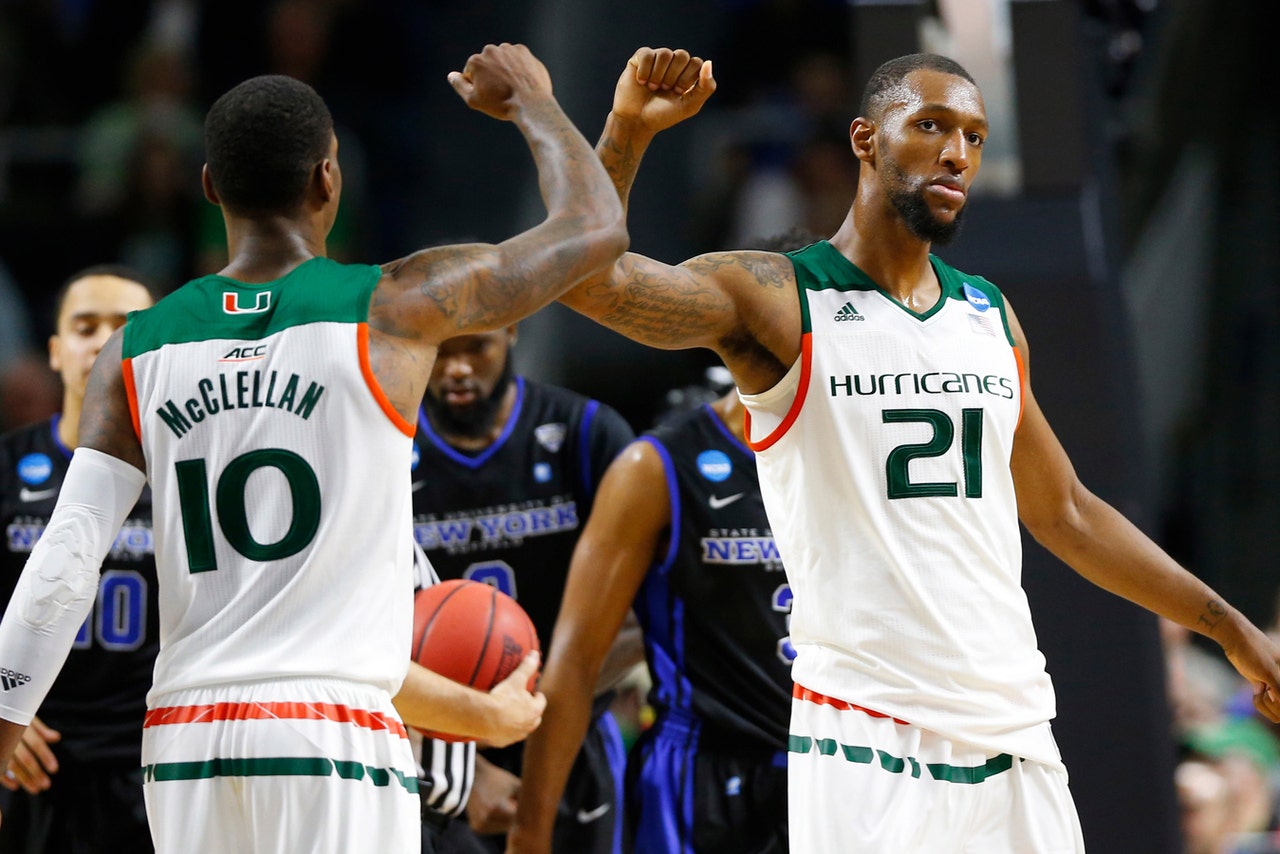 PROVIDENCE, R.I. (AP) -- Miami coach Jim Larranaga knows what it's like to be the underdog team with something to prove in the NCAA Tournament.
So his final words to his team Thursday before its first-round matchup with Buffalo were all about expecting the unexpected from a scrappy mid-major. The Hurricanes took the message to heart.
Angel Rodriguez had 24 points and seven rebounds as third-seeded Miami held on to defeat No. 14 seed Buffalo 79-72 in the first round on Thursday.
Sheldon McClellan added 20 points and five rebounds. It is Miami's first tournament win since it went to the Sweet 16 in 2013. The Hurricanes advance to play the winner of Arizona and Wichita State in the second round of the South Region on Saturday.
"There's always a point in the game where (Rodriguez) feels like he's got to score more, and when he does, and he takes advantage of his opportunities, then we have another weapon out there," Larranaga said. "I thought Angel and Sheldon were senior leaders today that really dominated the game."
Miami (26-7) kept the Bulls at bay for most of the second half, leading by as many as 12.
The Bulls (20-15) finally got some traction, closing within 72-68 on a jumper by Lamonte Bearden with less than two minutes to play. But Miami hit enough free throws down the stretch to put the game away.
Buffalo tried to sag in on Miami's big men in the second half, but were bitten several times when the Hurricanes were able to get the ball out to the perimeter for open 3s.
Then on the defensive end the Hurricanes protected the rim, allowing just five second-chance points for the Bulls, while blocking six shots.
"That's the beauty of this team -- we just need one little thing to get us going," Rodriguez said. "And we found it on the defensive end."
Nick Perkins had 20 points and six rebounds to lead Buffalo. Bearden added 19 points.
"I feel like we gave it all that we had and we just came up short," said guard C.J. Massinburg. "Obviously next year we want to get back here."
Miami trailed by 9 points about midway through the first half, before surging to take a 2-point halftime lead.
Oats promised his team would come out attacking, and it did, connecting on four of their first five from beyond the arc to take an early 12-6 lead.
But Miami pecked away the rest of the half and took a 35-33 lead into the locker room after Bearden's layup at the buzzer was waved off.
"They played their tails off for us all year. We missed two open 3s that would have cut that thing to one possession late in the game," Bulls coach Nate Oats said. "I think our kids proved they belong on a big stage like this."
TIP-INS
Buffalo: Finishes 5-1 in neutral site games this season. ...Drops to 0-2 in NCAA Tournament.
Miami: Hit 5 of its final 7 field goals. ..Outscored Buffalo 36-24 in the paint. ...Went 26 of 34 from the free throw line. ... Improves to 3-1 against Buffalo. ...Improves to 7-7 all-time in NCAA Tournament.
MOVING ON UP
With Thursday's win, Larranaga joins Leonard Hamilton as the only other Miami coach to win three tournament games with the Hurricanes.
BRIGHT FUTURE
Despite the loss Buffalo was still upbeat afterward, largely because just making it to the tournament seemed impossible for a team that went through so much adversity this season. Oats' wife was diagnosed with cancer in October. Assistant coach Jim Whitesell's brother passed away in December, and freshman forward Nikola Rakicevic's mother died just last month. All that behind them, combined with their tourney run, gives Bulls lots of optimism going forward.
"I really think that that brought us all together to be able to accomplish what we accomplished this year," Massinburg said. "This year really helped us out, and it's going to give us fuel to get here next year, too."
UP NEXT
Buffalo's season is finished.
Miami plays the winner of Arizona and Wichita State in the second round on Saturday.
---
---