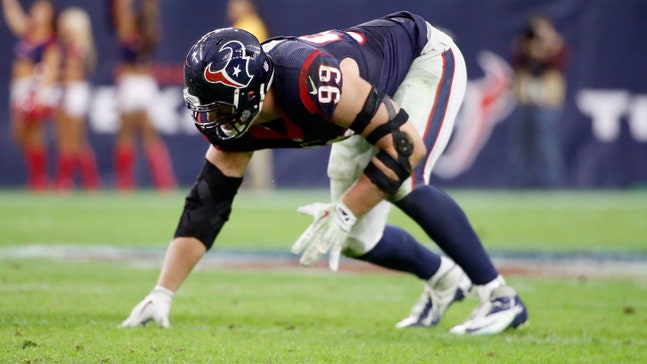 Texans' J.J. Watt striving to get better
Updated
Mar. 4, 2020 10:38 p.m. ET

Two-time NFL Defensive Player of the Year J.J. Watt is looking for ways this off-season to improve his game.
"My thinking is what can I do to get better," Watt said Friday at his third annual charity softball game. "Okay. Last year, I did two second ones by myself. OK. Now, what can I do better? Now, it's my second one with my trainer. And every single year you have to do something to make yourself better."
After a 20.5-sack season in 2012, Watt earned his first Defensive Player of the Year honor as the club advanced to the divisional round of the AFC playoffs. In 2013, Watt's production slumped down to 10.5 sacks as the club hobbled to a 2-14 finish. Not only did Watt return to form with another 20.5 sacks in 2014, but he returned an 80-yard interception for a touchdown and recovered five fumbles.
Perhaps the most fascinating part of Watt's success in the NFL is his remaining potential. The 26-year-old is entering just his fifth NFL season.
"They say you don't reach your prime until you're about 27 or 33, somewhere in there," Watt said. "So, I hope I'm working towards bigger and better things. Maybe I am, maybe I'm not. But I know I'm never going to let a day go by that I could be getting better, striving to be greater."
The three-time All Pro realizes he can't be complacent.
"You can't stay the same," said Watt. "Because if you stay the same, somebody else is going to be better. So every single year, I know the people are looking for me to fail. I know they are looking for a reason to say I've fallen off or say that I've lost focus.
"I know the world we live in today. It's a world where everybody has a keyboard, type whatever they want, say whatever they want. But at the end of the day, it's about how hard do you actually work, how much do you actually sacrifice to be great?"
---