Will Barton
Will Barton
Suns again will lean on Bledsoe, Knight
Published
Nov. 14, 2015 3:00 p.m. ET

Phoenix's backcourt of Brandon Knight and Eric Bledsoe continues to provide the bulk of the scoring for the run-and-gun Suns.
Their frontcourt might be a little thin Saturday night, though.
Markieff Morris' status is up in the air as Phoenix looks to prevent the visiting Denver Nuggets from winning a fourth straight game.
Bledsoe is shooting 47.4 percent while averaging a team-high 22.4 points after finishing with 26 in Thursday's 118-104 win over the Los Angeles Clippers. He's hit 19 of 28 from the field -- including 4 of 7 from 3-point range -- over his last two and has scored at least 20 in three straight.
Knight hadn't been shooting as well heading into that contest, but he hit six 3s and finished 14 of 22 from the floor while scoring a career-high 37 points. He shot just 36.2 percent over his previous four.
"I wasn't worried about (the shooting slump)," Knight said. "I knew I was going to start making shots at some point because I work on it every day. For me, it's just about getting back into a rhythm.
"Whenever you have a night like that, you're happy, but as long as we win, that's what counts. That's the biggest factor. You could have 37, 35, but if you don't win, it doesn't matter."
Phoenix (4-4) snapped a two-game skid, but it lost Morris in the process. He left in the first quarter with a sprained left knee and didn't return, and he's questionable to play in this contest.
His absence could pose a problem on the defensive end with the Nuggets' frontcourt playing so well. Kenneth Faried is averaging 16.7 points over his last three and Danilo Gallinari is scoring a team-high 18.9.
Gallinari followed up his 25-point effort in Wednesday's win over Milwaukee with a season-high 27 while hitting 7 of 9 from the field and all 10 of his free throws in Friday's 107-98 victory over Houston.
He added three 3-pointers for the Nuggets (5-4), who swept a three-game homestand before embarking on a three-game trip.
"It was big to get three in a row," Gallinari said. "We were looking at this week saying we needed to get these three at home and we did."
Will Barton had another big game off the bench, finishing with a career-high 26 points. He averaged 5.0 points over his first three seasons but is up to 13.8 this year after hitting 8 of 14 from the field and 4 of 5 from long range against the Rockets.
"Just got into a rhythm and playing off my teammates," Barton said. "Good drives by Randy (Foye), Jameer (Nelson) and Emmanuel (Mudiay), and being my active, usual self. Getting up and down the floor, created problems in transition and my shot was falling, especially from 3."
Barton had 22 points and Gallinari finished with 20 in the last meeting with the Suns on Feb. 25, but Knight's 19 points and Bledsoe's 18 helped Phoenix win 110-96, its sixth victory in the last seven matchups.
Denver will get some help defensively against the Suns' backcourt from Nelson, who scored 13 points Friday after missing the previous two with a back injury.
Mudiay struggled again, though. The rookie finished with 11 assists, but he was 1 of 10 from the field and committed nine turnovers, the most he's had since finishing with 11 in the season opener.
---
---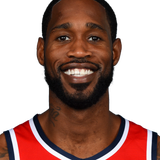 Get more from Will Barton
Follow your favorites to get information about games, news and more
---