Giancarlo Stanton
Giancarlo Stanton
Stanton hopes to return from DL by September
Published
Aug. 20, 2015 5:19 p.m. ET

MIAMI -- Miami Marlins All-Star slugger Giancarlo Stanton would like to return from the disabled list by September.
Stanton, who underwent surgery on a left hamate fracture June 28, has been seeing 50-85 pitches inside the cages to build up the strength back in his wrist. He acknowledged there is still pain, but "it's much stronger."
"We're getting there," Stanton said. "Slowly, but we're getting there."
The 25-year-old right fielder said the progression went well for two straight days before he couldn't take swings on Wednesday.
"When I can hit off a machine for probably 5 to 7 days in a row without pain that's game simulated and will be like playing every day for my wrist," Stanton said. "When I can do that I'll be back. I got to two. We'll go from there. Two and then I couldn't do the third, so start again today."
Despite missing 45 games, Stanton still ranks fifth in the National League with 27 home runs. At the time of the injury, he paced the majors in both homers and RBI. Fans voted him into the Midsummer Classic as a starter for the first time in his career.
While the mark from the procedure is still visible, Stanton said the discomfort has come from the wrist weakness and not the impact of his swing on the incision area.
"It's the weakness in my wrist turning over," Stanton said. "It's a little different than -- if it's a muscle -- 75 percent of a muscle you can jog and still do things, but I need 100 percent of my wrist. I can't go up there 95 mph and just 60-75 percent of my wrist. I need all that to turn it over."
Added manager Dan Jennings: "We've tried not to deal with a timetable only because we want him to be comfortable. We want him to be 100 percent. But there has been progression from the dry swings to the tee to going off of the machine and now BP. Moving in the right direction and it's just a matter of time then. It's the strength factor of being comfortable with your hands and wrist."
You can follow Christina De Nicola on Twitter @CDeNicola13 or email her at cdenicola13@gmail.com.
---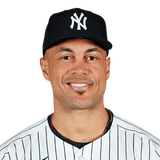 Get more from Giancarlo Stanton
Follow your favorites to get information about games, news and more
---